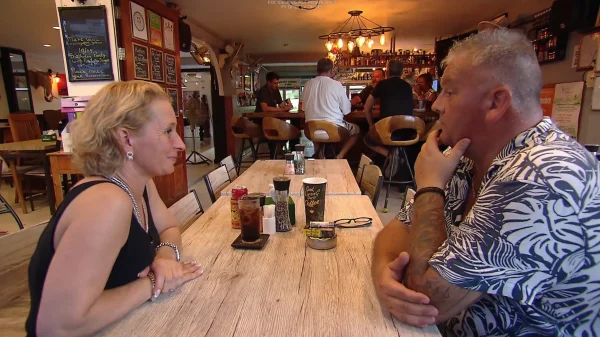 Herlens Tamara in place at 'B&B Vol Liefde'-Martijn: 'Frikandellen can wake me up'
Martin
She continues, "I'm honest and loyal and I'm also very social." "There's a Limburg," Martijn greets his new guest as she arrives at Say Cheese. She gets three sweaty kisses and he asks if she just hooked up. Martijn is charmed by Limburger: "I think I saw it well in the video, it's nice that she's here." When she says she comes from Heerlen, Martyn surprises her with a fun fact: he once lived in nearby Treebeek for four years. "Then you were really close to me. Then you just had to roll off the mountain, I guess," Tamara laughs.
"Lots of Dutch snacks, but also just Thai cuisine," Martijn explains of the restaurant at his B&B. "Stamppots too?" Tamara asks hopefully. Martine nodded affirmatively, her mouth barely watering: "Oh, I love stews." Pea soup is also on the menu and she really likes it. Tamara can imagine people come to Say Cheese specifically for this food: "I think people like to get fries every once in a while."
'It bothers me in a natural way': These are the highlights of week 4 of 'B & B Vol Liefde'Read also
prison
Martijn also notes that they do indeed have common eating preferences. "Tamara is the nicest thing he's ever walked into yet," he responds with relief at her arrival. "I am very curious about the coming days."
After the welcome drink, she is given a tour of the B&B. She isn't exactly amazed at what she sees. "I think the room is really boring," she dryly explains to the camera. I think prison in Holland is more comfortable. There is no color in it, there is no welcome whatsoever." Still, she thinks there is still something to be done and her hands seem to be itching to get started.
When Tamara learned that her three ancestors had already left, she was incredibly happy. "I have the kingdom to myself, let the party begin."
B&B with love It can be seen on RTL4 Monday to Friday at 8.30pm and can be seen again on Videoland. Look for this week's episodes here.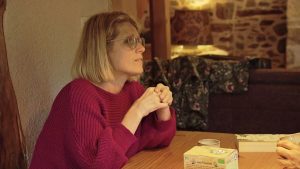 Corinna tells Walter something important about her in 'B&B Vol Liefde': 'I'm a witch'Read also
"Travel specialist. Typical social media scholar. Friend of animals everywhere. Freelance zombie ninja. Twitter buff."