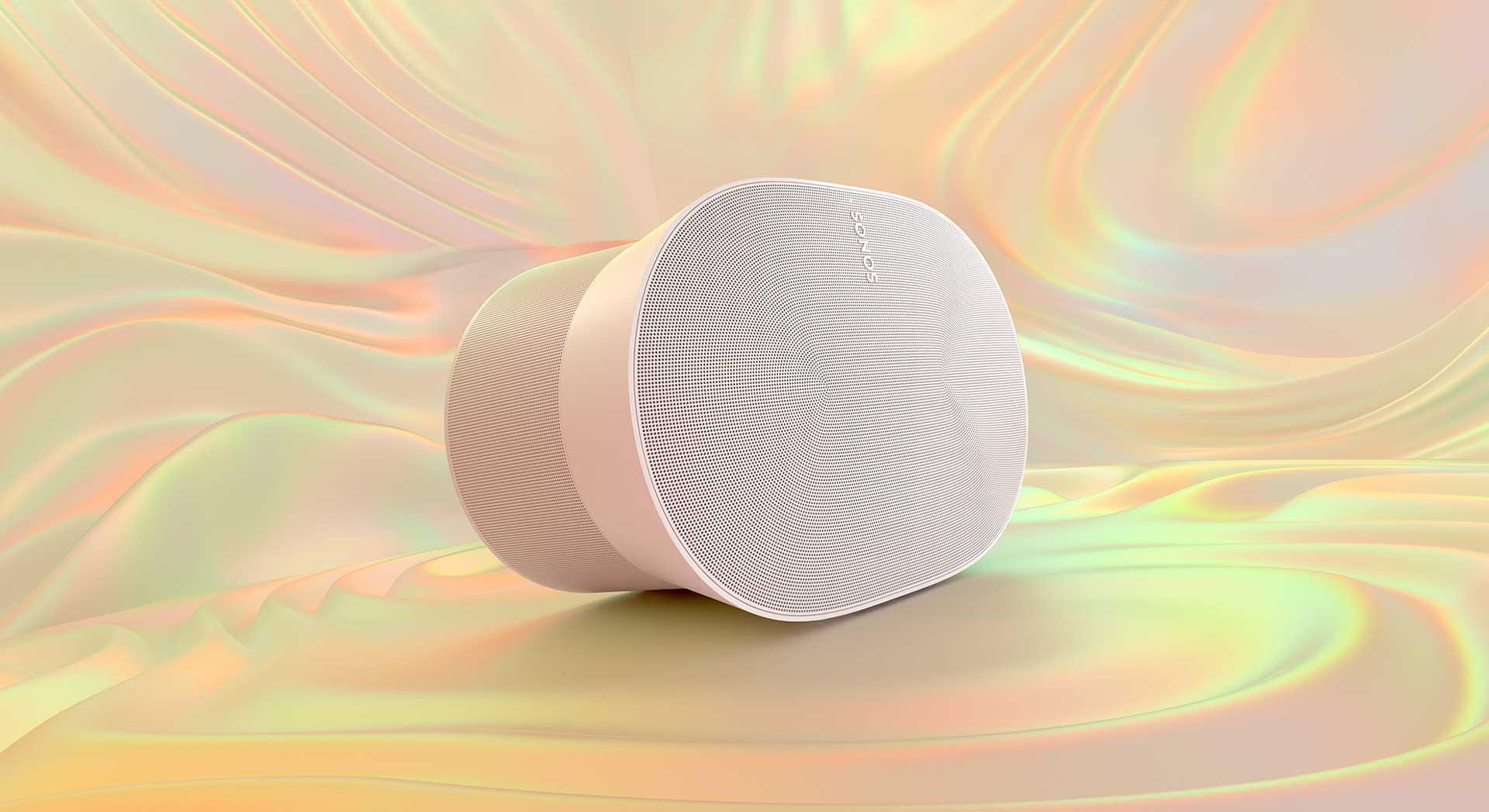 The Sonos Era 300 tested: an all-in-one in a beautiful design
It was once the trend and you can really buy them everywhere: those wired peripheral kits. With it, you can turn your living room into a home theater which is not the best in no time. And it's precisely because of these kinds of trends that I'm always a little skeptical when it comes to new ways to experience sound in your living room. After all, it is often not really good. Sonos puts an end to that prejudice with the Era 300. Because: Dolby Atmos and spatial audio. I tested the Sonos Era 300 and now I'm getting the magic.
The Era 300 is — in short — Sonos' latest high-end flagship model. And you can hear right away that it can do something when you turn it on. It has six drivers all around, four woofers and tweeters. Yes, it's all in this one package. A strikingly designed package and not because it looks good, but because, according to the technicians at Sonos, this is the perfect shape to achieve the desired sound quality.
Sonos Era 300 audio
This is the essence of this smart speaker. Because while I also think the Sonos Era 300 is an asset to any living room in terms of design, it's the sound that really plays a well-deserved leading role. This speaker is ready to amaze you with Dolby Atmos. Or: spatial sound. I've never experienced this before, especially in my living room. And to be honest, I also had to research what exactly spatial sound entails.
To save a trip to Google: spatial audio, or spatial audio, is basically surround sound. But not as you know from those poor surround kits mentioned above that everyone used to have in their living room. With spatial sound, the room is optimally filled with sound. Everything looks rich, full, and clearly placed. You already knew that in movies and games, but especially in music, this can become quite a thing.
Why? Simple: In the past, you could listen to music in one voice. The next step was stereo. Spatial audio could be the logical successor to stereo. Especially when artists choose to record their music for this specific purpose. And that provides an opportunity to really give you a concert experience as a listener, because there's more room for the instruments, for example, to really shine.
What does spatial sound sound like?
I know that all this sounds a little fuzzy, and it is also difficult to express the voice in the text. That's why I tested the Sonos Era 300. Take it from me: If you're using it to listen to music in spatial sound, it's not like you're listening to a trick. You don't suddenly hear a crazy drum left and a guitar hole in the middle. The sound you hear is richer and deeper. There are a lot of details to discover that really appeal to me.
The great thing about the Era 300 is that it manages to fill a room on its own. You really only need one of those to see the added value. Well, the real pros immediately get two at home and also add a Sonos Arc to it, but you don't really need that final setup to properly experience spatial audio.
The drawback now is that not every music provider is ready for spatial audio. Spotify, for example — the service I use a lot — doesn't offer it yet. Apple Music works, as does Amazon Music. But if spatial audio starts to take off like it seems now, it won't be long before other services do too.
"Web maven. Infuriatingly humble beer geek. Bacon fanatic. Typical creator. Music expert."