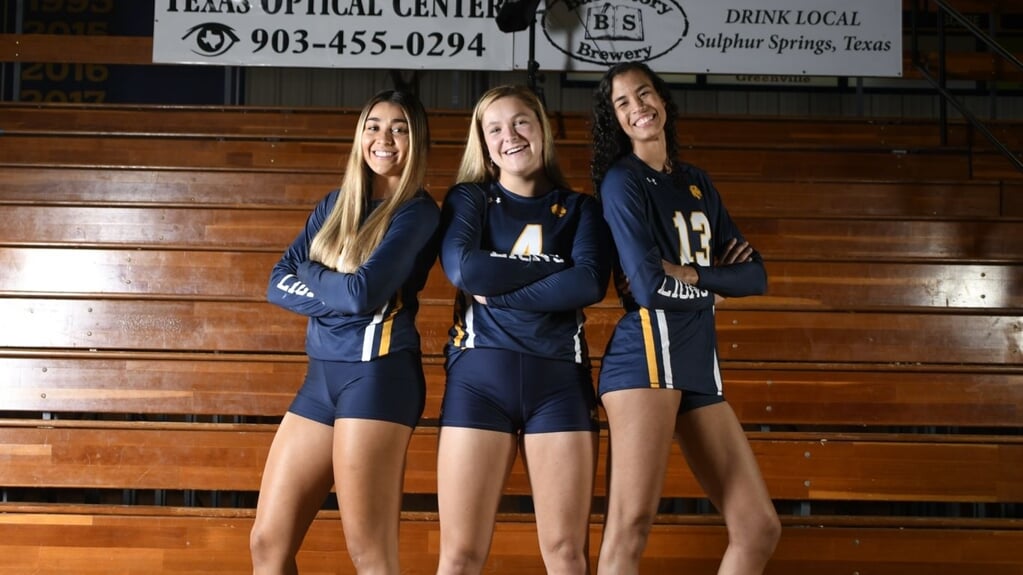 Emma Jenneskens of Meerlow
Not everyone who grows up in Horst on de Maas stays here. Hello Horst aan de Maas speaks in the series Uit… Horst aan de Maas with former residents of Horst aan de Maas who followed their dreams and ended up outside our municipal boundaries. In this episode Emma Jenneskens (23) from Meerlow is currently living in a business located in Texas, USA.
The fact that Emma can be found for six months in Commerce, a small student town near Dallas, Texas, already has a sporting reason. "Playing volleyball brought me here," explains Emma, ​​originally from Meerlos. He has been playing volleyball since childhood. She was at Meerlo until she was 16, but then she moved to Bielbusch in Meijer, where the women's team plays in the Dutch Eredivisie. "I played here until last year. After I completed my undergraduate degree in medicine, I wanted to do something else before starting my internship. Emma already knew through former teammates and friends that there were special overseas scholarships to play and study volleyball. "When I was approached by a Dutch company that organized mediation, I thought, 'Let me do it,'" says Emma. Soon he was frequently approached by various schools across the United States. "It was great to FaceTime with coaches from these schools and be informed of the possibilities. It's important to do what feels right for you and listen to what you want. I also wanted to play volleyball at a high level. Along with the clicks between the coaches and the other girls on the team, it weighed heavily on me. This ultimately led him to choose Texas A&M University in small-town commerce.
A different gaming experience
In August, Emma packed her bags and flew to her new home. It took some getting used to, she says. "Especially the people and the food are very different here than in Merlot," she laughs. "There is a lot of fast food here. The sports experience is also completely different. There is a lot of time, money and energy in sports here. In the Netherlands I went to school and I played volleyball, which are completely different from each other. If I have a match at Sneek in the evening, I am sure that the next day I will be back at the university in Maastricht. had to do. It was my own responsibility. "It's a little different in America. "Here, school and volleyball are completely compatible with each other," explains Emma. "We played in New Orleans on Tuesday and Thursday. We fly here, we sleep in a hotel, and you're gone for a week. Emma notes that this is taken into account at school. All athletes have a coordinator who informs teachers when students have competitions. "Agreements in advance regarding tests. are done, and when we travel somewhere, study time is simply scheduled. I liked the school in the Netherlands more, but I think the combination of study and sports is better organized here.
Practice
All this ensures Emma trains up to 20 hours a week during the volleyball season. "There is autumn and spring. At the moment, the new season hasn't started yet, but it will be busy again from next week as some competitions are organized for spring," he explains. "At the moment I'm doing strength training three times a week and volleyball training twice a week. I do.Once the rush phase hits, I train every morning and strength train every afternoon.
Since the season hasn't started yet, Emma has had a little more time off in the past. He often hangs out with friends. "Everyone lives at or near the school, so we often eat together in the evening. There is always something to do. And yet Emma has seen less than she'd like. The main reason for this is the lack of public transport (public transport). "It's hard for me not to have a car because there's no public transport here. If you want to go to Dallas, you have to drive. Otherwise you won't get there. I've come to appreciate public transport in the Netherlands again," he laughs. "In that part of the Netherlands, we're well organized."
Another thing Emma re-appreciated during her time in America was Dutch food. "There's a lot of fast food here," he says. "Even by the best athletes. When we're out for a tournament or a game, the coaches have to feed us from the moment we get on the bus. People eat almost exclusively at fast food restaurants. Americans don't think it's crazy, but it doesn't make me happy." Emma was not happy when she got on the bus at 10am and her coach was ready with a McDonalds breakfast. "I felt really hard," she says. "I love healthy food. It's fun at first, but you get used to it after a while."
AVG
So when Emma came to visit her family in the Netherlands during Christmas, she was able to enjoy a simple Dutch meal of potatoes, meat and vegetables (AVG). "I lost a few pounds pretty quickly in the month I was here," she says. "It was great to be with my parents again and to see my girlfriends, I missed them so much. It was also nice not to have to think while talking. Good dialect, because that's what I talk to my family and friends. My best friends in America are international. They come from Brazil and Mexico, so I always speak English there and switching from Dutch to English after a month takes some getting used to.
the future
Emma's adventure in Texas will end in 2.5 months. She wasn't quite sure what she wanted to do next. "I want to travel through America before returning to the Netherlands. I want to visit New York and I'm going to San Francisco at the end of the semester. My friend and my former teammate plays there and he does the same thing I do here.
Emma's internship will start later this year, in September. "So student life is a bit over and I've been very busy. The duty of being a student is gone. So I would stop playing volleyball and go to the rooms in Maastricht. It's crazy to stop something I've done for so long, but on the other hand it's also good. I don't have time for that anymore. That's fine, and I'm fine."
Nevertheless, Emma is looking forward to this period. "I really want to be a doctor, and this is part of it." However, the wandering is not over yet, because Emma also wants to do an internship abroad. "But I'm not sure yet, it depends on how the wind blows. One day I think 'live in the Netherlands' and the next day I'm more attracted to foreign countries. My future is still open and I'll see it with the time and opportunities I still have in my life. .
"Coffee fanatic. Friendly zombie aficionado. Devoted pop culture practitioner. Evil travel advocate. Typical organizer."