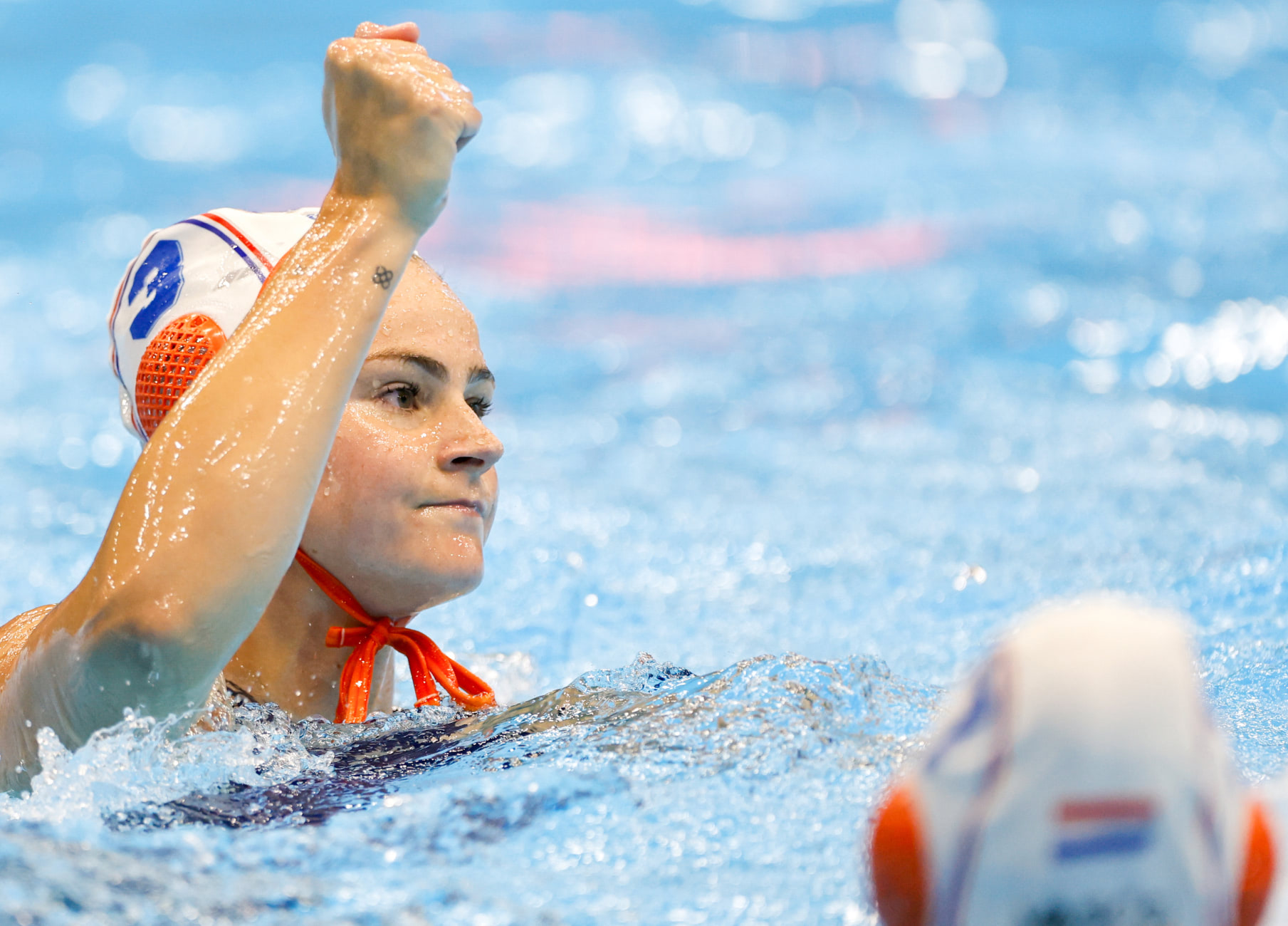 World Cup: Orange firmly into semi-finals
Dutch water polo women have qualified for the semi-finals of the World Cup in Fukuoka. The Dutch won convincingly (17-10) in the quarter-final against Canada and face Italy on Wednesday at 10 am Dutch time, which surprisingly eliminated the current world and Olympic champion USA: 7-8.
Due to previous group wins, the Netherlands team did not have to play in an intermediate round. The result of this advantage was that the team had to go three days without a game. But the pace showed no signs of slowing down against Canada. National coach Evangelos Doudetsis' team chased the opening blocks and already led 4-0 after 3 minutes.
The Netherlands continued to gain momentum after one period leading 6-2. Aggressive and varied play in attack – swimming, laying 'blocks' and sliding without the ball – the Orange brought a player into shooting position every time. Most of the goals were scored mainly because of this combination attacking play, while Canada's defense was played in isolation.
The Netherlands led 11-5 at the half and the game was almost over. Canada managed to make some comeback in the third period, but the Orange regained control in the final quarter, and the North Americans were not involved.
National coach Dudesis looked back on a 'solid match'. "In the end we dominated for 3.5 periods. Only in the third period were we impatient to attack for a few minutes. This led to some unnecessary goals being scored. But overall I am definitely satisfied with our performance and results. "It's good to win 17-10 in the World Cup quarter-finals," said Doudesis, whose team reached the last four of the 2022 World Cup in Budapest via Canada. The Orange then won 10-7 and finished with the bronze medal.
Now the team is aiming for at least a spot in the finals, as apart from silver or gold, it also offers direct qualification for the Olympic Games in Paris. Italy is the last hurdle for the World Cup finals and Olympic ticket on Wednesday. Many believed the United States, but Dudesis says his team has prepared for every scenario imaginable. "Italy are a fantastic team with some world-class players. They won against USA for a reason and that will undoubtedly give them a lot of motivation. But we have a good team, a lot of confidence and we are definitely going for it. Opportunities? Half for half."
Vivian Cevenich: "I think it's good that we started very strongly after three non-racing days. We played against Hungary, we trained hard yesterday, but it's good to play every day. And in many ways the fact that we're scoring shows how much quality there is in the team. Will it be enough to beat Italy? It's going to be a fight anyway. Now the US can't be world champions, we all want to win that title. That's true for Italy and us, but also for the other two semi-finalists. . Everyone is enjoying their chance now. I'm sure we could have beaten America too, but that won't count now. From now on we'll be fully focused on Italy, which will undoubtedly be a great battle with a lot of passion, attitude and aggression.
Quarter Final, Monday, July 24
Netherlands – Canada 17-10
Period standings: 6-2, 5-3, 3-4, 3-1
Goals Netherlands: Kitty Lynn Joostra 3, Brigitte Slieking 3, Simone van de Kraats 3, Leek Roge 2, Vivian Sevenich 2, Nina den Broek, Lola Moolhuizen, Iris Wolves, Martje Keuning.
"Coffee fanatic. Friendly zombie aficionado. Devoted pop culture practitioner. Evil travel advocate. Typical organizer."