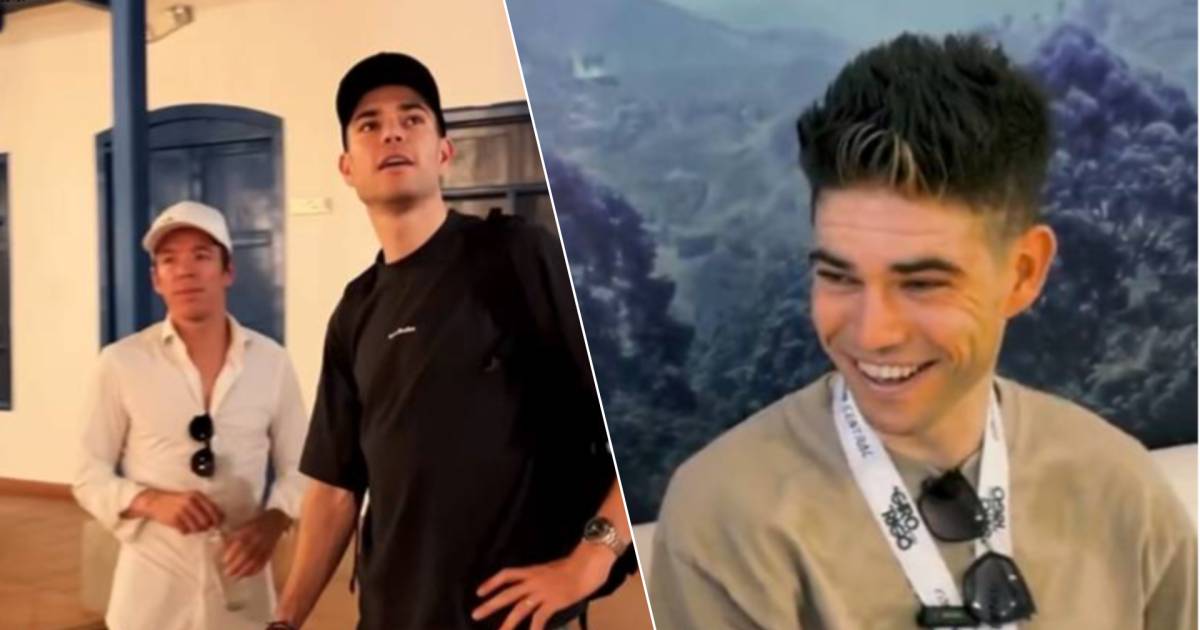 "What did you buy with your first salary?": Van Aert, who claims to be referring to Giro again, has a series of striking answers in a light-hearted interview | game
see "Which monument would you like to win?": Woud van Aert tackles a series of dilemmas in an interview
"Ping pong with Wood Van Aert," Sabato describes his conversation with Van Aert in the video above. The Colombian presented our comrade with many light-hearted questions and dilemmas and 'WVA' did not shy away from them.
For example, we learn that Sean Kelly is his favorite rider of all time, that he wants to continue racing until he's 35, and that the hardest mountain he's ever climbed is the French Col de la Loz. "What did you buy with your first paycheck?" Sabato listens too. "I waited a while and then bought a house to rent."
All questions and answers at one glance:
• What did you eat this morning? "Arepas (a stuffed cornmeal roll popular in Colombia, ed.) and fried eggs."
• Who is your favorite rider of all time? "Sean Kelly!"
• What is your favorite food? "french fries"
• Who is the most popular person in your phone contacts? "Ricoberto Uran (laughter)"
• Which race would you still like to win? "The Tour of Flanders"
• Who is the best climber in the world…? "Jonas Wingegard"
• What did you buy with your first paycheck? "Waited a while and bought a house on rent"
• Win a souvenir or a grand tour? "A Monument"
• What is the hardest mountain you have ever climbed? "De Col de la Los"
• Which social networking site do you use most often? "Instagram"
• At what age do you plan to retire? "Um, at 35"
Van Aert already told cycling website 'Mundociclisto' during his trip to Colombia that the Tour of Italy will be one of his biggest goals in 2024. Although we still have to wait for his final show to be announced by Jumbo-Vizma at the end of December, speculations about this have already made the rounds. In an interview published today by Eurosport, Van Aert did not deny that the Giro would be a part of it.
"Can I drive the Giro? I don't know if I can say more (laughs). But I'm looking forward to doing something different than what I've done before," he says with a wide smile on his face. "It's going to be a special year with the Olympic Games in the summer, so that will definitely be a focus. But my big dream remains the same: to win a Flemish classic.
For now, Van Aert will 'only' ride eight crosses this winter and is already training hard. Today he and some teammates tackled the Dwars Tor Vlaanderen course (110.85 kilometers in total) and he ran an average of 4'37" per kilometer with Diesge Benut.
"Coffee fanatic. Friendly zombie aficionado. Devoted pop culture practitioner. Evil travel advocate. Typical organizer."