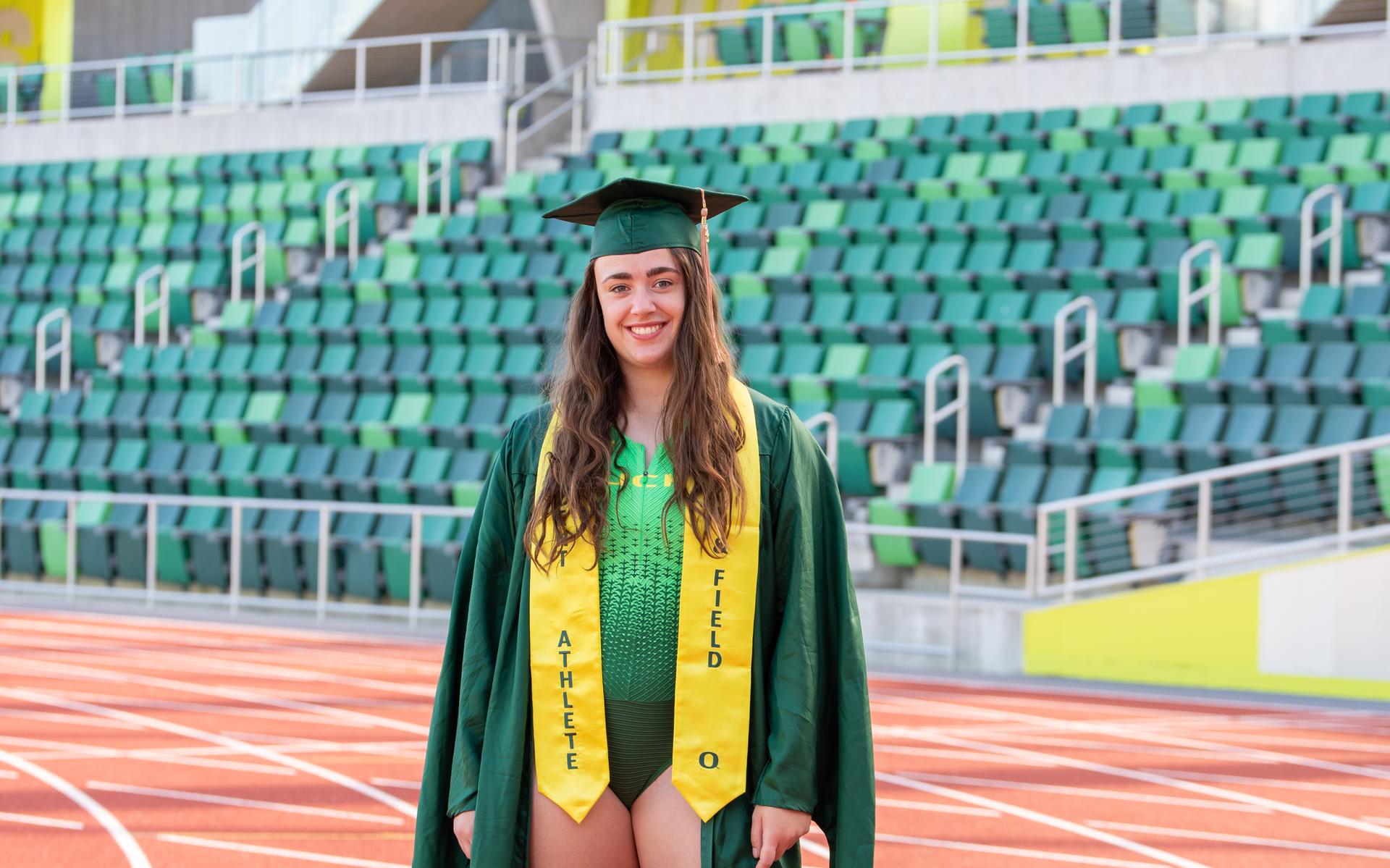 Top athlete Jorinde van Klinken from Assen is fighting for a safe sporting environment. I want to help combat offensive sexual behaviour
Discus thrower and putter Gorend van Klinken (23) from Assen is more than just a great athlete. She also wants to contribute socially. "I want to help combat sexual transgressive behavior in sports. I've had different experiences with that," says Drenthe.
After three years of studying and playing sports in the United States, Jorinde van Klinken returned to the Netherlands on Sunday. This marks the next stage in her life for the woman who won the prestigious Diamond League competition in Oslo last month. In addition to sports at the highest level, she wants to engage in sexual behavior in sports. How this is handled in America put it on the right track.
I'm going to start my own company to help combat offending sexual behaviour," says the athlete, who will take part in the World Cup in Budapest in August. "I've had different experiences with it. In America they have legislation forcing educational institutions to do something with all the claims and complaints. This showed me that things can be done better in the Netherlands in this area. Especially in a preventive sense. My plan is to offer workshops in sports federations. There are also high risks in adults. In super sports you work very intensively with your training partner, coach and staff. The main risks of this are underestimated."
I think more distance is healthy
" In the Netherlands, they believe that the more a coach or others know about you, and the closer this relationship is, the better you will go in your sports career and the better you will become as an athlete, " continues Van Klinken. In America, it's more like a business between the athlete, training partner, staff, and coaches. There is a little farther. I think this is healthy. I take a few things with me from America to Holland so they can be applied here. With my bad experiences sometimes I felt helped and other times not. The time when I felt helped was in America. It is a first step for me with my company and workshops. Maybe when it starts to grow I can expand it to schools and the cultural sector as well as companies. There is still little knowledge about prevention in sports. There is still a lot of work to be done."
The multiple Dutch champion has ideas on how to do things differently for a safe sporting environment. "Boundaries need to be set within the training group. For example, giving compliments on appearance. There's no need for that to happen, it could be the beginning of something greater. I've been looking for it for the past year. This shows that sexually aggressive behavior is building up little by little. The behavior of a training partner, staff or coach becomes progressively more intense. At a certain point, as an athlete, you find yourself in a black hole, where you don't know how you got there. It's very difficult to find a way out of it. It's important to recognize early and explain that there are behaviors that can lead to Something worse later.It shouldn't affect the relationship at all if you agree to ignore those compliments.
You must be able to file a complaint anonymously
In the Netherlands, complaints of aggressive behavior can be reported to the Safe Sport Centre. "People who work in unions are also required to report if they hear something. But it would be a good idea to use an app to advertise anonymously. Because complainants feel that those who receive complaints are not always independent. It should be, because in sports you have dependent relationships with certain people. It's not meant to suffer disadvantages by filing a complaint."
Van Klinken's athletics life takes a new turn with her return to the Netherlands. Her American coach Brian Plotrich, who coached her for three years in the United States, will still help her to the World Cup, but then he will return to his homeland. He is the man under whose leadership Assense has grown into the best player in the world with fourth place with the discus throw in the previous European and World Championships and bronze in the European championships in shot put. The athlete also advanced in the world standings in the discus throw of 70.22 meters.
The plan is for Brian Plotrich to coach me remotely from America via video clips and video calls. It's my choice. If I didn't believe it, I wouldn't. I'm not just going to throw away my sports career. But I never did it that way. It remains to be seen if it goes well. It's not optimal, but we'll try. We'll see very soon with my training and throwing if it works or not."
Coach Brian Plotrich has earned my trust
A new coach in the Netherlands is not an option for the Groningen athletics athlete. I don't think any coach is as good to me as Brian right now. He has proven himself with what I see in my progress. I can't explain to myself that I will hire another coach. I have great confidence in him. This is totally unique to me, because I don't like to be handed over. I am skeptical of course. We are very open in communicating with each other. We really say what we think. This works fine. "
,, This coach makes decisions but always asks for my opinion. That's a good combination. He says things no other coach in the world would think of. She did much better and always on time. He has earned my trust."
Staying longer in the United States, after three years of study and sports for universities in Arizona and Oregon, made no choice for Van Klinken. "I chose to come back to the Netherlands mainly for personal reasons. My friend lives here and there are other factors. This outweighs not being able to be with my coach physically every day."
My sister heard bears
De Assense says she will miss many things about America, such as the beautiful nature. She took a road trip through several states and national parks with her visiting sister. Sniffing bears around their tent. "You can always run into bears. They keep their distance. Except at night when they come to steal food. When we camped during our trip, we had to put all our food in a bear-safe place. My sister heard the bears. Yeah, we were in our tent, haha. Well, if something goes wrong, it's food. They don't want anything from us. Just steal your food."
She has changed because of her stay in America. "It's inevitable if you've been living in another country for a long time. Just because you see that it could be done differently. You start to think about things more. For example, I really had to learn how to communicate. Your eyes will open in another country."
Van Klinken wouldn't miss a bit of social behavior: Americans are very nice to everyone. Even if they don't like that person very much. Then you hear that they say very different things behind their backs. I made some friends, but this behavior made it even more difficult. That's not honest for me, whereas in America that's socially OK."
"I think it's good to think a little bit more about what you're going to say, about the effect that will have on the other person. In Holland that is subject to honesty. But you don't have to just say everything if it's going to hurt people a lot. They say in America at least: This may sound harsh, but…these are things I'll take with me."
Van Klinken calls winning the Mega Diamond League. In Oslo she defeated reigning Olympic champion Valari Allman of America and Croatia's Sandra Berković, a multiple Olympic and world champion and won the bronze medal. "It's so special to beat such big names," says Drenthe. "Especially because they're five to 10 years older. I'm actually coming to watch at the highest level. It was my second ever Diamond League title, and I actually won it."
I am also a candidate for a gold medal
Then she came second in Stockholm during the Diamond League. "It was almost as good. Now anything can happen at the World Cup. These Croats and Americans are favorites for the title anyway, but I'm also a favorite for the gold. We're very close together and the competition looks at me differently since winning the Diamond League. I've never beaten two big names in a head-to-head duel. I think what I do now in big races makes more of an impression. Then they have to look at you."
Van Klinken finds it hard to describe her personality, but she makes a good attempt: I'm honest, direct, determined, stubborn, stubborn, and serious, always trying to keep a sense of humor in her. I think it's important to be trusted and I'm always looking for ways to grow as a person. Confidence in yourself is important. I want others to see that too. They are capable of much more than they think. This is usually the case. But if you don't think so, don't try."
"Professional reader. Award-winning gamer. Zombie buff. Social media junkie. Bacon maven. Web scholar."