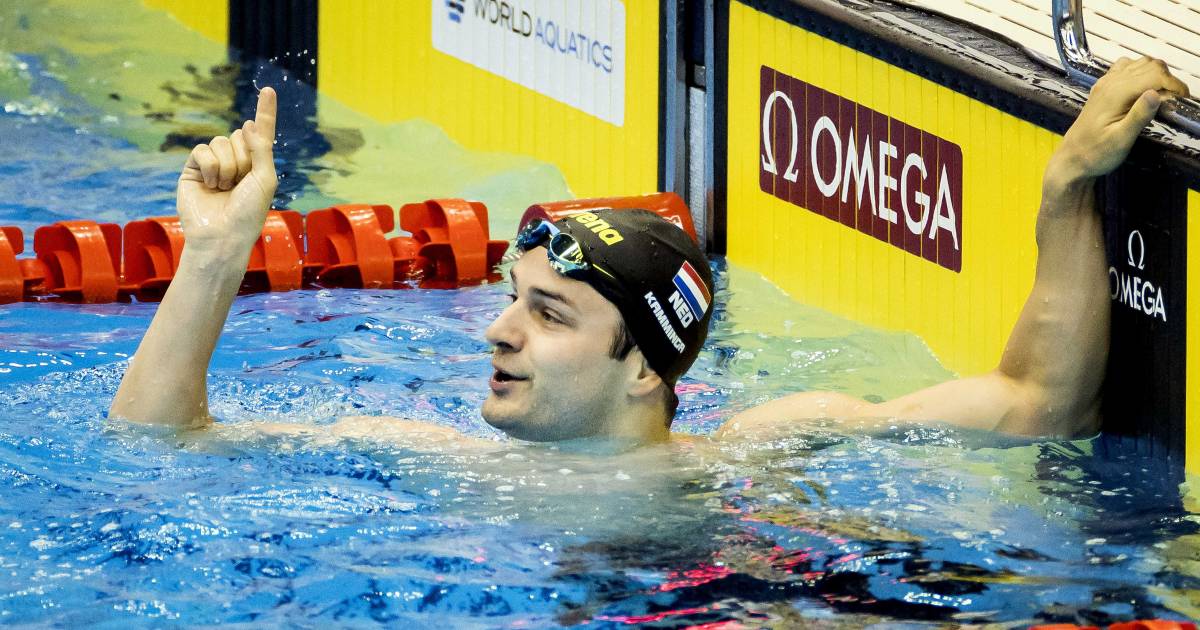 Kamenga wins silver again after special World Cup 100m breaststroke final: Three swimmers runner-up | other sports
Swimming World ChampionshipsAgain the silver medal for Arnaud Kamenga on the second day of the long track championships at the World Swimming Championships in Japan. He finished second in the 100-meter breaststroke event, with defending champion Nicolò Martinini of Italy and American Nick Fink. China's Haiyang Chen won the world title, setting an Asian record of 57.69 seconds.
Kamenga has already won two world silvers in the 100m breaststroke: in 2021 at the Olympic Games and in 2022 at the World Cup. During that tournament a year ago, Kamenga fell ill and what followed was the Year of the Quail. North Hollander had to reduce his training volume from thirty to forty hours a week to a paltry five hours for a top athlete. He was exhausted, both physically and mentally.
But his foundation is good and so national coach Marc Faber's team once again competed for trophies after six months of hard training on Monday in the World Cup final. Between Martinenghi and Fink, Kamminga clicked the same time after 58.72. "I'm so happy I can finish a bad year like this, silver again in the World Cup, great," Kamenga gleefully rejoiced immediately after his race in front of the NOS camera. "It was a short notice. Then there is the doubt now, not next year. If I can do it now, that promises a lot." In 2024, the World Championships will be held in Doha in February and, of course, the Summer Olympics in Paris.
"Everything is close together," Kamenga saw after the semi-final, which he won on Sunday in 59.08. That was the fifth time. Chen went under 58 seconds, thus making his first grand final.
Kamenga's medal also aroused necessary sentiments in Fabre. , People always say that he will do it for a while, but it was really deep. I really thought: "What do we have to do to get him out of there again?" Fabre said, after hugging Kamenga with his medal around his neck. "It gives him a big boost. You can do yourself a favor if you swim the race that is now possible," I told him. That's what he did.
Marcel Woda remains the last (and only) Dutch men's Olympic 50-meter pool world champion. He won the gold medal in the 200-meter individual medley in 1998.
Disappointing time Steenbergen
Marit Steenbergen finished seventh in her first long-track World Championships individual final on Monday. Her final time of 2:11.89 minutes in the 200-meter individual medley was disappointing. In the semi-finals, the national record holder came to 2:09.30 on Sunday. Just like in the short track, the world title went to Kate Douglas: 2:07.17. This was the first world title for the United States in this tournament. "When I look at what other people are doing, I think I could do it too. But it didn't feel smooth to me. It wasn't all that, it has to be sharper," said Steenbergen, who will continue in the series on the 200m freestyle on Tuesday. Janna van Kooten will also start with that figure.
Schotten, De Ward and Toussaint miss the final
In the women's 100m breaststroke, Tess Schouten was suspended in the semi-finals. It resulted in 1.06.53 in tenth place. Schotten set the Dutch record in April of this year in Eindhoven in 1:05.71. Lithuanian Ruta Milutet qualified with a score of 1.05.09 as the fastest in Tuesday's final battle.
The women's 100m backstroke also did not lead to a place in the final for the Netherlands. Maaike de Waard finished eleventh with 59.84, and Kira Toussaint twelfth with 59.89. Toussaint is currently training in Spain with Canadian trainer Ben Titley's group, which also includes Kylie Maas. Her Dutch record is 58.65. The fastest time in the semi-finals was from the American Regan Smith: 58.33.
China won the gold medal in the women's 100-meter butterfly. Yufei Zhang took the medal in a time of 56.12 seconds. He won the men's 50-meter butterfly final without European champion Niels Corstanje and Thomas Ciccone of Italy, with a time of 22.68 seconds.
Unlimited free access to Showbytes? which can!
Log in or create an account and never miss a thing from the stars.

Yes, I want unlimited free access
"Professional reader. Award-winning gamer. Zombie buff. Social media junkie. Bacon maven. Web scholar."