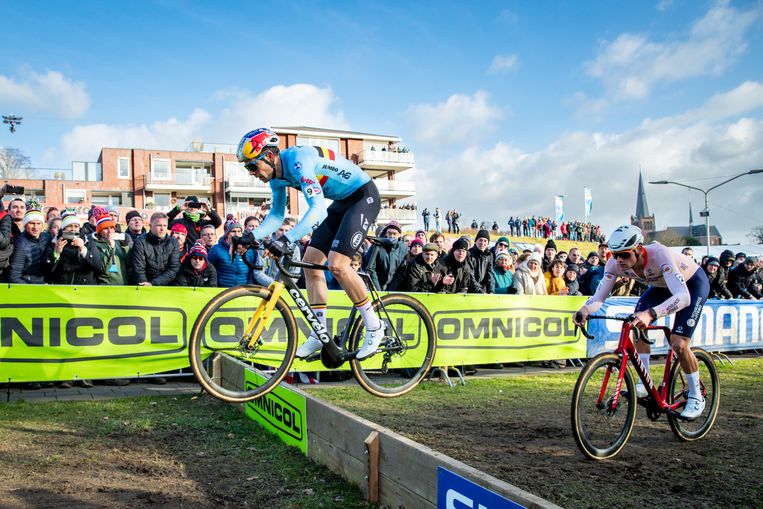 Teams welcome "weird" crosses, as long as they don't cost money
Internationalizing cyclo-cross? Please, if it depends on the UCI. "It is no coincidence that the colors of the rainbow jersey symbolize the five continents," says Pieter van den Abel, head of the off-road department. "We intend to globalize every discipline of cycling. The ambition should not be to stay in Flanders and the Netherlands."
According to Van den Abeele, the World Cup is the perfect competition to get outside. He is happy with the successes in Benidorm and Dublin and looks forward to what can still be done. "With England and the Basque Country I will be very satisfied in the short term. We also have contacts in America and Canada. If I had a dream, in five years we would be racing in New York, Tokyo and Beijing. It would not be realistic to visit the five continents every winter, but it would be nice to have We have a World Cup race in two of those cities every year."
Payment of expenses

Jurgen Mittebeningen, Bowles manager Suzen Bingwall, has confirmed that he is in a good mood for the World Cup. "It is the most prestigious classification and if the organization succeeds in giving more charisma to cyclocross by showing itself in the cities of the world, we applaud it."
However, it imposes two conditions. If they want us to go to America and Africa, there must be something in return. The trip to Waterloo and Fayetteville cost us €40,000 for four riders, a team captain, two caretakers and a mechanic. Each of the riders pays 5,000 euros. In addition, I think recognition is important. There is no point in going to New York just once. The sport benefits most from fixed values, from crosses that can grow into classics. This is how you connect supporters.
If these conditions are met, I say yes to this World Cup. Otherwise, they should not count on me. If long trips are on our budget, that's a problem. Then we can invest less in young people and give fewer boys and girls a contract. This will not make the sport any better. "
sponsors

Philip Roodhooft (Alpecin-Deceuninck) thinks it's good that further internationalization of cyclocross is being considered. But for us, standardization should be a priority. Benidorm and Dublin have both succeeded, which must now continue. A solid foundation for many years must be laid there. New York as an alternative to the American Crosses that are there now, Waterloo and Fayetteville, seems to be an improvement. But is it time to add another continent? This is a big step."
Roodhooft also wonders how sponsors will react. "Is it added value for local players like Baloise, Pauwels Sauzen and Crelan? Perhaps they would prefer to focus on the regional circuit. New destinations are not equally suitable for everyone. As a team, we are in principle never against international competition, because in mountain biking we race Also in South Africa and America, but it might be too early for cycling."
Sven Ness (Baloise Trek Lions) chose not to comment.
"Professional reader. Award-winning gamer. Zombie buff. Social media junkie. Bacon maven. Web scholar."