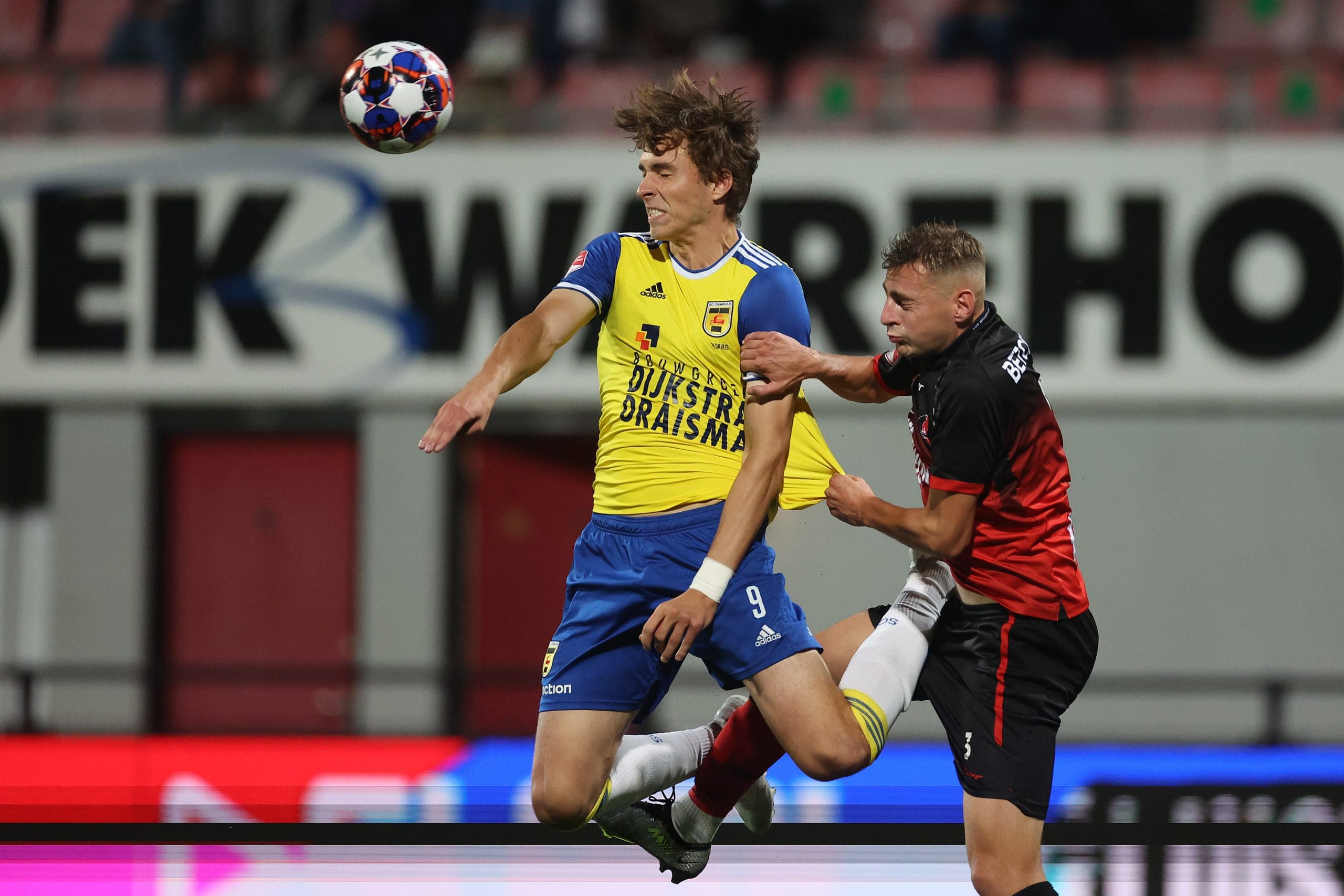 SC Cambuur crashed on the final stage in and against Helmond Sport
September 1, 2023, 22:20
This weekend, it's time for Round 4 in the Kitchen Champion Division. For our team, that meant a duel at Sportpark de Braak where they faced Helmond Sport. Just like in Leeuwarden, they are preparing to move to a new stadium in Helmond. As in Leeuwarden, Helmond also had the necessary feet in the ground. But if all goes according to plan, the Brabantians will also play next year in a new multifunctional stadium to be built next to the existing GS Stallwerken. The new property confirms the ambitions of the Kattenmeppers and shows that the Helmonders must be taken seriously in the Kitchen Champion department.
However, the start to the season in Die Braak is still somewhat disappointing, because even tonight with just three points from the same number of matches, manager Bob Peters could have wished for himself – and of course the club – a more enjoyable start to the competition. There is no shortage of quality at Helmond, because with players like Giannis Vivus Potos, Martin Kars, Elmo Levetink, Peter van Oijen and Arno van Killegum, Helmond Sport has enough quality. And those who wander the catacombs of the old stadium will also meet many old acquaintances of our club. Tim Buckens is assistant coach there and Dirk Jan Dirksen returns as chief scout at the club as he finished his active career as a professional footballer in 2009. To top it all off, Helmond's Doke Schmidt was introduced as the latest addition a few weeks ago.
SC Cambuur started a great competition with seven points from their first three matches. Head coach Siewers Olte – who was working in De Braak as an assistant coach – said in his weekly press interview that he was particularly satisfied with the energy and enthusiasm his selection has shown so far. "We are certainly very happy about that, but at the same time there are also a number of things we could improve. And the number of hits we've received so far is an example of this. We worked hard on this last week and especially in terms of the remaining defense and the choices we make, with or without the ball, we can still grow. And by the way, it went a lot better in the second half against Young Ajax and we want to build on that." Olti says. But a good start to the competition tonight has come to a rocky end. Sjors Ultee and his men were beaten for the first time this season. The match ended with the home team winning 2-1. Martin Kars was the winner of the match by two goals for the host club.
Now that the dust has settled from the transfer circle in most European competitions today at the transfer deadline, it is clear with which selection Sjors Ultee will go into the first half of the season. By far the most asked question in this period was whether Alex Bangura will remain our left-back? He made a well-deserved move to Middlesbrough at the last minute, making Sekou Sela his logical replacement. On top of that, Ultee have kept as close as possible a team that has won the last two matches. Only Younis Al-Hilali replaced Michael Brigg, who was absent due to special circumstances. With the home side, coach Bob Peters turned his starting line-up around after the defeat against Young PSV. The setting has been modified in no less than three places. The Belgian coach was also unable to summon Anthony van den Hork, who was included yesterday.
In a moderately packed stadium, both teams gave the crowd a less-than-fanciful first half. Cambuur could have taken the lead early in the game through Sylvester van der Water, but the winger lacked the strength and precision to be effective. The first half witnessed parity between the two teams, but there were no clear chances. So the first half score of 0-0 was the logical result.
After the break it was immediately hit for the home team. Martin Kars got to the ball shortly before Yannick van Och and scored 1-0. It was then important for the Sjors Ultee formation to quickly remove its damage. Bringing in Roberts Oldricks, among others, should have resulted in more offensive leadership. The Latvian forward seemed to have equalized midway through the score, but his header was unbelievably saved by Wouter van der Steen. The equalizer could not be missed at this point and came last. Milan Smit eventually equalized with their fourth goal of the season. After this 1-1 score, the Leeuwarders wanted to go ahead and make it 2-1 with full dedication. Remko Bulk came close to 1-2 with a dangerous shot. But in the last minute of regulation time, Martin Kars ruthlessly scored again, making Cambuur very dizzy.
Now is the time for Cambor to take revenge. And that should happen next weekend against FC Den Bosch. This time not on the usual Friday evening, but due to the international game at the weekend on Saturday evening (6.45pm). Den Bosch will be coached this season by Polish-German coach Tomas Kaczmarek. FC Den Bosch, part-owned by the American Pacific Media Group, has been operating on the sidelines of the First Division in recent years, but it should not and should not be underestimated.
Helmond Sport squad: Wouter van der Steen, Miss Crickles, Flor van den Eyden, Elmo Levetink, Gabriel Schulhasse, Doc Schmidt (77. Bram van Willerken), Michael Chacon, Mohamed Melahi (74. Arno van Killegum), Josef Amozu (74. Peter van Oijen) ). ), Giannis Vivus Potos (67. Haakon Lorentzen), Martin Kars
Set up by SC Cambuur: Yannick van Och, Siko Sela (59. Vincent Peschel), Marco Tulle, Floris Samand, Gabi Caschelly (66. Leon Bergsma), Younes El Helaly (59. Roberts Oldricks), Fede de Jong (91. Milan de Koi). Daniel van Kam, Sylvester van der Water (66. Vibe Questra), Milan Smit, Remko Balk
to rule: Kevin Potts
Yellow cards: Josef Amozzo, Flor van den Eeden, Martin Kars (Helmond Sport) and Rymco Bulk (SC Cambuur).
Number of spectators: 1,537
Goal progression:
48′ 1-0 Martin Kars
70′ 1-1 Milan Smit
90′ 2-1 Martin Kars
picture: www.dijksmedia.nl
---
"Professional reader. Award-winning gamer. Zombie buff. Social media junkie. Bacon maven. Web scholar."