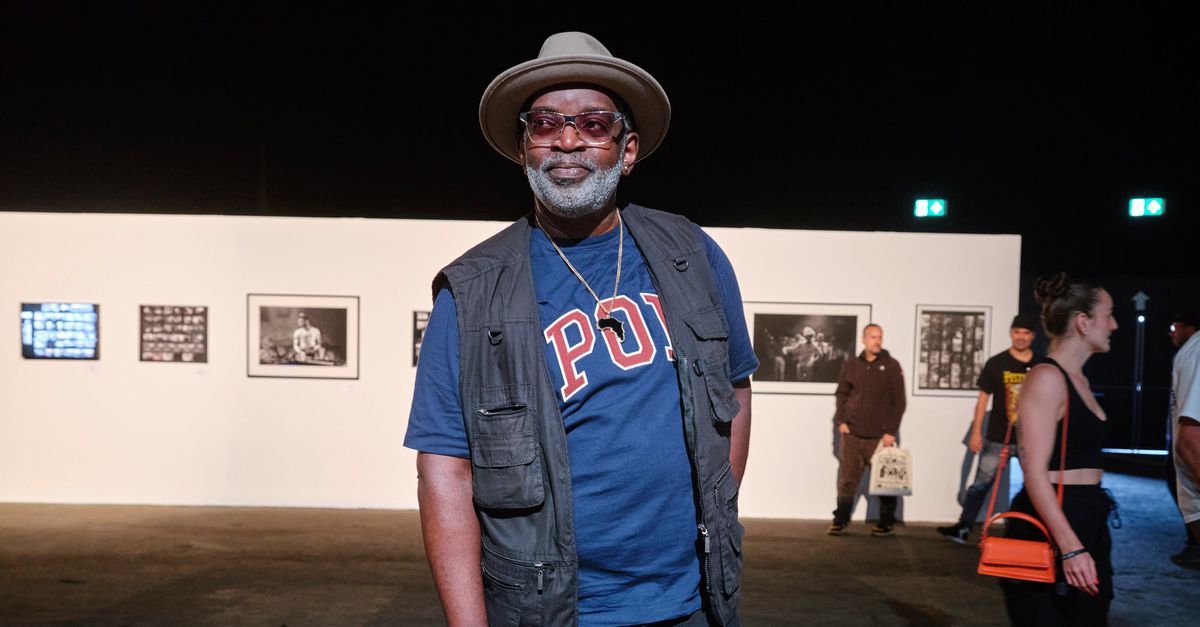 Hip-hop pioneer Fab 5 Freddie: 'I'm proud that we won'
"Wait a minute, I'm going to show you something!" In the dining room and workspace of his home in Harlem, New York, hip-hop pioneer Fred 'Fab 5 Freddie' Brathwaite (63) stands eagerly back in a frame of three snow-white tiles bearing the original graffiti signature 'TAKI'. 183′.
This is a quick pen Tag Facades, park benches and electric houses are often plastered. But it has great cultural-historical value, explains Fab 5 Freddy. In the late 1960s and early 1970s, 'TAKI 183' pioneered the graffiti craze that defined public image in New York.
"A Greek guy from Washington Heights who worked as a walking package delivery boy, wrote his name and street number on the walls along the way," says Fab 5 Freddy. "He did it on the subways, too, so he was seen everywhere. Other kids wanted to leave their names. It spread like a virus throughout the city. Young Fab 5 Freddie also left his name on walls in his home neighborhood of Brooklyn. "So the other kids who lived there were like, 'Hey, It was a boy; I see his name everywhere. He smiles a little. "Yeah, that's me."
We found out they were in the Bronx talking to that music
The sixty-year-old, who is central to the evolution of graffiti and hip-hop in general, says that graffiti was initially "a youth activity. "It was simple," he says. "But you saw it develop quickly on the metro trains. There was competition; there was a desire to do more with it. ." He mentions advertising in New York attracting attention from all sides. "We followed the way we were bombed."
Fab 5 Freddie, who often skipped school to visit art museums, saw a parallel between graffiti and pop art "and how artists like Lichtenstein and Warhol were inspired by comics, packaging, advertising." In the early 1980s he and graffiti artist Lee Quinones created a subway-side work based on Warhol's iconic soup cans. An irresistible statement that ran for months in New York and the suburbs, placing graffiti early on in the wider art scene.
Fab 5 Freddie is an artist, music video director, curator, musician, producer and television host. Yo! MTV rapsA milestone in 50 years of hip-hop history. He is the creative director of Retrospective Contact High – A Visual History of Hip-Hop It opened on August 11 at the Ferro Kashouder in Rotterdam – a European premiere. It's an exhibit "about the creative process behind some of the most iconic images in hip-hop history."
When the pioneers first encountered the basic elements of hip-hop — DJs mixing together break beats, crowd-pumping MCs, graffiti, breakdancing — the art form was still young and underground. DJs were performing in his neighborhood, who quickly recorded fragments (intervals) of the most popular rhythmic songs. ring played and/or welded together. "We found out they were in the Bronx talking about that music. There was no media attention yet; it didn't have a name yet. I had to hunt myself down to find out more. It was incredibly exciting.
He recalled passing a group from the Bronx in Times Square with an MC talking to beats from a portable tape recorder.
Kick the doors down
In the late 1970s and early 1980s, Fab 5 Freddie was one of the key figures in connecting New York's hyper-local hip-hop underground scene with the established art world and pop music. It started for him outside of America, says the artist. In 1979 the first exhibition of works by Lee Quinones and myself was held at famous art galleries in Rome and Milan. We wanted to take our work from subways to museums and kick down doors. It was an honor to take the lead in this," he said.
Fab 5 Freddy insists that the evolution of graffiti and street art requires a step towards established cultural institutions. "We have unwittingly created new painting techniques in the raw environment. The established art scene in Manhattan completely missed the boat during that period. They could not believe that young black men were capable of creating great visual art.
Hip-hop was built by people of color and has always addressed the plight of black people in this country
A pioneer who pioneered international tours, exhibitions and collaborations says Europe was important to the development of his culture. "Netherlands and England were the first countries that really welcomed hip-hop from the beginning. The first rappers who went on tour always came to the Netherlands. When in America it only got local attention in New York, they were already embraced there.
Over the past five decades, hip-hop has grown into an internationally diverse culture spanning countless fields – from fashion to music, from technology to language, from design to dance, from activism to entrepreneurship, from politics to poetry. Fab 5 Freddie is one of the founders of the idea that hip-hop is a form of culture that has a communicative element. He was the originator and producer of the classic primal hip-hop scene in the early 1980s. wild dress, an authentic-looking, documentary-like film took place in the middle of the scene. He wanted to emphasize through the film that the breakdancers, MCs, graffiti writers and hip-hop DJs who appeared together in New York created a cohesive culture. "I read in the school library that all cultures should have music, dance and visual arts. I wanted to show through that film that it belongs. What did these young black and Latino youth who received only negative media coverage create?
Blondie
He also acted in his twenties wild dress. "It wasn't the intention, but I still lived with my parents. I often hung out with my good friend Jean-Michel. [kunstenaar Basquiat, red.], who crashed into people's beds in the city. With the few extra hundred dollars I earn as an actor, I can afford to rent my first apartment.
Even in downtown Manhattan, he was a smooth networker who made connections between the burgeoning hip-hop scene and the established art and music mainstream. "The new wave and punk rock scenes embraced me."
Friend Debbie Harry mentions Fab 5 Freddie in the first line of Blondie's hit "Rapture," the first rap-inspired song to top the charts in the US in 1981. "To have my name mentioned and to represent a culture that a lot of people don't know about, that's huge," says Fab 5 Freddie. "Blonde was the best band. The radio didn't want to play rap, and it was the same battle in the visual arts. People kept insisting that rap wouldn't be music, while the future was knocking on the door. We had to build a huge amount of energy so they couldn't ignore us.
Now, five decades after hip-hop's Big Bang, Fab 5 Freddie marvels at how far-reaching and enduring his culture's urgency has proven. "We weren't thinking about the future at the time," says the gray pioneer, now a cannabis entrepreneur. "Built by people of color, hip-hop has always addressed the plight of black people in this country: racism that systematically hindered black artists. Hip-hop became a freeing way to express yourself. You could speak with a beat and not have to hit the right notes. You could excite the audience with dance moves. Being a visual artist. Say what you want. It completely broke all the old rules.
What he calls most special is a long breath of the culture that fascinated him so much as a boy. "I'm proud that we succeeded. It's incredible to see the poorest people in the world finding ways in this culture to express themselves and say, 'I'm here whether you like it or not, and this is what I have to say.'" Hip-hop still is.
"Coffee fanatic. Friendly zombie aficionado. Devoted pop culture practitioner. Evil travel advocate. Typical organizer."