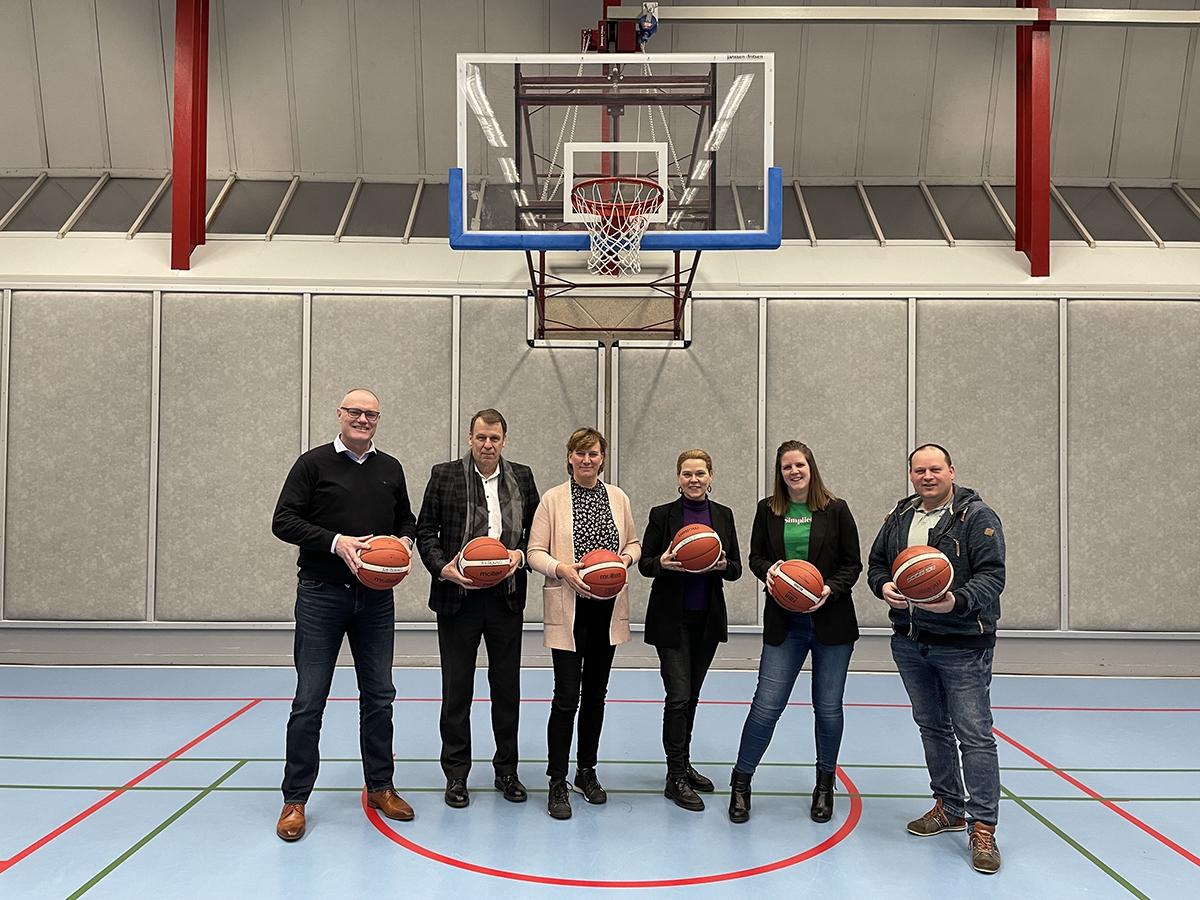 Rebound'73 is celebrating its 50th anniversary in the Stadsweiden sports hall at home
Written by Marco Jansen – An all-around sport, a pure team sport, everyone can learn and it's also very intense. This is how the jubilee committee in Rebound'73 describes the sport of basketball. The American sport was still virtually unknown in the Veluwe in the early 1970s, but that's different now. On Saturday, April 1, Rebound'73 celebrates its 50th anniversary and with it a half-century of basketball in Harderwijk.
The club was incorporated on the 1st of April 1973 and the deed of association stated that this would be for a period of 29 years, 11 months and 16 days.
However, the reason behind this is not confirmed. Hans Wurtmann, a 15-year-old high school student at that time, still remembers well the evening in the Tima cafeteria. "This was the former PMT (Protestant Military Home) building and is now a Tennessee steakhouse. The newspaper Schilders Nieuwsblad published an appeal for those interested in American sports. We were with several students from CCNV, because we were introduced to basketball for the first time during gym class."
After a few months of playing baseball, it got cooler outside and he chose basketball anyway. Wortman recalls the training sessions in the wooden gym at Kipwal, particularly the training sessions in the WGF barracks, in which the soldiers also participated. "I was with the youngsters, but well-known names like Roy Bouterse, later a forest captain in Suriname, Luc de Jong and Koen Block took part in the seniors. We even played against Desi Bouterse in Steenwijk."


Wortman came into the first team at the age of 17, became champions in 1980 and 1981 and retired in 1982 after being relegated from the second national division, because he had gone to work abroad. Back in the early 90's. Then the club had two men's teams, two women's teams and two boys' teams. There were also players who already had basketball experience elsewhere."
Bauke Keulen went to Veluwe as a soldier. He previously played basketball in Joure, Lemmer and Elburg and has been a member of Rebound'73 for eight years now. He was interim president for two years.


Manon Bose started playing basketball in 2002 at the age of fifteen. She is now 35 years old and is the all-time leading scorer in women's history. "There was only a women's team, which included my older sister, Esther. When I joined, the ladies were already over 20. There was a bit of recruitment and I also stopped for a year. But now I'm playing again. We play in the third division, the highest level we've reached." To him is first rate."


The jubilee committee also includes parents: Lotte Prinsen, Gerdiane van de Brink and Monique Roelofs (have) their children in the club. Luit believes there have been more lively activities in recent years. Monique started Bar Sportief 20 years ago with her husband, Gerwin Pluim. To help out the youth coordinator, I started managing the membership. "You see young people growing old, marriages emerging and children being born now wearing T-shirts from Bar Sportief."
According to Roelofs, the association had the Stadsweiden Sports Hall as its main base for 40 years. "It stalled when there were ambitious plans to allow men to play Top 1. But they played at 9pm in a disused De Sypel sports hall. Two years later they're back and now it's all vibrant on Saturday."


Anniversary celebration April 1st
The jubilee committee at Rebound'73, which also includes Sem van Buuren, Marjolein Zantinge and Mathijs Lucassen, has met weekly in recent months to organize a fun festive evening. It begins at 7.30pm with a formal segment where the (honorary) members who have made a special contribution to history are introduced by the Master of Ceremonies. From 7:00 pm to 9:00 pm there is a program for young children and from 9:00 pm to 11:30 pm there is a party for older teens and adults. There are two areas: the gym and the bar. A stage will be held in the gym where DJ Bloom will play music. Games like shuffleboard, twister, and spiral can also be played here. Because basketball is "off" on this day.
The reunion is dedicated to members and ex-members of Bar Sportief: here the 50-year history of Rebound'73 is shown on four screens. The Jubilee Committee is currently campaigning to write to former members. There are already 200 registrations and the arrival of 300-350 visitors is taken into account this evening, according to Chairman Bauke Keulen. In a jubilee year there are other activities, such as a fox hunt, movie night, pub quiz, and tournament.


The federation currently has 189 members and last year 170. Last season there was a girls' team again for the first time. Although the contribution is low, we can manage it financially. But due to lack of room and coaches, there are 20 children on the waiting list."
Chairman Bauke Keulen has ambitions for the future. "We first want to increase the feeling of the club among the seniors, and this is very important. The dynamic between the juniors and seniors is not really there yet. We are working on a head coach from outside the associations and youngsters with ambition can get their coach diploma from us. It takes spreading the line of continuous learning from youngsters to We also want a social function in the city. Therefore, it is a great wish, after the basketball court in Drielanden (winner of Stadsidee 2021), to also have a 3×3 basketball court in the Parkweg, because Urban Sports is very popular."


www.rebound73.nl/jubileum
"Professional reader. Award-winning gamer. Zombie buff. Social media junkie. Bacon maven. Web scholar."