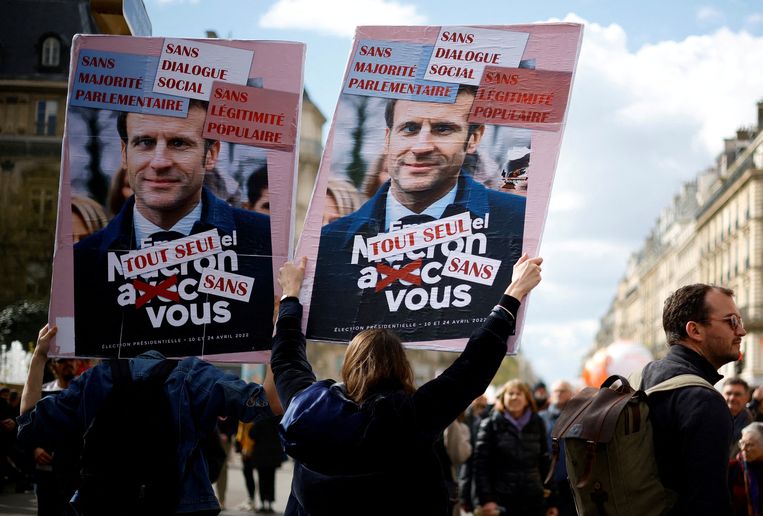 Macron will address the French on Monday in an attempt to sign the peace and reveal new plans
Macron's speech comes at a sensitive time. On Friday, the Constitutional Council approved the basic elements of reforming the pension system. Despite calls from the opposition and trade unions to wait, Macron passed the law immediately. He also ignored the millions of French people who have taken to the streets for months to demonstrate against reform.
Thus, Macron comes up with new reform plans while alienating the trade union movement – which collectively ignored a call for Tuesday's consultations at the Elysee – almost the entire opposition and much of his own people. His popularity has fallen to an all-time low. It seems that now he is seeing the moment with an outstretched hand.
About the author
Martin Albers is the general correspondent for De Volkskrant.
Macron's party colleagues already anticipated the content of that speech over the weekend. Prime Minister Elizabeth Borne told a caucus on Saturday that the government was "determined" to accelerate reforms now that the pension chapter is over. It announced plans to increase employment, ensure equal opportunities, and improve health care and education. Government spokesman Olivier Ferrand also hinted at tax cuts.
The question is how far the opposition – which Macron needs to gain a majority in Parliament – will cooperate. Many French people feel offended, both by the content of the reform and by the way Macron implemented it: without a vote in Parliament. The fact that Macron had already signed the law so soon after it was approved by the Constitutional Council contributed to the image of a president who wanted his will implemented as quickly as possible.
In any case, his political opponents hardly seem open to reconciliation. CFDT union foreman Laurent Berger noted in an interview with Le Parisien He noted that Macron himself "did not choose reconciliation" with the push strategy, and indicated that this would not be forgotten soon. In his view, there is a policy cycle called pensions, after which the government moves on to the next policy cycle. But people's lives are not a cycle of politics! "
However, Prime Minister Bourne was optimistic about the possibilities of cooperation in the National Assembly. "While now may not be the time for coalitions, I am convinced that it is possible to find a majority, project by project, to offer solutions to the French." The way to operate from now on, according to Bourne: "humility," "respect," and "listen to our fellow citizens."
"Pop culture enthusiast. Unable to type with boxing gloves on. Analyst. Student. Explorer."