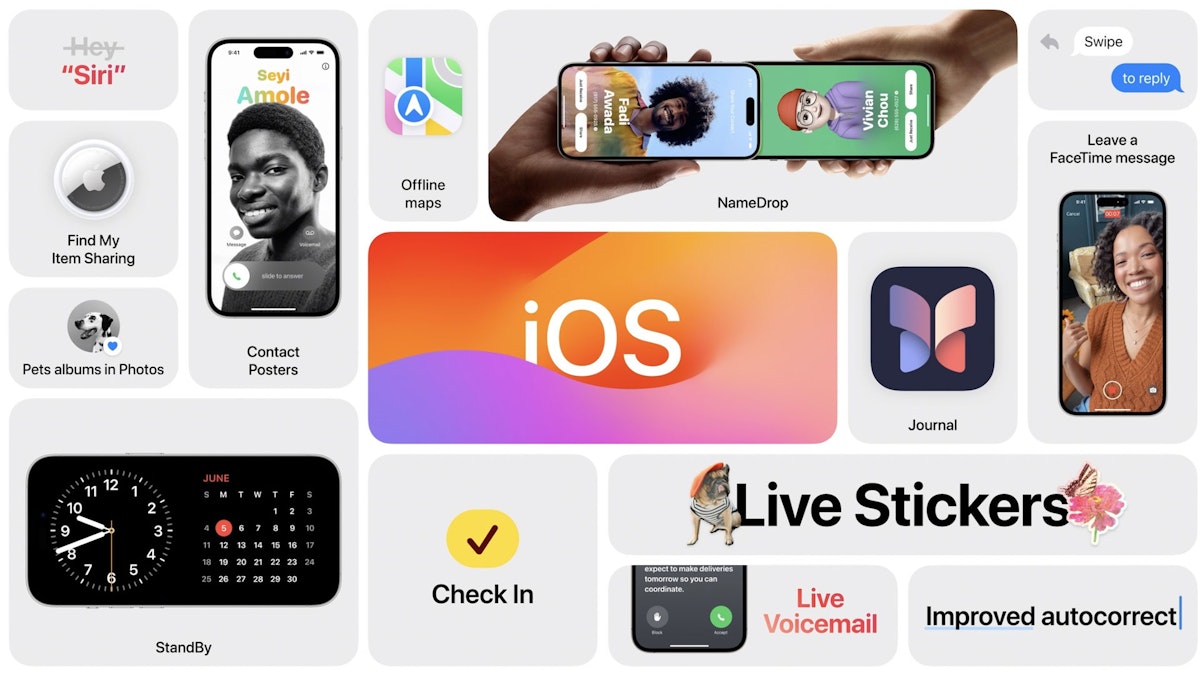 iOS 17, iPadOS 17, watchOS, and tvOS announced: Here's what's new
Apple announced both iOS 17 and iPadOS 17 at its annual developer conference (WWDC). Updates to both operating systems bring a lot of small updates to certain apps, but the really big changes are eventually omitted.
With the update to iOS 17, Apple is emphasizing three different apps: Phone, FaceTime, and Messages. The mobile app will get you personalized contact cards. You decide what your contact details map will look like. You can add a picture, specify the color of your written name, and choose the font yourself. And thanks to CallKit support (which the developers among us want to know), these special cards can also appear in other apps on your iPhone. Applications must have built-in support.
Read also: Apple Vision Pro has been unveiled alongside VisionOS
Another new feature is live voicemail messages. If you're not sure whether or not to answer because someone is calling anonymously, for example, you'll see what someone says as they leave your voicemail. If you think you recognize the person or if the message is important, you can still accept the call. FaceTime is also getting its own voicemail option. If you call someone and they don't answer, you can leave a video message. This message then reaches your friend or family member, who can view it at their convenience.
iOS 17 gives the Messages app a lot of attention
Then we take a look at the Messages app, the app that got the most attention during the conference. For example, you can search your messages more accurately thanks to various filters, swipe up on a bubble to reply to it instantly and read what someone left in a voice message. The application can copy this text. This way you can still hear what someone is saying when you don't have the space to listen. It also makes it easier for users to share their location with each other. The next option also fits this well.
Then we talk about check-in. This is a new feature that allows you to let family members know when you expect to be there. When you are on the site, they will receive a notification. This function also shows when that was not successful, which will also be reported to your family. You can continue to communicate with your family, while they also receive information about the state of the battery. There will also be a plus button with useful functions and applications, so they are always at your fingertips. The options you use most often are at the top of the list.
Finally, Apple announces additional sticker options. All emojis are now stickers that you can place anywhere you like. You can resize, move and rotate them. Live Stickers allows you to create your own stickers from photos and images. You can also create animated stickers based on your collection of Live Photos. Apple also announces updates to AirDrop. You can now bump iPhones into each other and, for example, share contact details (with that new card) and exchange files. even when you don't stop; Then the download is done online.
Keep a notepad with iOS 17
A new app introduced by Apple is Journal. With that you can Keep a personal diary. The app uses on-device machine learning to suggest topics. You can use photos, videos, music, workouts, and more. Not only that they may provide the right inspiration, you can also easily use them in your story. The app will also contain prompts, which may speed up your typing by asking (some general) questions. You can also lock these texts with screws.
Finally, Apple announces standby mode. This turns your iPhone into a smart alarm clock, as it were. When you charge your iPhone with iOS 17 and place it horizontally, a clock appears on the screen. But you also see your calendar, notifications, and more information. The mode supports widgets and is fully customizable with fonts, colors and backgrounds. Support for Live Activities, Siri, and Home Control is also available. So if you have a smart home, you can also use this mode as a type Smart screen Use it if you want.
iOS 17 also includes the following improvements:
Autocorrect now works smarter and takes more into account how and what you type.

Dictation works better than before.

Siri also works when you're not using "Hey."

Maps now supports offline maps.
iPadOS 17 gets interactive widgets
iPadOS 17 is getting a much smaller update than iOS 17. But that doesn't mean Apple doesn't have good updates in store. For example, widgets are now interactive, so you no longer have to open apps for a number of (essential) functions. For example, you can control smart devices at home, play and pause music or check reminders within widgets. Stage Manager also receives an update: you can now size the windows yourself. In addition, you can use the camera built into an external monitor when this monitor is connected.
The locked screen is undergoing the most repair. Not only do you get access to more wallpapers (like a colorful kaleidoscope, for example), but you can also choose from your own (live) photos. Live Photos will have additional frames included, allowing iPadOS 17 to add a slow-motion effect to them. You can also select the font of the clock, as well as the color. You can add live widgets and activities and track things like food orders or match results. You can also add multiple timers and do more with the Health app.
Updates to tvOS and watchOS
Later in the evening, Apple also paid attention to tvOS. The Apple TV operating system gets a new control panel and an option to find the iPhone remote. Plus, there are additional screensaver options and you can use the FaceTime app on Apple TV (via your iPhone or iPad's camera). Meanwhile, you can also see your friends while watching the same content. The tvOS 17 update should be released sometime in late 2023, just like iOS and iPadOS updates. Then only watchOS remains.
WatchOS 10 brings a wealth of new options. We will get through it quickly with you.
All watch faces display widgets in a smart stack. This way panels can uncomplicatedly display more information. You're using the Digital Crown for this reason.

Tools can have combinations of complexities.

There will be two new watch faces, Pallete (which confirms the color) and Snoopy and Woodstuck.

The world clock displays colors based on the time of day.

The Workout app includes a souvenir bag and full screen videos of each activity episode.

Apple Watch can now connect to cycling accessories via Bluetooth.

Cycling exercises now show energy zones and become live activities.

Altitudes now support compass.

There will be a greater focus on mental health; The Health app can also put that data into context.

Standard studies can reveal risks for depression or anxiety; You can then share this information with a health service.
These are the main features Apple announced at WWDC 2023. The company also announced major updates to its Mac line and macOS software, Which you can read more about here. In all cases we will have to wait and see which jobs will actually come to the Netherlands. All of the mentioned possibilities will come to US users anyway. Later this year, during the fall, we will see what Apple actually brings to the Netherlands.
"Travel specialist. Typical social media scholar. Friend of animals everywhere. Freelance zombie ninja. Twitter buff."