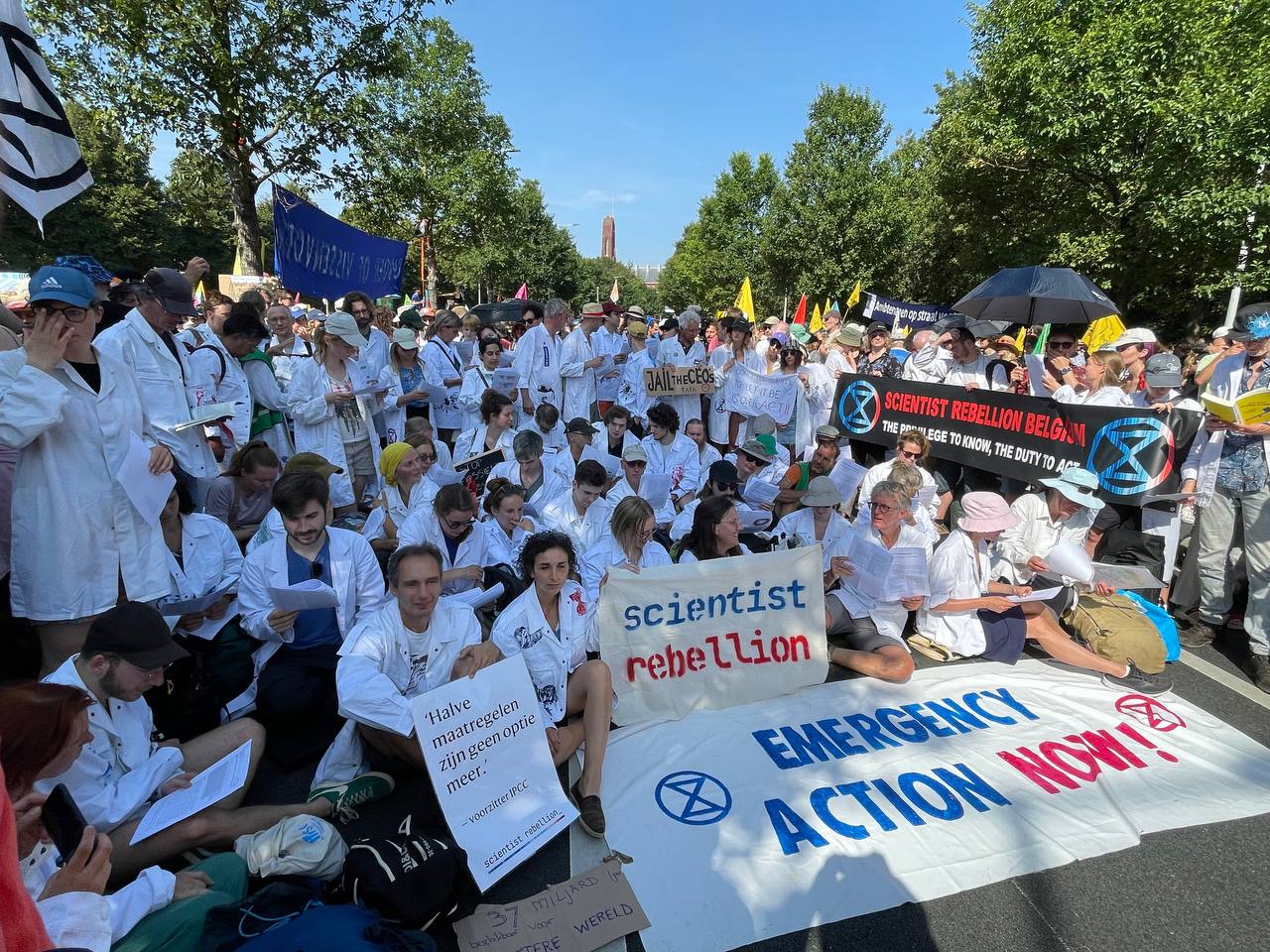 "Pretending in full academic garb against fossil subsidies."
Opinion – Radboud University's executive board and deans have rejected an invitation for scientists to participate in the Extinction Rebellion climate demonstration in The Hague wearing gowns or lab coats. "It's a shame," says Spinoza Prize laureate Clas Landesmann. "With the cape, you do not represent your university, but rather the flag."
In connection with the impending – at that time – Extinction Rebellion (XR) demonstration in The Hague on 9 September against fossil subsidies, various parties requested an explicit invitation from the Executive Board and the Deans of the Faculties to participate, and to do so in a toga or white lab coat, as normally worn by supporters of the Scientist Rebellion (SR). This call came from, among others, SR Nijmegen, members of the works council of Radboud University, and individual employees.
Four day marches
The Executive Council did not make such a call. She points out that the demonstration of the professor wearing a gown (and although it's not explicitly stated, I also assume he's wearing a lab coat bearing the Radboud University or Radboud University Medical Center logo) is in fact his choice and responsibility, but is in fact objectionable on all three grounds next:
In a toga, you arrogate to yourself authority in an area where you automatically have no authority (and in any case no more than those next to you without a toga).
You represent the university wearing a cape, which is not the case at A12.
Gowns are only worn during university ceremonies.
We'll soon finish the third argument: The Chairman walked out of the four-day rallies this year wearing a jacket. In 2018, nearly a hundred teachers went to primary schools by bicycle to give a lecture. In 2011, the university's then-president, Bas Kortmann, led a march in The Hague of professors wearing gowns to demonstrate against cuts to higher education.
Report of the Intergovernmental Panel on Climate Change
to code of conduct The Radboud University professor says nothing about gowns (but he does say about courage as a core value of the university) and there is no customary law about this. In medieval universities, academics (not just professors, as a typical Dutch phenomenon) wore their gowns all day, and perhaps even at night.
As for the second argument, almost no one among the protesters, police, or press knows which dress belongs to which university. The purpose of wearing a gown or lab coat to an XR show is not to represent your university, but rather the science. In this way it emphasizes that XR actions have a scientific basis, especially the IPCC reports. But these actions are also seen as using civil disobedience to strengthen, rather than undermine, democracy (see e.g This opinion piecel This is the second opinion).
National budget
Finally, regarding the first point, anyone with an academic degree can read and review IPCC reports. If assessing the national budget is considered too complex for us (after all, it was not so difficult for professors in 2011).
I therefore call on all employees of Radboud University and Radboud University Medical Centre, in civil disobedience against both the State of the Netherlands and the University and Radboud University Medical Centre, to demonstrate in full academic uniform against fossil subsidies and other structures that raise the temperature.
Clas Landesmann is Professor of Mathematical Physics and winner of the 2022 Spinoza Prize.
"Travel enthusiast. Alcohol lover. Friendly entrepreneur. Coffeeaholic. Award-winning writer."