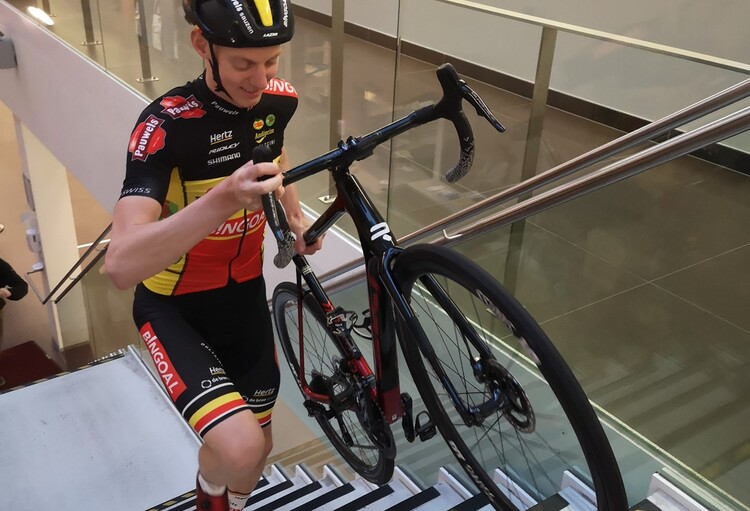 New Sports Medical Center Tilt Originally "Bicycling"
Belgian and European cyclo-cross champion Michael Vanthornhout entered the new sports medical center of the Sint-Andreas Hospital in Tilt last Friday. He did it in true cyclocross style. The center is the result of collaboration between physicians from a variety of specialties.
So including the beams and stairs, though the washboard was missing. This path ran through the entire Sint-Andres hospital. And he ended up testing cycling under the guidance of exercise physiologist Johnny Vandewall. From now on, both top athletes and amateur athletes can go there for exercise testing, training advice, sports cardiology examination and sports injury treatment.
"After the psychiatric day hospital and the geriatric psychiatry department, this is already the third new service we have opened in two years," said Peter Laweck, Managing Director of Sint-Andriesziekenhuis. He credits doctors for building a "prevention-focused health home". Ultimately, this involves an interdisciplinary collaboration between the departments of cardiology, pulmonology, physical medicine, orthopedics, and medical imaging.
"We're seeing more and more very intense exercise," says cardiologist Philip Vanderheeren. "The boundaries between leisure and competition are becoming increasingly blurred. In addition, we increasingly see overweight people, for example, who want to conquer Mont Ventoux with their bike. However, it is very important that the sport be done medically to avoid injuries and potential heart problems.We must be able to quickly and efficiently refer and screen athletes with problems.In addition, we also provide training tips and advice for both beginners and experienced athletes who want to push their limits.
In the editorial, Johnny Vandwall, an exercise physiologist, explained how to perform the lactate measurement in an exercise test. The practice test takes about an hour to complete. A sports heart scan and lung function test are also part of the scope.
Access to all functions is reserved for healthcare professionals.
If you are a healthcare professional, you must log in or register for free to have full access to this content.
If you are a journalist or if you would like to let us know, please write to [email protected].
"Professional reader. Award-winning gamer. Zombie buff. Social media junkie. Bacon maven. Web scholar."