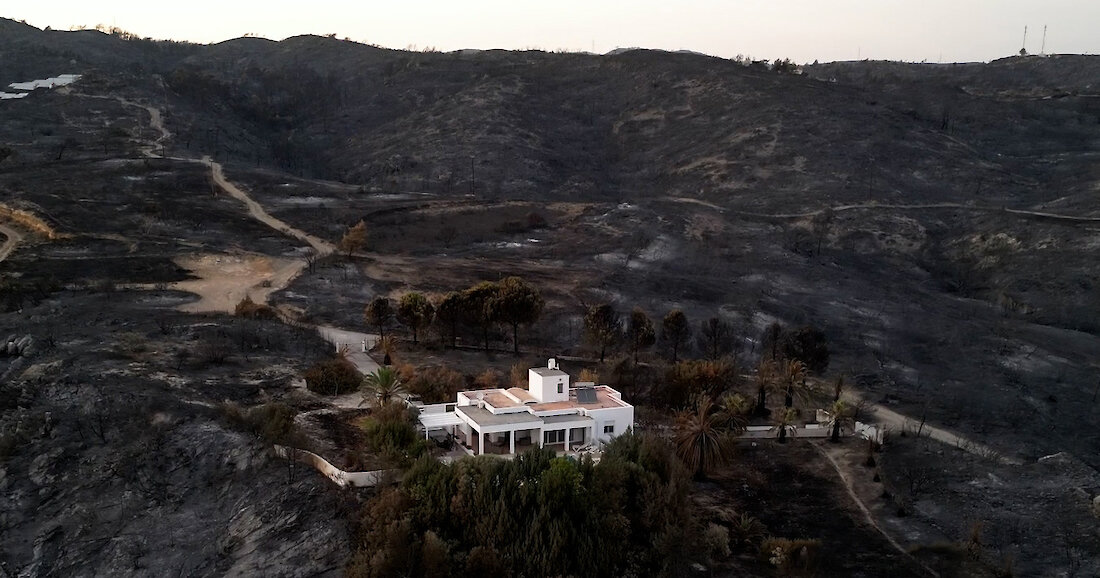 It was the hottest summer ever. What exactly happened?
In July in particular, the heat and drought translated into wildfires. But despite all the stunning images from Greece and the Canary Islands, it appears that Europe has not experienced an exceptional year of fire The impressive records of the EFFIS Forest Fire Agency. At the end of August, about 400,000 hectares of nature burned, which is much less than last year, and "only" about 100,000 hectares more than average.
Since 2000, the amount of green space burned annually worldwide has decreased by about 25 percent. A study indicated a few years ago. Only applies here: averages aren't everything. It's the extremes that get worse, says Kathleen Stove, a wildfire expert from Wageningen University.
"We are seeing an increase in extreme fire behavior, and fires that are becoming more dangerous and unpredictable. We are seeing fires in places we are not used to, like last year near London. And the fire season is getting longer and longer. Northern Hemisphere bushfires are now there Also in November, or early February Almost all year round.
But behind wildfires that demand so much attention, there are often other causes, Stove says. Take, for example, this year's fires in Europe. Although the fire season was not unusually intense, fires occasionally broke out in tourist areas, making them feel closer to home. One more thing: Greece now has stricter rules, after a wildfire claimed 104 lives in the summer village of Mati in 2018. "Greece is now focusing more on alert systems and evacuations," Stove says. Good for safety, of course, but it also ensures that residents and tourists are more aware of an approaching bushfire. Which again makes the news.
Such complexities also play a role in Canada, where bushfires this summer broke a record for area burned: from 7 million hectares in 1995 to at least 15 million hectares now. Pure nature: "Unlike Europe, the vast forests there are no less managed by humans," Stove says. An academic analysis found that climate change has doubled the risk of fire-prone conditions, at least in eastern Canada.
However, Stove believes there has also been additional interest in the fires, simply because smoke covered the air in New York. It made an impression, and the pictures were spread around the world. "Wildfires are never just related to climate, but also to how people are exposed to them."
Meanwhile, the most violent – and according to Stove the most significant – wildfires raged in Hawaii, where the city of Lahaina was decimated in early August. Dozens are killed in the deadliest wildfires in the United States since 1871.
Here, too, the situation is more complex than climate change being the main cause, Stove explains. "There were a few fires here." Now you have different land uses, tall, invasive weeds that dry quickly and then catch fire easily.' Add to that the fact that many residents didn't own cars, and didn't speak enough English for warnings, and Lahaina was home to many historic log houses with burning porches – and disaster was in store.
Lessons can be learned from this now that fires are becoming more unpredictable and more dangerous, Stove says. "In Holland we live with water. Water is intertwined with everything we do. It should also be done with fire. There are plenty of examples of what that can mean: from a farmer not harvesting his grain during a severe drought to prevent spontaneous field fires, to avoiding Thatched roofs in fire-prone areas.
The summer of 2023 wasn't so much a rough one, but rather a summer full of ups and downs. "The fire comes without warning and burns your whole city down," Stove says. The people who lived here have lost everything: their homes, but also their neighborhood and their social lives. You can see the suffering of the people here. And this kind of suffering will only increase. We will also have to increasingly take this into account in the Netherlands.
"Pop culture enthusiast. Unable to type with boxing gloves on. Analyst. Student. Explorer."