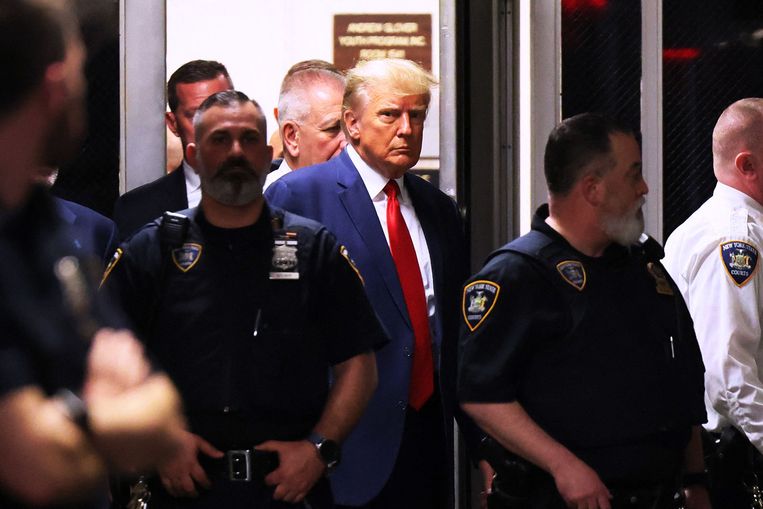 "Every moment is exploited by him"
Hi Thomas, has peace somewhat returned to New York now?

'You can say yes. The arrest of Donald Trump has turned the city upside down for two and a half weeks. After Trump himself predicted that he would be arrested in New York, there were demonstrations and minor disturbances. As the actual moment of arrest approached, police and residents feared things would get out of hand.
'Thankfully that didn't happen. There is no new trial date until December. You can almost feel the city as a whole heaving a sigh of relief that everything went well.
You were in court when Trump arrived in Manhattan on Tuesday. Did his visit go as you expected?

"With Trump you always expect a lot of supporters, and it's going to be very volatile. But it really paid off this time. When I got to the courthouse on Tuesday morning, it was mostly a circus of the press. There were more journalists than Trump's supporters and opponents.
"To me, this shows how Trump has the press in his grip. Every second of this harassment is being exploited by him. He himself announced the arrest. Then he announced when he would be leaving Florida. After that, his entire flight was followed and Trump announced that he had landed in New York. News helicopters followed his car around New York as if on a police chase.
This arrest will certainly benefit Trump as well. Donations are pouring in. Trump says he's raised more than $5 million. That hasn't been verified, but it's unlikely that a lot of money actually changed hands.
At the same time, there is a limit to what Trump wants us to see. For example, he requested that cameras not be allowed in court hearings. The moment he entered the court, the case became a black box again.
Does Trump's strategy affect the way you report on this arrest?

'Yes, I think so. As a journalist, you yourself become part of the Trump media machine. While waiting for him in court, I decided that the images that Trump so carefully directs should be the main focus of my reporting. So it's not just Trump's visit, he wanted to show it off.'
Do you think Trump's day turned out exactly as he hoped?

'You might be surprised. He held a press conference in Florida in the evening to try to regain control of the media. However, you notice that it no longer has the same impact as his earlier speeches. It was a recap of the moves. Trump did not comment on what was said during the hearing.
How do people in America look back on the day Trump was arrested?

'That depends on your political leanings, but it's certainly an event that many people are passionate about. Anyway, it's a media spectacle. There is hardly an American who does not know what happened on Tuesday.
Finally, Trump is scheduled to return to New York on December 4 for the case. Do you expect the media circus to be quiet till then?

'As many people are involved in such cases, information comes out quickly. As the investigation goes on, something will come out.
"I expect the media circus will really pick up again as other criminal investigations against Trump progress. This is a relatively small case. Other cases include influencing election results in Georgia, withholding classified documents about state-sensitive matters, and his role in attacking the Capitol.
'The assumption is that in the near future it will become clear whether at least one of those cases will proceed. If that happens, the whole circus starts again.'
"Coffee fanatic. Friendly zombie aficionado. Devoted pop culture practitioner. Evil travel advocate. Typical organizer."