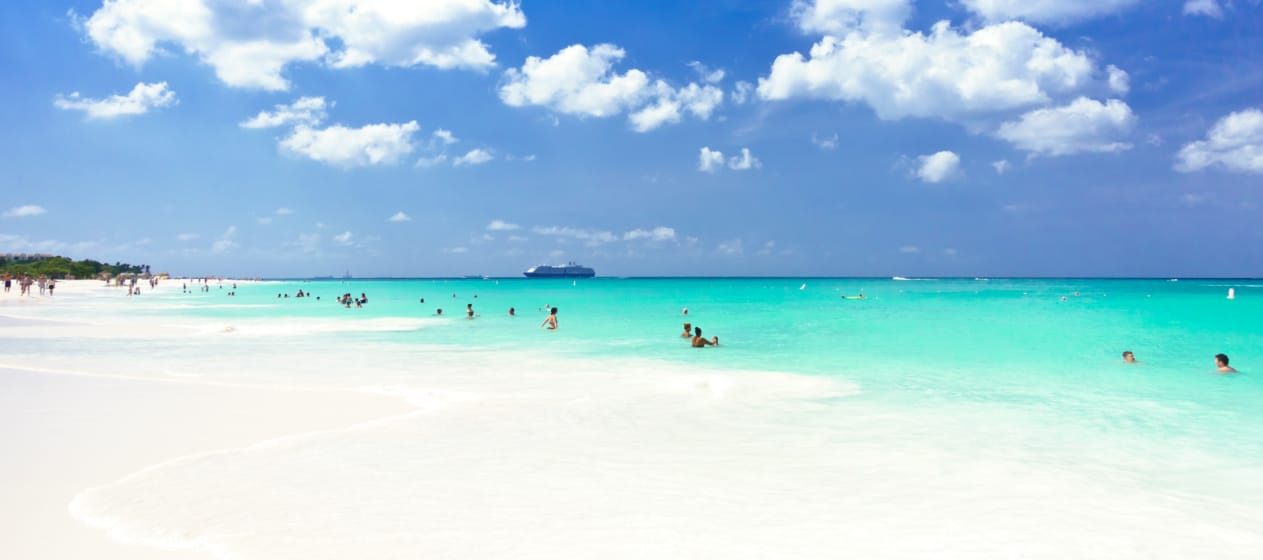 Tripadvisor: Eagle Beach Aruba #1 in the Caribbean and #2 worldwide
Tripadvisor has announced the best beaches for 2023 as part of its annual Travellers' Choice Awards. Eagle Beach in Aruba is the No. 1 beach in the Caribbean and the No. 2 beach in the world, according to the company.
Tripadvisor analyzed millions of reviews submitted by millions of travelers around the world over the past 12 months. TripAdvisor said it was able to determine travelers' most favorite beaches of the year by looking at the quality and quantity of reviews for beach experiences, providing top tips for anyone looking to plan their most memorable beach trips this year.
With a list of the world's beaches spanning the Americas, Africa, Europe, Asia and the South Pacific, this is a truly diverse, global selection. From the clear waters of the Caribbean to the rugged cliffs and dramatic black sands of Iceland, this year's ranking gives travelers from around the world the chance to find their favorite beach.
"As a huge beach fan, I know the irresistible appeal of sunshine and turquoise water, and this year's list certainly has plenty of them," said Sarah Firschein, head of editorial at TripAdvisor. "But there are also some amazing surprises. In addition to the main beaches of Hawaii, the Caribbean and Europe, our community likes to elevate their experience with cool destinations like Cannon Beach on the Oregon Coast in the western United States and Reynisfjara Beach in Iceland.
Baia do Sancho moved up six places from last year to become the No. 1 beach for 2023. Located on the Brazilian island of Fernando de Noronha, a group of volcanic islands off the country's northeast coast, the area is known for its jagged coastline and diverse ecosystems. Baia de Sancho is famous for its perfect turquoise waters and white sand beaches and its exotic wildlife. Travelers in the warm, clear waters may be lucky enough to catch a glimpse of sea turtles, rays, dolphins and reef sharks. Surrounded by forest-covered cliffs, this wild, unspoiled place is also famous for the friendly crabs that crawl along the beach.
A new and exciting entry to the world list for 2023 is the 'dramatic' Reynisfjara beach in Vik, Iceland. With its world-famous black sand beaches and towering rock formations along the coast, some may recognize the stunning backdrop of Game of Thrones. Reynisfjara beach is popular with birdwatchers because of the variety of seabirds found nearby, the most famous being puffins. But with waves up to 40 meters and icy water, it's a beach that's best appreciated from a safe shore.
America's Best Beaches
Kaanapali Beach on the Hawaiian island of Maui was voted #1 in the U.S., moving up sixteen spots from last year to top the list. For those looking for more than just relaxation, Jekyll Island, Georgia has Driftwood Beach, which ranks 3rd.
Top 10 Beaches in the World
Biya do Sancho
Fernando de Noronha, Brazil
Eagle Beach
Palm-Eagle Beach, Aruba
Cable Beach
Broome, Australia
Reynisfjara beach
Vik, Iceland
Grace Bay Beach
Grace Bay, Providenciales
Praia da Falesia
Olhos de Agua, Portugal
Radhanagar beach
Havelock Island, Andaman and Nicobar Islands
Spiaggia dei Conigli
Lampedusa, Islands of Sicily
Varadero Beach
Varadero, Cuba
Kaanapali Beach
Lahaina, Hawaii
"Coffee fanatic. Friendly zombie aficionado. Devoted pop culture practitioner. Evil travel advocate. Typical organizer."