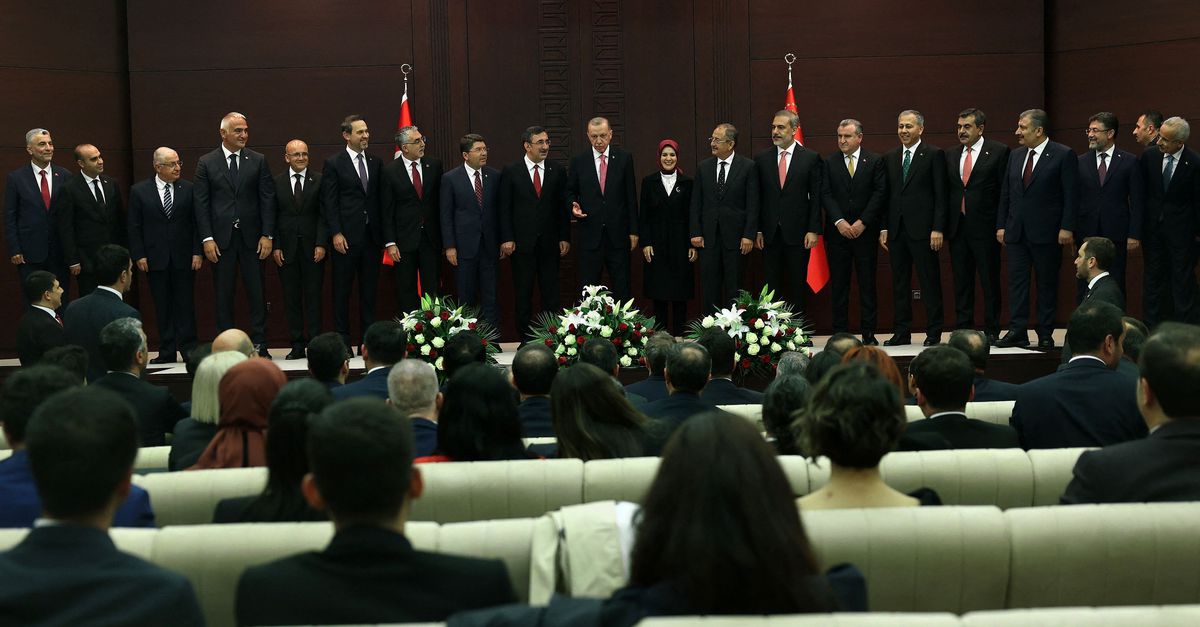 The return of Mehmet Şimşek to the finance sector may indicate the economic change that Erdoğan will bring about, of course
Respected economist Mehmet Simsek is Turkey's new finance minister. This was the most important appointment announced by President Erdogan, on Saturday, while presenting his new government. Simsek was highly regarded by foreign investors when he was Finance Minister and Deputy Prime Minister between 2009 and 2018. His return is a sign that Erdogan is ready to change course economically after years of erratic and unorthodox policies that drove up inflation and brought Turkey to the brink. Balance of payments crisis.
Speaking at the swearing-in ceremony, Simsek said the main goal of the new government is to increase social welfare. According to him, Turkey has no choice but to return to the "rationale" to ensure the predictability of economic policies. "Bringing inflation down to single digits over the medium term, increasing predictability, and accelerating structural transformation that will reduce the current account deficit is vital for our country," he said on Sunday, at his first news conference. The question is whether he will be given enough space to put the words into action.
Read also: Does Erdogan change the economic course after winning the elections?

The rest of the cabinet is also made up of empowered technocrats, including a number of high-profile names. One of them is the new foreign minister, Hakan Fidan. He replaced Mevlut Cavusoglu, one of Turkey's longest-serving senior diplomats. Fidan is one of Erdogan's confidants. He started as an advisor when Erdoğan was still prime minister. Since 2010, he has been director of the MIT Intelligence Service, under which he has taken a more active role in foreign policy. Especially after the failed coup in 2016, when MIT kidnapped dozens of suspects from other countries along with the ministry. Fidan also plays a prominent role behind the scenes in the Syria file.
New constitution
"By appointing leading figures to run economic and foreign policy, Erdogan has freed himself to focus on the domestic agenda: crafting a new constitution," Soner Cagaptay, director of the Turkey Research Program at The Washington Institute, wrote on Twitter for Near East Policy. In his speech after being sworn in as president on Saturday, Erdogan promised to draft a new constitution. We will save our democracy from the current constitution, which is a product of the coup [van 1980]and strengthen it with a libertarian, civil, and inclusive constitution."
Erdogan freed himself to focus on a domestic agenda: drafting a new constitution

Soner Cagaptay The Washington Institute for Near East Policy
As interior minister, Erdogan elected an experienced bureaucrat: Ali Yerlikaya. He served as governor of the states of Şırnak (2007-2010), Ağrı (2010-2012), Tekirdag (2012-2015), Gaziantep (2015-2018) and Istanbul (since 2018). Yasser Guler was appointed Minister of Defense. Guler is a career soldier who has served in the military for nearly half a century. He was appointed chief of the general staff in 2018 after his predecessor, Hulusi Akar, became defense minister. He was commander of the armed forces during the Turkish military operations in northern Syria in 2019 and 2020, and later in northern Iraq. The only woman in the new government is Family Affairs Minister Mahinur Özdemir Goktas, who was born in Belgium and was an MP for the Christian Democrats in Brussels.
Notable absentees from the new government are: Süleyman Soylu, the populist nationalist interior minister known for his anti-Western rhetoric laced with conspiracy theories, and who is said to do shady business with figures from the underworld; Hulusi Akar, who was kidnapped by the coup plotters as chief of the general staff in 2016, refused to declare martial law, and Erdogan rewarded him for his loyalty by appointing him defense minister in 2018. He is on the electoral list and elected to the new parliament.
"Pop culture enthusiast. Unable to type with boxing gloves on. Analyst. Student. Explorer."