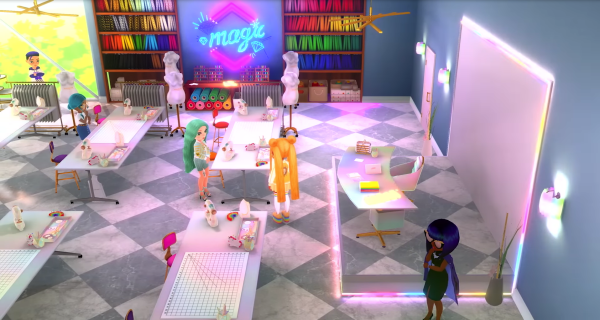 Show your best self with the first ever RAINBOW HIGH™ video game
Solve mini-puzzles with all 6 of your favorite classic Rainbow High™ characters in Rainbow High™: Runway Rush
London and Los Angeles – May 9, 2023 – Outright Games, the leading global publisher of interactive entertainment for the whole family, and MGA Entertainment (MGA), one of the world's fastest growing and largest private game and entertainment companies, are excited to announce their upcoming game: Rainbow High™: Coliseum Rush. In the first console game centered around the popular Rainbow High™ fashion dolls, fans can step into the immersive and colorful school environment that many already know and enjoy with their favorite characters. The game will be released this fall for Xbox One and Xbox Series X | S, PlayStation 4, PlayStation 5, Nintendo Switch, and PC.
Rainbow High™: Runway Rush is a puzzle adventure. The first creative task you get as a player has the theme "All things art". You can play as one of the six original Rainbow High characters: Ruby, Poppy, Sunny, Jade, Skyler, or Violet. Use their various creative skills, such as Sunny's illustrations and Skyler's costume designs, to complete puzzles and help your classmates. Working together, you have to show your artistic talent and create a special idea. The team with the best idea gets to create a great project for the Spring Creative Challenge.
Rainbow High™: Runway Rush features many of the beloved locations from the series and gives you the chance to play as well as meet your favorite Rainbow High characters. You can play as Sunny and find everything she needs for her day in her bedroom, make croissants like Ruby at Rainbow Union or design and create an outfit like Skyler. In addition to the main story, you can also complete a series of quests, play mini-games, and collect items to upgrade your characters with unlockable outfits.
Beth Goss, CEO of Outright Games: We have previously had the pleasure of receiving two great IPs from MGA, LOL Surprise! and Bratz, that have been adapted for video games and are excited to be involved in the development and release of their first Rainbow High video game. Rainbow High is a rapidly growing franchise with core values ​​such as community spirit and costumes. "Translates well to the dynamic gameplay of this new title. We believe this game is an excellent addition to the overall development of the MGA brand."
"With the first ever console game for Rainbow High, the best-selling fashion doll franchise, fans can play as their favorite Rainbow High characters, explore the school and interact with these iconic characters in an entirely new and interactive way," said Isaac Larian, Founder and CEO of MGA Entertainment. Get to know her. Since launching this product line nearly three years ago, we continue to offer fans different ways to connect with the brand, such as through our doll fashion line, series on YouTube and Netflix or now through this new toy."
Carla Bolanos Blanco from Xaloc Studios: The puzzle genre is a logical pick for Rainbow High™: Runway Rush. The franchise is about creativity and this genre allows players to complete creative tasks and solve problems in a unique and individual way. Through collaboration with Outright Game, we have adapted the gameplay to logic and reading skills for different ages. For example For example, we designed the 'Hint Scan' function for younger players. This feature identifies every interactive element in the puzzles making it easier for younger players to navigate the game and learn the game faster."
Rainbow High™ is a comprehensive line of fashion dolls and accessories featuring characters representing all the colors of the rainbow. MGA launched its first line of dolls in 2020 and it became a huge hit immediately upon release. This collection was named Best New Game at the 2020 USA Game of the Year Awards. The animated series debuted on YouTube the same year and became available on Netflix in March 2021. The series has been watched over 1 billion minutes across all platforms. Famous fashion dolls make their colorful dreams come true at Rainbow High and Shadow High… and when they all work together, the possibilities are endless #LetYourTrueColorsShine!
Rainbow High™: Runway Rush will be released this fall for Xbox One and Xbox Series X | S, PlayStation 4, PlayStation 5, Nintendo Switch, and PC.
This article is a submission and is not the responsibility of the editors.
"Travel specialist. Typical social media scholar. Friend of animals everywhere. Freelance zombie ninja. Twitter buff."