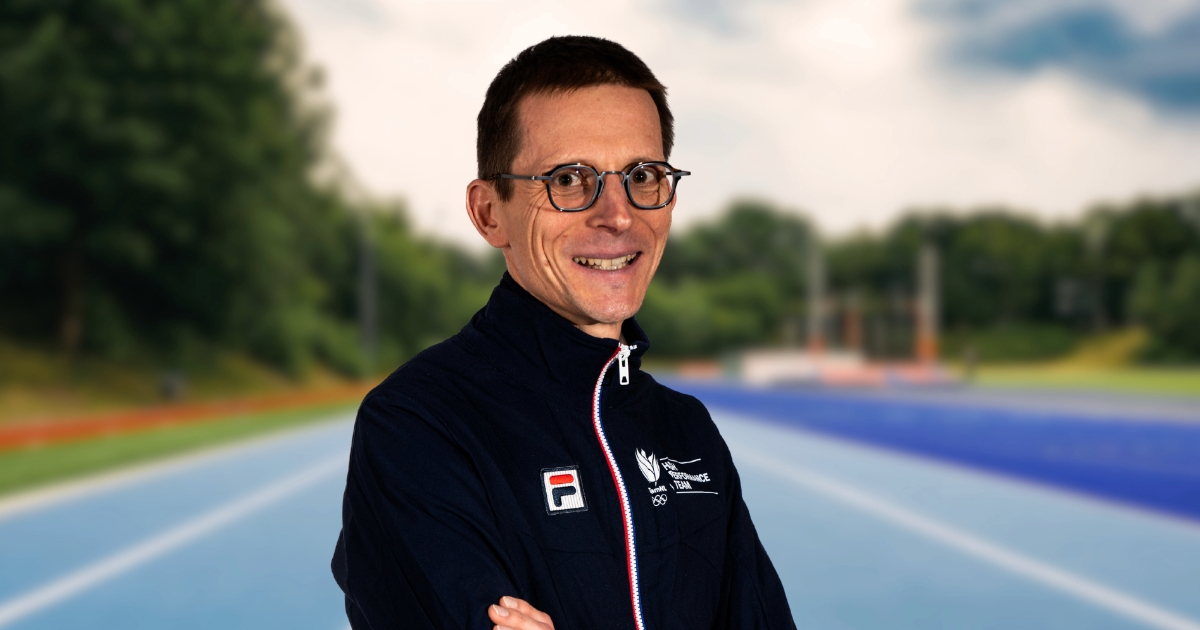 Camille Massey links sports and science
Talent and hard training alone are no longer enough to reach the top in sports. Knowledge and innovations are indispensable for those last percentage points between good and top performance. Former athlete Camille Massi has been Director of Knowledge, R&D at NOC*NSF since 2009. "I make the connection between sport and science. I don't have my own laboratory or my own wind tunnel, but I look for collaborations with universities, colleges and companies.
Kamiel Maase seeks the practical application of science-based knowledge and innovations for TeamNL's top sports programs. Ten years ago, Massey, who completed studies in microbiology, biochemistry and business administration during and shortly after his sporting career, was the founder of the so-called Integrated Scientists. These are scientists who work extensively with a team or group of athletes. "They often perform tests and measurements and provide coaches with data. Within ten years, the embedded world has evolved from an outsider to a permanent and respected part of the multidisciplinary coaching staff," says Mays.
Pillars of Sports Science TeamNL
The embedded scientists, now numbering approximately 35, provide daily scientifically proven support to the best sports programmes, thus forming the premier pillar of TeamNL sports science. The second pillar focuses on applying knowledge that already exists in science.
Maas: "How can we use this knowledge in sports and how do we ensure that knowledge, as well as innovative materials, reach athletes and coaches?" Finally, there is the third pillar: developing new knowledge and innovations. "What hasn't happened yet, but what is needed in sport? And how can we develop technology and knowledge with knowledge institutions and companies? You often see an overlap between the second and third pillars," says Mays. Over time, developments from the second and third pillars could end up being Built-in world missions.
This happened, for example, with the knowledge and innovations acquired in preparation for the warm and humid climate during the Tokyo Olympics and Paralympics. "We started doing this in 2017. We have combined the available information from science about habituation, training and performance in hot weather and thus preparing athletes and coaches as best as possible for what is to come.
Multidisciplinary collaboration
The desire to keep cool gave rise not only to advice but also to the use of slushie machines, with which athletes learned to make slushies from their favorite sports drinks under the supervision of (their) sports nutritionists. A special cooling jacket was also developed in cooperation with a company to cool athletes before and after competitions. Maas: "In these developments, you can clearly see the multidisciplinary collaboration within NOC*NSF. Specialists from different fields, together with athletes and coaches, have taken care to ensure the best possible preparation."
Dealing with the heat is now easy within TeamNL. Now, when athletes prepare for a major tournament held in warm conditions, the coaching staff knows how best to do so. "This definitely applies to larger programs with a lot of specialist guidance. We support smaller programs through NOC*NSF. "We have an online knowledge base, regularly organize knowledge days on different topics, and I have recently loaned a number of cooling vests to surfers who played in the World Cup in El Salvador," says Mas.
Opportunities for research and development
Years ago, dealing with heat was a novelty topic. Over the coming years, Maase and his colleagues from the High Performance Team put about 20 to 25 more topics on the TeamNL development agenda, topics that, as far as TeamNL is concerned, have real opportunities for research and development. This development agenda emerged from conversations with trainers, science days for embedded scientists, and sparring with colleagues in various fields. Among these topics, Maas is interested in sleep, performance, sports, and fluid dynamics (aerodynamics and hydrodynamics).
He is currently developing a training package for athletes and coaches on the impact of sleep on performance. It brings together existing knowledge about sleep, its importance and sleep improvement tools, for example, travel sleep and altitude training in an understandable way. "In addition, there is a project underway at TeamNL North Center on a lighting plan to facilitate a healthy day-night rhythm. We are looking at what we can do with power outages with our supplier line M. Not all hotels have good blackout curtains. How will things be in Paris during the Games and can we do something about it? This is in addition to the mattresses and pillow toppers that M Line has been supplying to TeamNL for years.
There is a lot to be gained regarding the subject of mathematics. Maas: "It is a fact that a lot of research is done mainly among men. While there are quite a few things that are specific to women: hips, breasts, menstruation, pregnancy. A very simple example is a good sports bra. There are, but not all athletes know Any bra is suitable for them. Certainly not young talents. While it is important to prevent back problems, for example. Our mission is to communicate existing knowledge to athletes.
Collaboration with TU Delft
Finally, Maas is interested in aerodynamics and hydrodynamics. He set up a collaboration with TU Delft. The world works full time for the sport in both subjects. For example, in recent years there have been very specific projects with Kimberly Boss in the field of skeleton, canoeing and snowboarding.
In sports, it's all about such small differences. Through the right application of scientific knowledge and innovation, we as Team NL can make a difference.
Camille Massey
LBC XL
During the Leaders in Performance XL conference, Camille Maas will provide a quick update on the top sports and sleep training packages. Australian sleep expert Shona Halson will also give two presentations on sleep monitoring and the impact of nutritional supplements on sleep.
During the Leaders in Performance XL conference, experts share their knowledge and expertise with people inside and outside of sport (top). The conference will be held in Babendal on October 4, 5 and 6, 2023. You can register via LBC XL.
"Travel enthusiast. Alcohol lover. Friendly entrepreneur. Coffeeaholic. Award-winning writer."