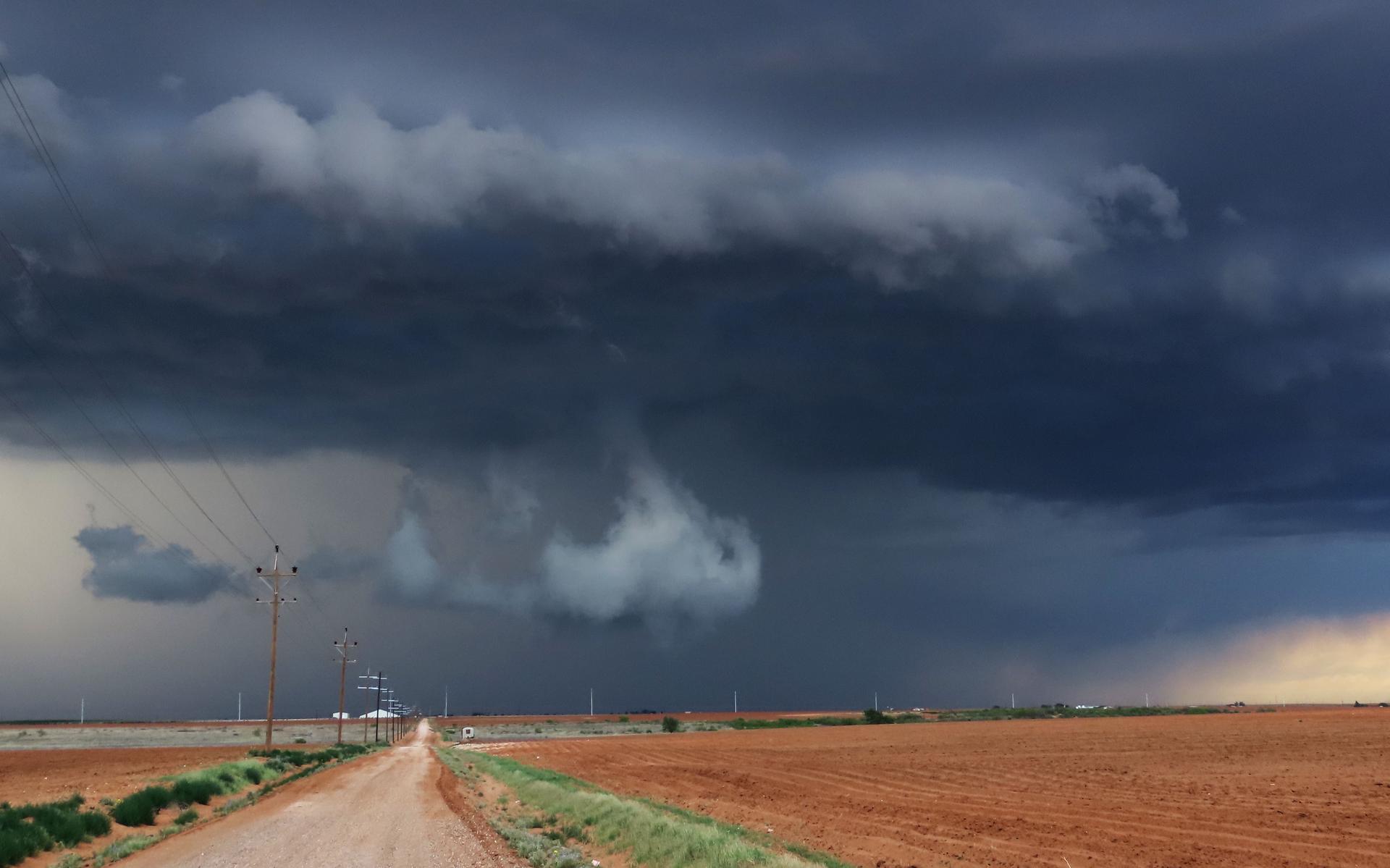 Weatherman Robert De Vries hunts hurricanes in America
He saw hail the size of golf balls, ominous clouds hanging in the sky like giant UFOs, and lightning that lit up the sky for hours. There was a buzz until the end: 'Tornado at the Ground' and meteorologist Robert de Vries (36) from Emmaluord came face to face with a real tornado. "It took 10,000 kilometers on the car in a week, but it was worth it."
From an early age, de Vries was interested in everything related to weather. He eagerly took it up as his job. He not only writes the weather report for this newspaper, but is also a meteorologist for Omroep Flevoland, Boerenbusiness, and fills in on SBS6 if someone is unavailable.
Busy all day
'I also give a lot of lectures and presentations. In fact, I work all day," he says with a smile. No wonder he really wanted to go hurricane hunting in America. 'I knew the event only from books and I wanted to experience it once.'
Last month it finally happened. De Vries traveled to America with two experienced storm chasers. He visited the states of Texas, Oklahoma, and New Mexico when it was hurricane season, thanks to warm, moist air from the Gulf of Mexico meeting cold, dry air from the Rocky Mountains. Terrible? 'No, I know I'm with two people who know about it. And that's a requirement, you shouldn't do this on your own.'
Supercell
Armed with all kinds of equipment in a big car, they drove about 800 kilometers every day, looking for a hurricane. Although this was not an immediate success, de Vries quickly noticed that the climate in the United States was very different from that in the Netherlands.
'We usually encounter a supercell, which is a very violent thunderstorm that can develop into a tornado. They are different from ours, you know. Incredibly large clouds with majestic textures passed by, and sometimes it suddenly turned dark or completely green due to a shower.
A completely different world
It was also unpredictable, he observed. 'Sometimes at 2pm I thought: 'This is not going to work today.' All I saw then were some friendly cumulus clouds. But suddenly there was that very heavy sky again and you were in a completely different world.
De Vries saw all kinds of weather phenomena that had until then only been seen on a screen or in a book. Hail the size of golf balls and lightning bolts kept coming. For hours. After the hunt we had some dents and a cracked windshield in the car.
Safety glasses in the car
At one point, de Vries and his traveling companions wore safety glasses in the car. 'The stupid thing was, those big hailstones came down and I knew I had to get in the car quickly to stay. But I also want to have such a hailstorm in the film.' Laughing: 'That wouldn't have been very useful, no. But look at what a beautiful picture here.'
According to the meteorologist, thunder is also very loud there. "It hits so loud, you can feel it." Then the sand storm came in front of Supercell and made it impossible to see. 'We couldn't really see if there was a tornado behind it, so that was really exciting.'
Planes of discovery
Of course, most days nothing happens. 'Then you're mainly busy checking radar images and sometimes spotting planes.' This scene happens only in afternoon and evening. "The area we were in was huge. There's something going on there every day, and when you find something, it always kicks you in the ass.'
Three storm chasers received warning messages on their phones each day. 'A kind of NL alert where people are called to seek air raid shelter. They are everywhere. And there are air-raid alarms, which often go off.'
The right places
And sometimes they had to run like skilled drivers and get to the right places quickly. 'Once cake, sandwiches and drinks flew all over the car because we had to drive fast. And there were a lot of storm chasers driving, and sometimes there were traffic jams. Really weird.'
The ninth day happened. De Vries got what he came for: 'Tornado at the Ground', which rang out enthusiastically among storm chasers from around the world. 'A cord from that supercell came to the ground, and that's when it became a tornado. It only lasted about a minute, but I thought it was amazing and very educational.
growls and roars
Because a hurricane is an experience, de Vries concludes. 'It growls and roars. You see the earth reacting as warm air is drawn into that hurricane and cold air is expelled. Very interesting, I have more respect for nature now.'
Will he go again? De Vries didn't have to think about it for long. 'Surely. Next year won't be the same, maybe, but I'm definitely going again.'
More photographs by de Vries can be found at Facebook page .
"Coffee fanatic. Friendly zombie aficionado. Devoted pop culture practitioner. Evil travel advocate. Typical organizer."