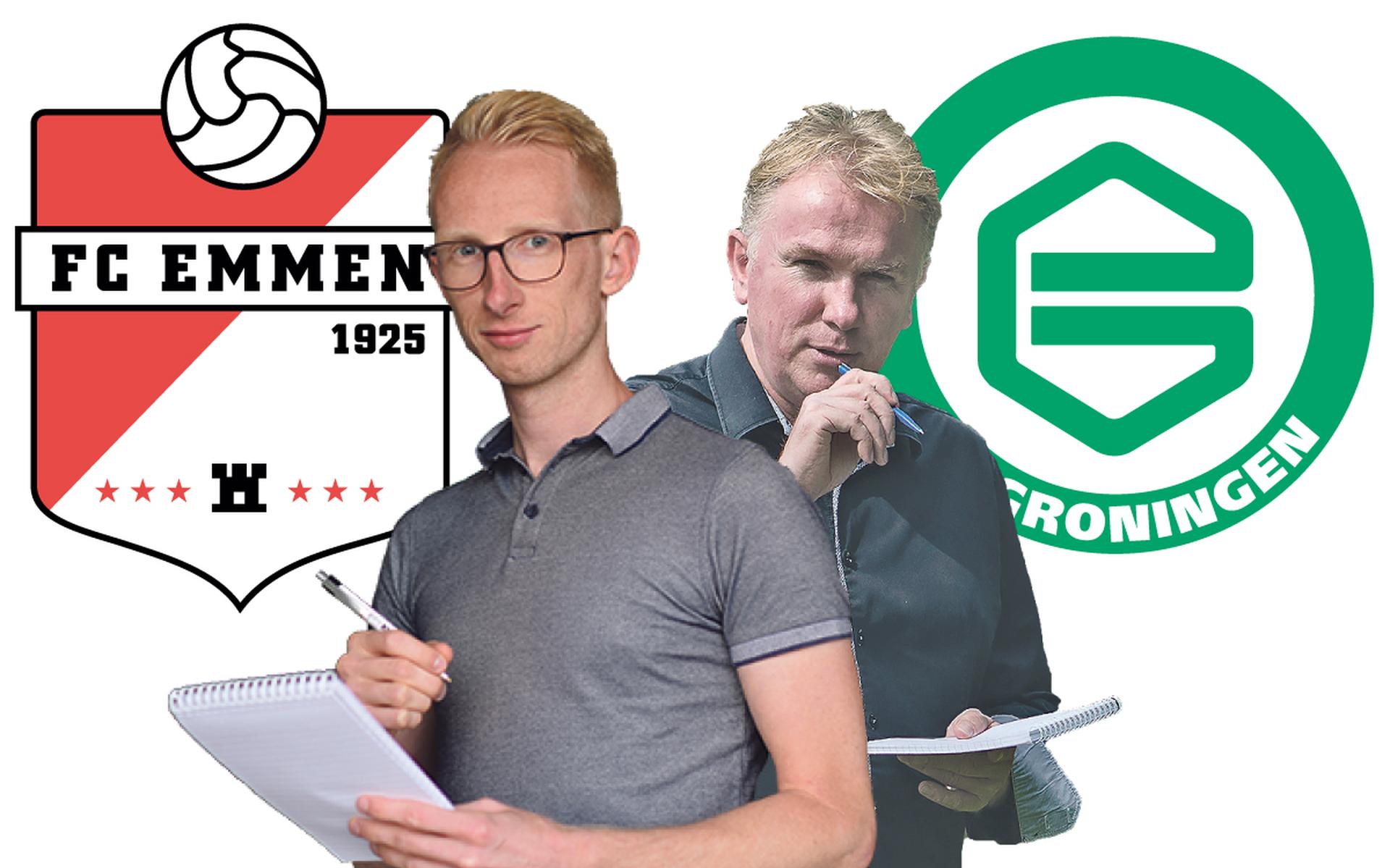 The Rock of Gibraltar and the goals of Pepe | Correspondence of William Pompe and Jonathan Ploig about promotion and relegation at FC Groningen and Emmen
Journalists William Pompe and Jonathan Ploig write to each other weekly about their Premier League club. This time it concerned the goals of Orange, the Rock of Gibraltar and Pepe.
hello william,
Want to see the Orangemen play Monday night football? I thought I'd sit down for it myself. After collapsing against France, I was hoping, with Wotje Wighorst in the lead, to rehabilitate against Gibraltar. Despite the victory, it was painful to conclude that our pride, sixth in the FIFA World Ranking, was unable to persuade against a country with a population smaller than that of the municipality of Tynaarlo. Even with another man, Orange only managed to find the net once. FC Emmen and Groningen could have done it better.
Have you ever visited Gibraltar? I was still close in December, when FC Emmen organized a training camp in the Spanish seaside resort of Estepona. Half an hour drive as the crow flies from the peninsula on the Mediterranean Sea. I still regret not having a look, but it wasn't a good time. The newspaper and website had to be filled out. Part of FC Emmen's coaching staff, including Casper Goedkoop, is already gone. Watch the monkeys on the Rock of Gibraltar. I understand an absolute necessity. Ah, what's in the barrel…
I wonder what will actually still be at FC Emmen. Another gem cracker is on the program this Saturday, finally SC Cambuur. An exhibition match with PEC Zwolle (1-1) won't give any more confidence. Many players, including Veldmate, underestimate it, because what does this game say, where you're also missing a number of powers, really? Well, I'll tell you: in any case, the level at the top of the First Division is not much different from the level at the bottom of the Premier League. Not a satisfactory idea.
How about the other side of Hondsrug? I saw that you must go up and down to Sittard on Sunday. Although you have to spend many hours in the car, there is always a big reward waiting for you at the stadium in the form of a piece (or in your case no doubt several pieces) of Limburgse vlaai.
enjoy it! Jonathan
Hi Jonathan,
As far as I'm concerned, we don't need to talk about the Orange, except perhaps to note that our coaching staff in Groningen with national coaches Ronald, Erwin Koeman, Sepke Hulshof and goalkeeper coach Patrick Lodewix at the helm won't have to be. Bored for the time being.
Riccardo Pepe's three goals for USA made me happy. At first he was injured twice in the match against Grenada. The FC Groningen striker scored a goal with his head and once with his foot, thus having a strong share in the 7-1 victory that the Americans achieved in the context of the CONCACAF Nations League.
A few days later, El Salvador suffered another blow. Pepe came on as a substitute and scored with his second ball contact, which is a good sign. This made the striker the winner of the match and he was immediately elected man of the match.
Of course my boss immediately asked me why the American is showing it across the pond and not here, but I don't think that's entirely justified. First of all, Pepi already has nine players at FC Groningen. This, of course, is not surprising for a landing candidate. The striker hired from Augsburg accounts for 36 percent of the goal's total production.
Why Groningen didn't swing the ball more often in front of goal was the follow-up question. But that's exactly the problem, coach Dennis van der Rey's men are hardly capable of. With America, Pepi played against two soccer midgets, so he had no complaints about the show. In FC Groningen he plays deserted island match after match. All the more handsome is that he already has a nine in it.
Hopefully, the goal scorer will bring his growing confidence back on the plane to the Netherlands. He and his teammates will badly need to visit Fortuna Sittard on Sunday afternoon. A game that must be won. But how many times have we already said that?
Regards, William
"Professional reader. Award-winning gamer. Zombie buff. Social media junkie. Bacon maven. Web scholar."