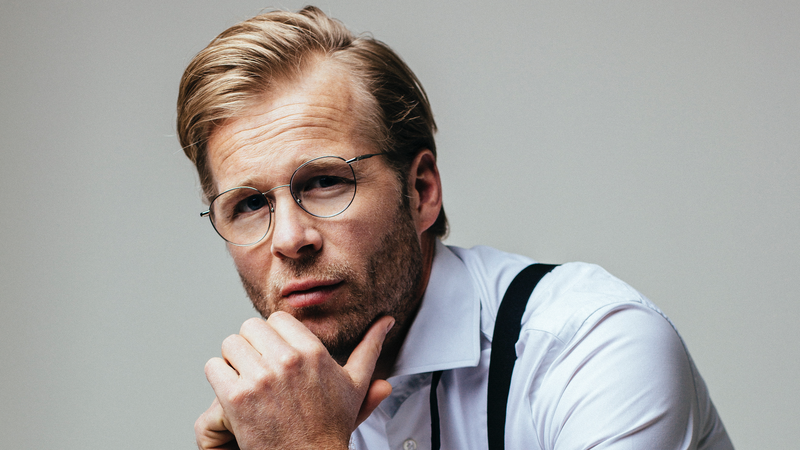 Leo Alcmede: Waking up is scary sometimes
How do you view the past year of acting?
For me it was a quiet acting year, I was busy with other projects. I'm a bad viewer so I don't know what else happened. If I want to watch Netflix for an evening, I usually put on a documentary. I rarely watch series or movies. Not that I don't care, I just don't get it. I have four children, so I watch children's shows. Sunday Morning Zapp: Awesome.
Haven't you been to the cinema before?
Again, I don't know how to combine it well with my work, busy family and sports that I can still participate in, so I don't have much to write in this area. My son has an unlimited bath pass and is there four or five times a week. When he has a snack, he immediately goes to the movies. So he sees and reports almost everything.
What would he say about your latest movie? the tatas?
It's a very interesting movie with Eric van Campen in the role, a bit quick, naive, secretly very sympathetic, but also a dumb dad. A small businessman, like that quick boy from Zuidas, who just didn't get it right.
Do you think you achieved a world class performance?
'absolute!' Most seriously: I've seen it in the unfinished version and I'm very proud of it. Not just on myself, but on everyone in it. While watching, I paid close attention to my family in the film: my wife Léonie ter Braak and our children Stir Koening and Sim van der Horst. There really is a nice chemistry between us. I think we did well.
Is it fun to play such a big lead role for once?
'Yeah, that's nice.' Actually, it's all about me. The bankruptcy of Eric van Kampen, and with him the Van Kampen family. Then solve it.
Do you expect to get awards for this role?
It's funny, because I have no idea what it turned out to be either. But I don't expect any prizes to be honest. I have a brother anyway. I'm not making a movie for the jury, I'm making a movie for the people who go out there and enjoy it. Getting an award is not something on my wish list.
Have you ever been nominated for a Golden Calf award??
Fun look: no. He asked me to deliver one. Thank you for that.'
What do you think of the fact that for the first time this year there was only one award for Best Acting Performance, instead of a separate award for Best Actor and Best Actress, as before?
I find that very complicated. It got a little complicated anyway with male, female, and LGBT issues. You have to watch your words and put everything on a scale. I also find waking up to be a little scary sometimes. Everyone is awake and should be awake, while there is very little room for thoughts other than the thoughts of the people who are awake. I am very open, very energetic and think nothing of anything: everyone should do as they like. But this also applies to someone who does not want to do anything. This is democracy, isn't it, that everyone can think what he thinks? And suddenly that is no longer the case when you wake up.
Can you take a fresh look at this since you're not in the Amsterdam bubble?
I live in Tilburg, which is also a big city. It is not a small village. But I don't think waking up alive is much here. I don't notice it with my kids either.
Have you ever considered exchanging the South for the Randstad?
I tried it in Amsterdam a year and a half ago. Crying with screeching tires returns to Brabant.
Why?
I thought I had to live in Amsterdam to be near a fire. It's a nice city, but I don't like it very much. I don't like and don't like going there. The mentality is different, it is more international. You can't just sit in a coffee shop and run into someone you know. People speak to you in English and you usually meet tourists. Coincidentally, I was there all day this week. I had to park in three spaces and when I got home and put the parking tickets next to each other I saw that I had lost 80 euros in parking costs. He laughs: Then I'll go back to the guilder now … You can say: go by train, nonsense. I don't want to be in Amsterdam, mate. If possible, I'd meet somewhere outside the ring, preferably in Brooklyn or something. If I didn't have to go to Amsterdam, I wouldn't.
I was born and raised in Den Bosch. How did that sound?
I grew up in Loon op Zand, a village between Waalwijk and Tilburg, near Efteling. That was very nice. A small and safe village where you exchanged your shoes for your wells after school and went into the woods to play. It's a carefree time, and a very beautiful time to look back on.
Was I the funniest kid in class at the time?
I guess I wasn't always the funniest boy in the class, but the most present boy in the class. Yet he is perhaps the most annoying boy in the class.
Do you already have a plan for later in your head at that time?
I basically wanted to be in the spotlight. I liked that. I went to a very free school where we ended each week with a show for the parents. I always try to pack my rolls there. When I thought about the future, I didn't see myself doing other things well. I wanted to do something creative, make things. Not as in tinkering, but rhymes, songs, proposals. Actually exactly what I'm doing now, so I guess I've always known subconsciously.
Curious about the rest of the interview? I read it in the latest Revu.
"Travel enthusiast. Alcohol lover. Friendly entrepreneur. Coffeeaholic. Award-winning writer."