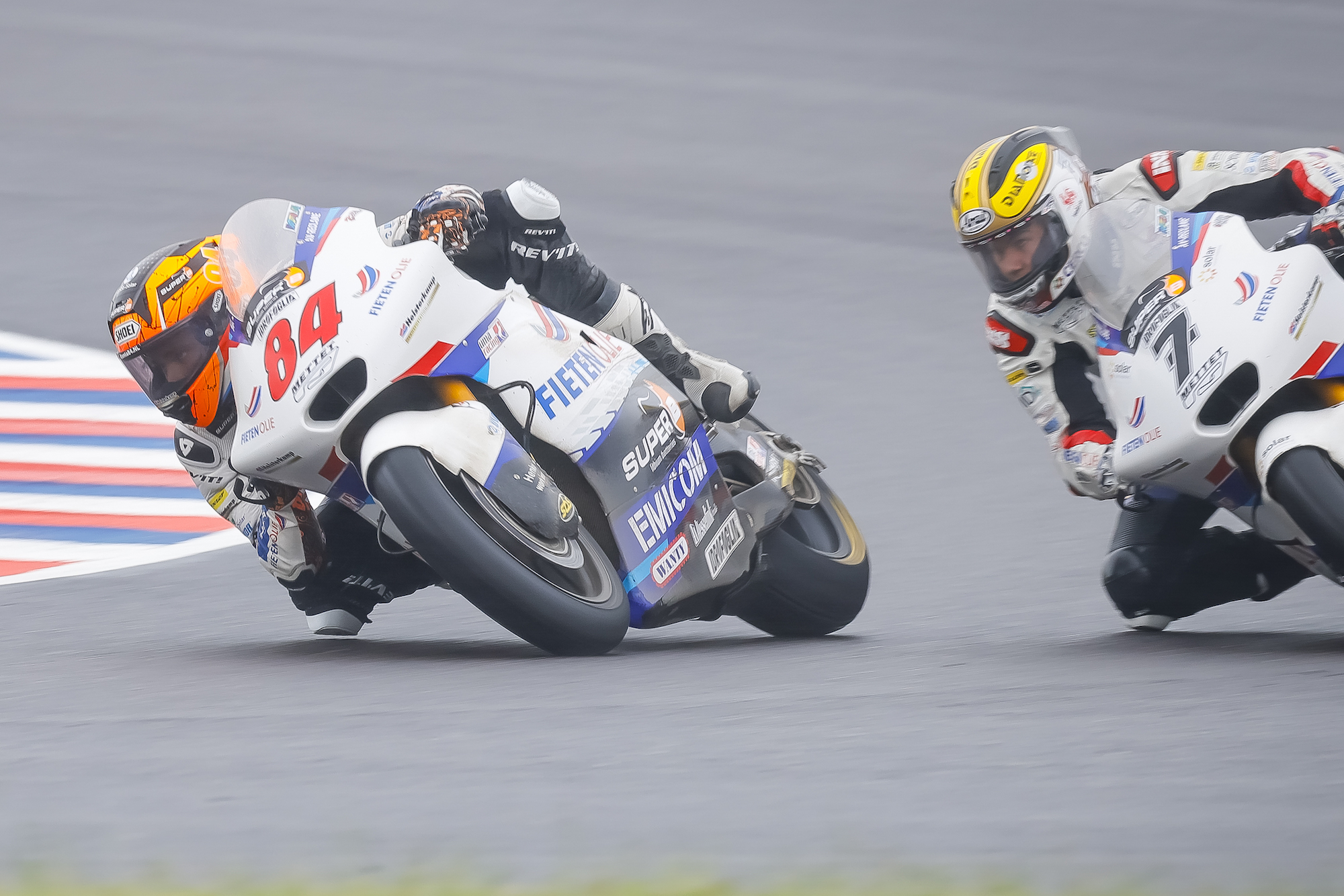 Van den Koorberg and Paltus are inexperienced in the Argentine rain race
Zonta van den Goorbergh and Barry Baltus finished eighteenth and nineteenth respectively in Sunday's rainy Argentine Grand Prix. In a shortened race, both drivers got off to a slow start, which cost them a point despite a good final stage.
Jonta van den Koorberg took his twentieth place in the opening stages of the race, losing contact with the drivers in front of him. In the second half of the race, the seventeen-year-old Dutchman managed to pick up the pace, after which he crossed the finish line in eighteenth place with two overtaking actions on the last lap.
Barry Paltus immediately lost several positions in the opening stages, but showed himself in the top fifteen. However, in the final stages, the Belgian fell further behind, so that he eventually crossed the finish line behind his team-mate in nineteenth place.
Sonda van den Koorberg – P18: "I am very happy with today's match. The pace was very slow at the start of the race and I didn't have a good feeling on the bike. Our race was shortened to fourteen laps, so by the time I found the pace it was already late. It was a pity because at the end of the race I felt really strong and on the last lap I was able to make two more overtakes. It's a shame, but now the rain experience can be carried over to next time. Now we're going home and we'll see how things go in America in two weeks.

Barry Paltus–P19: "Today's match did not go as planned. After a good Friday and Saturday, the conditions were very difficult on Sunday. It wasn't dry, but it wasn't completely wet either, so I didn't get any feeling on the bike. I'm not fast, we have to forget about this race, we know we can be strong, so now we're looking at the next race."

Jarno Janssen – Phaeton Oli Racing GP Team Manager: "This was not the result we were hoping for this weekend. We experienced a lot this weekend and the expectation was that both drivers would be strong in the wet race and unfortunately that expectation was not fulfilled.

Jonta drove the final stage very well, but as he started a bit late, he missed contact with the drivers in front of him. It's all part of the learning process and it's been great to see him come on so strong in the last few rounds.

Barry is not in the game, which is a shame after we played so well on Friday and Saturday. Normally Barry is very strong in these conditions, but now the engine is missing. Then you see you're down at this level and you're not competing for points, that's the reality today.

I think we learned a lot this weekend and we all need to look each other in the eye and ask ourselves what went well and what didn't. Now it's time to recharge the batteries, we're off to Texas in two weeks.
The Fieten Olie Racing GP team now returns home from South America to fly to North America in a week. The American Grand Prix at Circuit of the Americas is scheduled for the weekend of April 14-16.
---
---
Useful Links Gran Premio Michelin de la República Argentina:
Where to Follow on TV
Photo report
Jonta van den Koorberg Merchandise

Racesport.nl/shop



*All prices quoted include VAT and shipping costs.
"Coffee fanatic. Friendly zombie aficionado. Devoted pop culture practitioner. Evil travel advocate. Typical organizer."