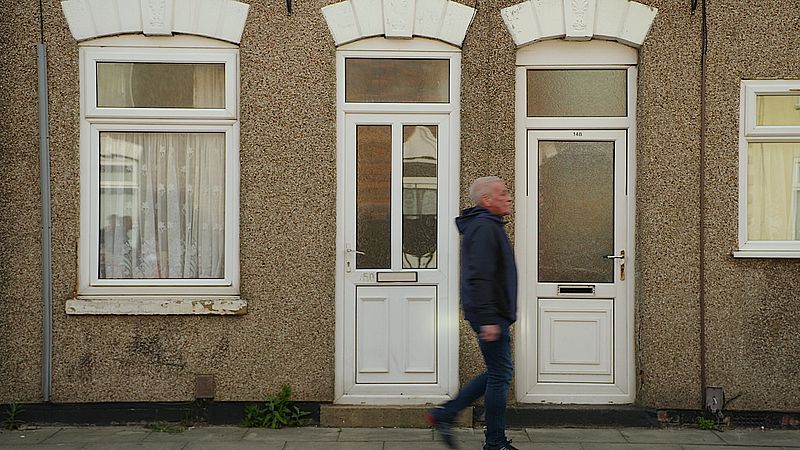 Unaffordable food, moldy homes, long waits for care: poverty in the UK is significant
While London dresses festively for the coronation of King Charles III, millions of Britons live in poverty. In the North East of England, two out of five children are now growing up in poverty: 'We can't live without help'.
Tomorrow the eyes of the world will turn to the UK: with the coronation of Charles, the country wants to show its best side. But behind all this splendor, there is also much misery on the island: an estimated 13 to 14 million Britons live in poverty, including nearly 4 million children.
The system is collapsing
"It's really ramping up," says Julie Spade. Together with her husband, Richard, she runs a Street food kitchen In the English village of Grimbsy. People who cannot buy food can go to them for a meal. The couple have been doing it for 10 years, but as bad as it is now, benefactors have never been seen before.
"We now see a different group of people living in poverty here," Julie explains. "In the beginning, we saw mainly young people, but a year ago, we also saw other age groups and families," she says. "The system is collapsing."
Also people who have jobs
Every Wednesday and Saturday, Richard is out in his van in Grimbsy, a village on the east coast of England. His help is urgently needed, he sees: "There is a crisis in this country. People who have work come here too."
Richard visits someone every week with his food bank on wheels, 40-year-old Aderline. She lives with her 14-year-old son and cannot do without food aid. "I couldn't live without it. I wouldn't be able to feed my son."
Income has been the same for years
Around her, Aderline sees that she is not the only one in desperate need of money. "Friends call me with similar stories, asking if Richard can help them too. You have to remember that these people only have a job but can't afford to live."
Aderline says prices have gone up everywhere, but her monthly income hasn't increased in the past five years. She worked her whole life, but stayed home for a few years due to health issues. The mother worries a lot: "There are times when my son can eat, but I can't."
In poverty due to illness
Julie says health is a complicating factor when it comes to poverty. "People who have to go to the hospital often don't get help or have to wait a long time." She explains that many people suffer from this disease and cannot work because they are waiting for help. They soon end up in poverty and have to turn to volunteers like Julie and Richard for help.
Economist Martin De Ridder of the London School of Economics says the UK's social safety net is less regulated than it is in the Netherlands. Employers in England have fewer responsibilities if you are sick. After 2 months, the problem is already yours. He asserts that the amount of unemployment benefits or social assistance is much longer than it is here.
Less healthy years of life
At the same time, the UK is experiencing a decline in healthcare. While demand has increased in the wake of the coronavirus pandemic, the NHS and social care system are collapsing under chronic staff shortages. Healthcare workers regularly strike because of the high workload, which makes waiting lists even longer.
This is also reflected in the numbers. For example, Grimsby is in north-east Lincolnshire, the region in England and Wales that has seen the greatest decline in the number of years of life of people living healthy over the past 10 years. towards In 2011, women in the region now have 5 fewer healthy life years, and even men have 9 fewer healthy life years.
"It's really exciting."
Moreover, the UK is not doing very well economically, de Ridder sees. "Since 2005, salaries have not risen in line with inflation. From 2021 wages have fallen, especially for people outside London," he explains.
These are economic figures that many people probably wouldn't expect from a country like England. "There are regions where the average income is lower than in Romania," he says. "The situation is really tragic for nurses and teachers."
Why don't politicians get involved?
If the problems are so big, why don't politicians get involved? According to De Ridder, increasing poverty is not so much a political choice. "It has a lot to do with Brexit. There is hardly any money for anything because business investment has been so delayed. There has been no productivity growth since 2008."
"There are simply no resources to improve public services. There is simply no money for them and taxes are already high," says the economist. He does not expect that if the Social Democratic Labor Party comes to power, the problems will be solved: "It is political impotence."
"Travel enthusiast. Alcohol lover. Friendly entrepreneur. Coffeeaholic. Award-winning writer."