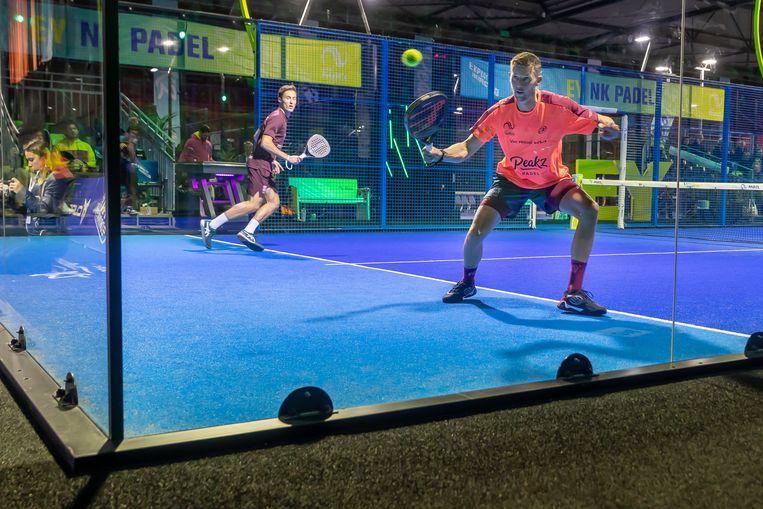 "This will be an important year."
It's about three o'clock on Saturday afternoon when Bernd Betz (60) – on his way to his first Over-60 title at Padel – is looking across the street at how his daughter Maaike is doing. She will play the women's doubles quarter-final against the top seed in the Netherlands on Center Court. It largely fell to no chance as Betz took home the trophy from the hands of men's national coach Diego Meres after three sets at the end of Saturday afternoon. Dutch champion in the 60+ class and Berend is beaming.
"It's a great game, dynamic and social and you're always on the go. Originally I'm a tennis player but now I only play paddle. It's an addictive game." Padel, which originated in Mexico and came from South America to Spain, is played both indoors and outdoors and can be described as a cross between tennis and squash.
"We're making leaps and bounds"

NK padel at IJsshalllen in Zwolle sometimes appears as a family tournament, with a mixed area where everyone gets to know each other and enjoy a friendly chat. The players mingle with the crowd and the Under-18s play in a stadium next to the Over-60s final. Grandmothers and grandchildren are watching.
It will be some time before the Dutch duo reach the final of the world's best padel tour tournament, says Michael van der Knopp, a member of the KNLTB's Padel Board. "We don't have one yet The original paddle players, as in Spain where children under the age of ten begin to play padel without having to give up anything about tennis. But we are making leaps and bounds. "Padel didn't turn into a hype, he was a bouncer," van der Noop says.
The number of active players is already close to a quarter of a million, according to KNLTB. Of the 22 million euros that KNLTB has set aside as an annual budget, around 4 million euros goes to Padel, van der Noop says.
Spaniards dominate

Bram Meijer (28), world No. 184, and Sten Richters (23), hold the absolute lead in the Netherlands. As Padel ambassadors for KNLTB, they try to promote Padel in the Netherlands. Meijer, who has a background in tennis and soccer, eventually filled in for Padel in 2018, and is now five-time Dutch champion in a row. Together with Richers, he now wants to get into the world's top 100 and eventually the top 50, which is currently dominated almost entirely by Spaniards and South Americans. "I'm ready, this is going to be an important year," he says.
Meijer assembles an entire team around him to keep him physically and mentally fit for thirty tournaments a year. On Monday, he flew to Dubai for the FIP Championships, one level below WPT. Together with former partner Aurel Marsen (30) Meagher traveled the world, looking for points for the rankings, playing the backcourts of Buenos Aires.
"We were the pioneers and now it is easier to follow a certain path. I will do everything I can to remain the best. I must set an example for young people and get them to the top faster. On Sunday, Meijer will play the semi-final against former partner Maarssen and win easily in two sets. They will face Jupp de Kroon and Julian Prinz later on Sunday in the final.
It should still be fun

Perhaps the twin sons of René Lindenberg (36), No. 2 in the Netherlands, will benefit from this pioneering work. Mays and Boaz, 10, routinely hit balls over the net at a vacant side job. the bandeja – the Spanish term for a kind of defensive half-smasher – the ball, volleys, glass wall plays, they do it effortlessly.
Lindenberg, who lost in the quarter-finals on Saturday, trains with them for about six hours a week. "You have to put in hours, but it should still be fun, they have to have fun with it. It would be great if they could benefit from our pioneering work." Mays loves Badil. "If I had to choose between football and the substitute, I would choose Padel."
Avalon Sego Junker (28) no longer has to make that choice. Her work as a dentist cannot be combined with a career in Padel. "You have to stay realistic. Growing up in the Netherlands is too late for me, but for these guys, what's happening now is great." The full-time dentist will play the final on Sunday afternoon with partner Janine Himes.
Read also:

Noisy padel courts drive the locals crazy

While paddle courts have popped up everywhere in recent years, many locals are disturbed by the noise. Many go to court.
"Professional reader. Award-winning gamer. Zombie buff. Social media junkie. Bacon maven. Web scholar."