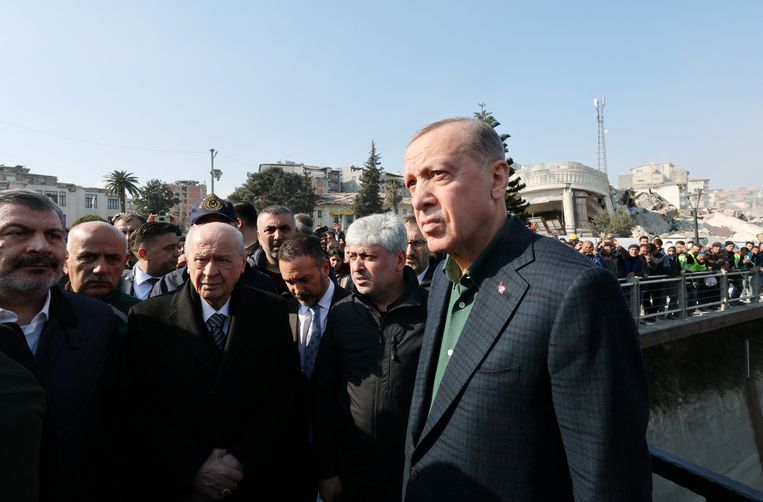 Punishment of Turkish media for its critical coverage of Erdogan's response to the earthquake
Halk TV, Tele 1 and Fox have been fined by Turkey's media regulator RTUK. In addition, Halk TV and Tele 1 were banned from broadcasting some of their daily programmes, for five days. The three channels are known for their usual critical stance towards Turkish President Recep Tayyip Erdogan. Halk TV maintains ties with the largest opposition party, the CHP. In recent weeks, this party has been highly critical of the emergency aid and has accused the Erdoğan government of inadequate oversight of compliance with building codes, which has resulted in many buildings being unable to withstand earthquakes.
After the earthquakes, emergency aid, which was said to have started slowly, was regularly criticized on television. Critics felt that the Turkish government was unprepared for such a disaster, despite major earthquakes that had happened before.
The head of the Turkish Journalists Syndicate, Nazmi Bilgin, calls the sanctions "censorship". He believes the regulator is committing a "high crime" against the news. Tele 1's editor-in-chief calls the punishment "a disgrace".
Turkish authorities also blocked an online forum, Eksi SozlükWhich has been the subject of much criticism of the government in recent times. The site's administrators write on Twitter that they do not know the reason for the blockade.
This is not the first time that the Turkish government has taken action against earthquake criticism. A few days after the disaster, Twitter was blocked for several hours. The blockade was soon lifted after widespread criticism that Twitter was an important communication tool for the rescuers. Victims trapped under the rubble also shared their location via Twitter so they could be rescued.
"Pop culture enthusiast. Unable to type with boxing gloves on. Analyst. Student. Explorer."