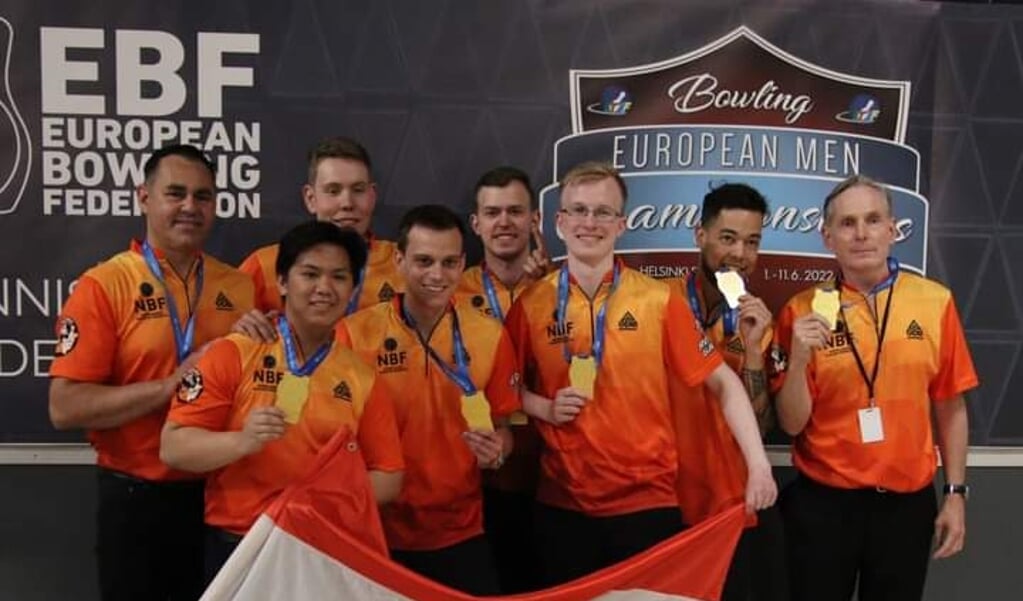 Nick de Gelder to the European Bowling Championships in France – Hellevoetsluis announced | Hell big
sports
Read 144 times


Hellevoetsluis – Nick de Gelder travels to Wittelsheim, France, on June 6 to participate in the European Bowling Championships. De Hellevoeter will defend the European bowling title he won in 2022 with his NL teammates. The first in the history of the Netherlands team.
Dan Rowlandos
"We beat Sweden in the semi-finals and Italy in the final," Nick de Gelder proudly looks back at the outstanding performance he gave with his team on June 11, 2022 in the Finnish capital, Helsinki. Sweden is the absolute pinnacle, king of bowling in Europe. Italy is as strong as our team, and like us they belong to the 8 best teams in Europe. Surprisingly, Italy eliminated Finland in the other semi-final match. Sweden and Finland, the two largest countries in Europe, were eliminated. So the two underdogs made it to the final last year. "Last year we showed in Finland that we can compete with the top, but we are not going to enter the tournament as a big favourite, because again it is the Swedes and the Finns. We want to take the pressure off ourselves by doing our best to compete for the prizes again and thus do well and then we will see to Where we'd end up.'If you're dominant or have won the European Championship twice, you could name the absolute top case with Sweden and Finland, but we're not there yet." The men's national bowling team consists of Nick de Gelder, Mike Bergmann (Gehlen), Marc Jacobs (Neugen) and Michiel Stensesen ( Rotterdam), Jeffrey van de Wacker (Heemstede) and Jord van Wieren (Leiden).The coaches are Ron van den Bogaard and Mino van den Heuvel.
supports
Nick De Gelder began his bowling career at Bowling Hellevoetsluis at Patrick Wigman's Bowling Center Hellevoetsluis on Kerkstraat. "I was seven years old, and before that I was swimming. In addition to bowling, I continued swimming lessons for a long time. I used to do something other than football like almost all of my classmates. I didn't want to play football, so I became bowling. I started For fun, as a game, but soon we started to watch a tournament and then I participated in it. The results were such that he was also included in the national youth selection led by Peter van Zegb. 'I like you and you in youth tournaments mainly. With a lot of practice and a coach, I started Bowling better and better. The leagues kept getting higher. Then it got more and more fun." Nick de Gelder moved in 2017 at the age of eighteen to Bowling Club Middelharnis in De Staver in Sommelsdijk. "This was more for fun, because besides that I usually trained in Rijswijk or Leiden. We play matches all over the country. " Young De Gelder collected trophies with his team. For example, he and his team won the bronze medal at the European Youth Bowling Championships in Aalborg, Denmark. "My dad (Michael de Gelder, Doctor) has also been very important in my bowling career so far. He supports me, supports me and is always there, and I haven't missed a tournament since 2008. Ben van Sproensen has been my highest potential coach since 2016, and I'm still training With him, I entered the national selection under the guidance of youth coach Peter van Zegb in 2019."
Dream America
Fourth-year student Pabo put himself on the map and achieved impressive results as a singles bowler, with his Euro City team from Zomergem in Belgium, and with Team-NL. He became the Dutch singles champion at NK Bowling in Tilburg in 2018. NK was my biggest individual bowling prize, but winning the European title last year was especially cool as a team. Belgium's EuroCity team claim the title in both 2021 and 2022. The bowler from Hellevoetsluis points out that Sweden and Finland are Valhalla for European bowlers. Europe cannot compete with countries like America. Asian countries and Malaysia. My dream is to be able to play in America one day, but going to America to play ball is very expensive to get that off the ground, because there is not much money in bowling. We can win prize money in tournaments, but we can't live on it. The dream is there. I have been teaching at Praktijk College in Spijkenisse for a year and a half now and these are not the best times to go abroad for a long time. In Europe I can still manage the big leagues, but not over the big lake yet. I hope I can experience it again."
to prepare
Nick de Gilder has been preparing for the European Championship for a long time, and it is fast approaching. "We have been preparing for 2023 with the squad since last year after the European Championships in Finland. We started with a group of eleven ballplayers, and in the end six men came out. We played alternating matches where you can earn points. There is a final ranking. The two best players (Nick de Gelder and Jord) qualify Van Weeren, DR) direct to the European Championships and the other players were selected by the coaches. The interchange matches you play are more than just the training itself. We had a weekend in the making, which was sponsored by the KPN-Sportfonds team. We had a training weekend At Bowling Middelburg and a weekend in Rijssen at Bowling 't Witte Hoes. At Rijssen we all trained together on certain factors we might face during the European Championship, such as pressure handling, mental training and tactical elements. The players in the team come from all over the country, so it's not It's always easy to get together, because everyone just has to go to work, 24/7. It's very hard. But we train together regularly. I train individually for myself in Leiden. It's all far from home, in traffic jams. I need it for the weekend. On average, I spend about ten hours a week practicing bowling. Plus, I keep fit three to four times a week at Jim Warren. There they also help me prepare well for tournaments. One team doubles down and plays thereafter each day from June 13th to June 16th.
EC Bowling in Wittersheim, programme
09-06-23: Single Band 1 and 2.
10-06-23: Single Band 3.
Singles Finals.
11-06-23: Doubles Team 1 and 2.
12-06-23: Double Band 3.
Doubles finals.
13-06-23: Triple Match 1-3.
14-06-23: Triple Match 4-6.
Triple Finals.
15-06-23: Teams 1-3 match.
16-06-23: Team Match 4-6.
Team Finals.
17-06-23: The Masters with the top 24 players in the tournament against each other.
"Professional reader. Award-winning gamer. Zombie buff. Social media junkie. Bacon maven. Web scholar."