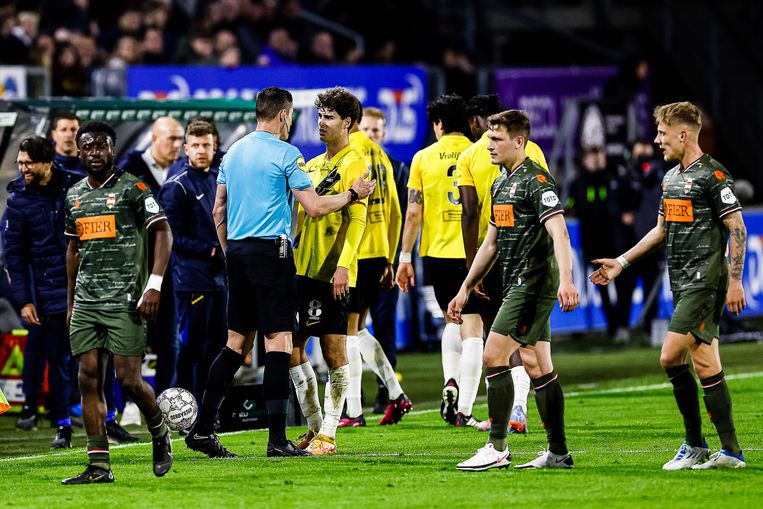 NAC-Willem II stopped permanently after objects in the field
Referee Jeroen Manschot sent the players into the changing rooms for the first time after about 70 minutes, after throwing a piece of pyrotechnics into the field from the stands. After a few minutes' rest, the players returned to the field. When Willem II scored fifteen minutes from time through Elton Kabangu, mugs of beer were also thrown from the same section to the party players from Tilburg. Manchut immediately exploded and indicated that the players had to leave the field again, this time permanently.
Hence, he followed the rules tightened by the KNVB last week, after Ajax player Davy Claassen received an object on the head from the Feyenoord crowd at De Kuip. If fireworks or anything is thrown onto the field, the match will be paused. If repeated, the game will be stopped permanently.
NAC coach Peter Heybala was disappointed after the events. "The head of the stadium announced it. This is not discipline from the fans. This is against our team and the club. It is also not good for our image. It happens often in South America. But I also think it's good how the Netherlands do it. All the popular clubs are," Hibala said. Now under a magnifying glass.
smoke utensils

Earlier in the evening, smoke pots in NAC's club colours, yellow and black, had been fired upon the players' arrival. When players lined up in the center circle for a minute's silence for deceased former NAC player Cock Luyten, plenty of fireworks exploded on one side of the field. It took so long that the referee, Manschott, had to wait for the minute's silence to begin.
Then the NAC staff had to clear all the fireworks on the field. Meanwhile, the players kept warm by shooting some balls at each other.
For safety reasons, fans of the away club are not welcomed to the duels between NAC and Willem II this season.
Listen to our weekly Amsterdam Metropolis podcast:

"Professional reader. Award-winning gamer. Zombie buff. Social media junkie. Bacon maven. Web scholar."