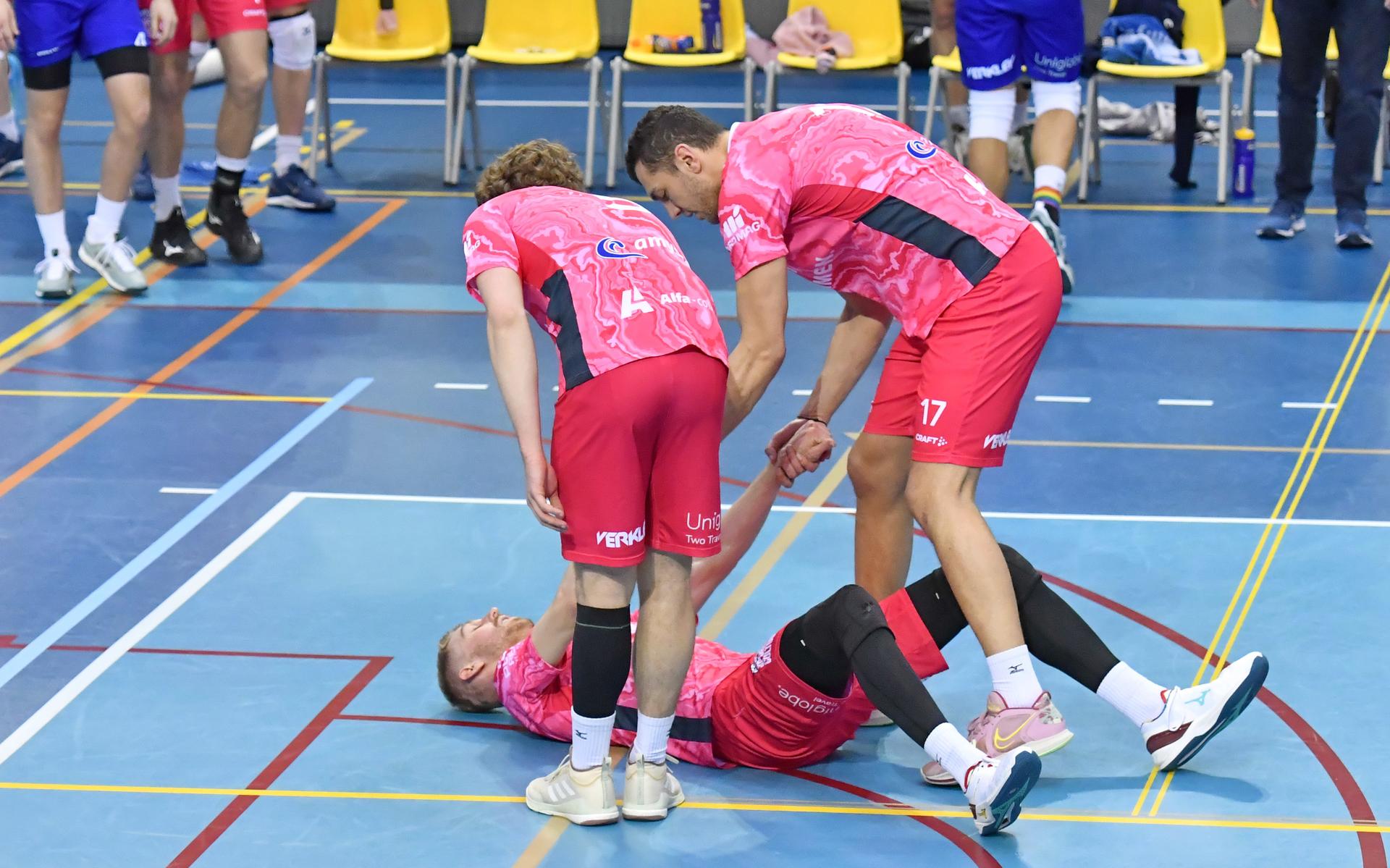 Lycurgus volleyball players from Groningen let the lead slip. The details weren't good enough
Samen Lycurgus' volleyball players failed to take the lead in the championship rally against Dynamo in Apeldoorn on Saturday night. Groningen lost the giant battle 3-2.
Ryan Koenen was like a dead bird after losing the game to the Dynamo. The Lycurgus captain accused himself in the fifth set at match point of not having enough control of the serve from the leader of Apeldoorn. So the ball ended up on the other side of the net at Dynamo instead of Koenen's fellow players. And then a heavy blow followed, with the Groningen team losing the deciding set 15-13 and the match 3-2.
And this again under the eyes of Koenen's parents, who were visiting from America. But, according to fellow player Nils de Vries, the American has nothing to reproach himself with. Ryan is disappointed now, but he shouldn't do that," said the centre-forward. ,, He is disappointed with his mistake on the last point for Dynamo but we are not losing this match for one mistake. All points are important, of course, but I didn't score balls in the second and fourth sets either. Everyone could have done better with the details."
Lycurgus cannot redeem a match point in the fourth set
The stakes were high in Lycurgus' away game against Dynamo. With a 3-0 or 3-1 victory, Groningen could have topped the championship group from Apeldoorn. So it didn't happen. Although Lycurgus won the fourth set during the volleyball battle, as both teams were close together. Lycurgus came on match point, but was unable to convert it. Then Dynamo did it, after which the hosts tied it at 2-2 and the fifth set gave Lycurgos the defeat.
It happened with placements of 21-25, 28-26, 25-27, 29-27, 15-13 in a razor's edge match. "Why didn't we win? Dynamo is also good," said De Vries. "The level of both teams is close to each other. There was little difference in all groups. But by stripping the gas and a few small mistakes, they make it back up again. That was the charm of this match. Unfortunately, note the Dynamo side. But he points out that we are certainly equal. And we really had to win."
Because this did not happen, Apeldoorners continued to lead the championship group with 15 points. Lycurgus, who had one point left after losing 3-2, followed with 13 points. It is important to finish the championship pool with the two best teams. After all, they will soon have the final matches of the Dutch championship. Orion and Lymax are also competitors.
The first four are still close to each other
'The top four are still close together,' said de Vries. We still have five games to play in the group and we need to get as many points as possible. We will meet everyone again. Especially since Dynamo at home in Groningen will be an interesting match. I think that determines whether we go to the final or not."
The centre-forward describes the defeat in Apeldoorn as a bitter pill. According to De Vries, the confrontation against Dynamo was decided in detail. "Here and there is a mistake at a silly moment."
His coach, Arjan Tej, agreed with him. "It was all about the details. This match was a close one. That's already been the case before. We've lost or won 3-2 before. We were up by three points in the fourth set and had the chance to advance, but we were so far behind. We had Chances to bring the difference to five or six points. But we didn't. Dynamo came back and won the group."
We should have played it better and cleaner
Taaij continued, and in the fifth set we were leading 10-8". But then they make four mistakes of their own. This way too much. We should have played it better and cleaner. It was a close call. For a neutral spectator it was an interesting match. There was great tension and they were close to each other. Both teams fought hard for the win, but the details weren't good enough for us. There were chances of taking one or two more points to Groningen. We didn't. It's bad, but now the focus is on the next match.'
Dynamo Lycurgus 3-2
Set positions: 21-25, 28-26, 25-27, 29-27, 15-13.
Next match: Saturday, Barneveld 7.30pm: SSS-Lycurgus.
"Professional reader. Award-winning gamer. Zombie buff. Social media junkie. Bacon maven. Web scholar."