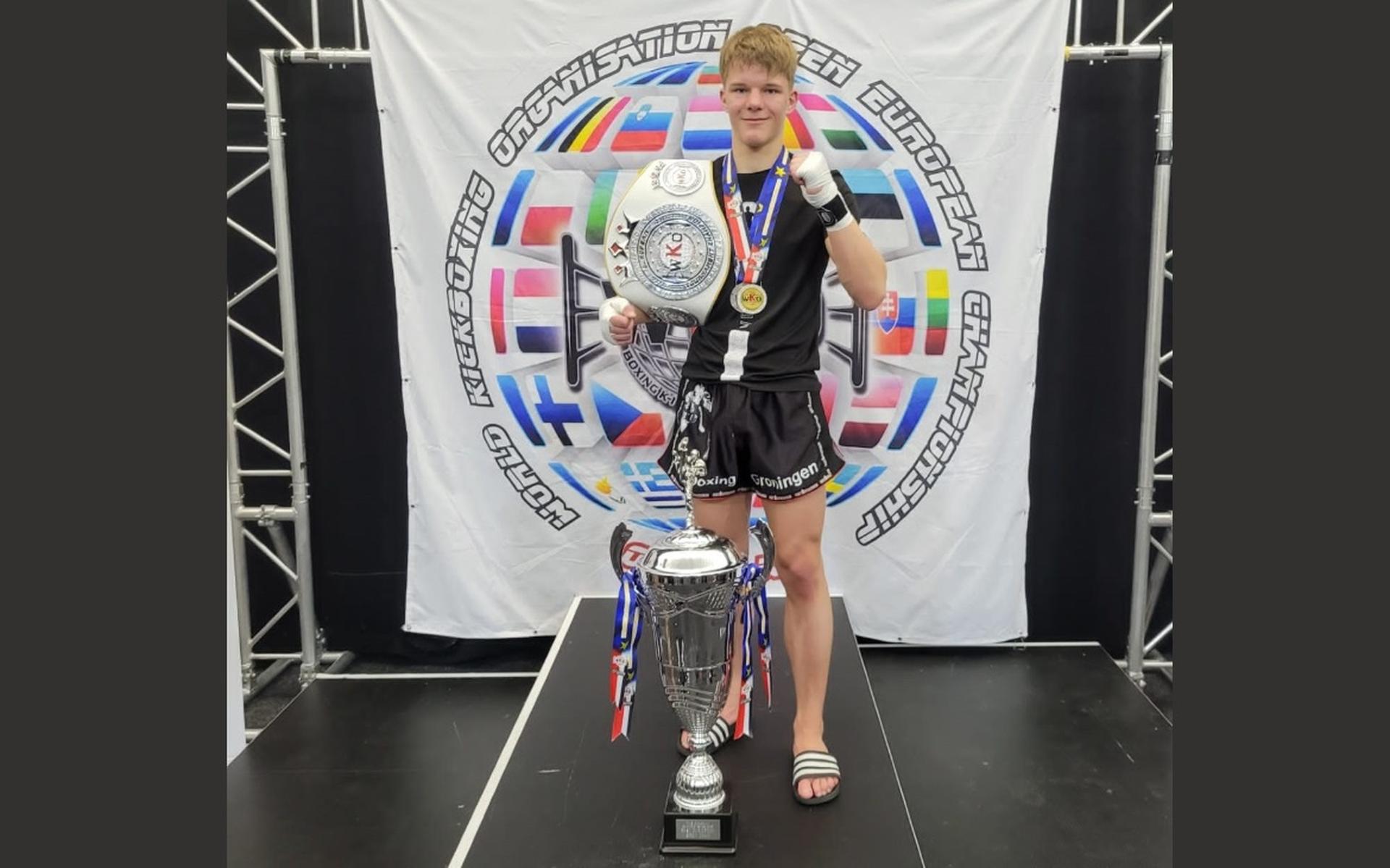 K1 European title for Sven Bertema (15) from Oude Pekela A stepping stone to a glorious career?
Last weekend in Barnsley, 15-year-old Sven Bertema won the European title in the K1 Light Contact class at the European Kickboxing/K1 Championships by defeating France's Loris Crepin in the final. In addition, the Oude Pekela resident ranked second in the K1 full-contact category.
In that last fight, Bertima had to compete with the Englishman Finley Wardle, a strong and experienced fighter with no less than fourteen titles in his pocket. The Briton finished his opponent with a powerful kick after an even fight.
Father Rene, owner of Budocentrum Chikara in Winschoten, where he teaches kickboxing and karate classes, among other things, explains the differences between the two classes: "K1 full contact is all about eliminating an opponent; this can be done, for example, as a knockout. In the other category, K1 optical contact, it's more about technique. It's important to score more points than your opponent. If your opponent gets out of K1, it means they won.
Sven entered Barnsley in the 15/16-70kg class. The match consisted of three rounds of one minute each. A strong international field that competed for prizes in the European Championships. "There was a very strong field of participants, in addition to Europeans, a number of fighters from America," says Rene.
The sport has become much broader
K1 has been dominated by the Netherlands for a long time, including Badr Hari, Sem Schilt, Remy Bonjasky and Peter Aerts. Nowadays, you see, there are also many good fighters from the Eastern Bloc countries and from Great Britain. This is also the case with young people. The Netherlands is still at the top, but the sport has become much broader."
Sven has been seriously focusing on kickboxing / K1 for the past three years. "Before that he practiced karate and judo, and also played football for a while. In the end he devoted himself entirely to martial arts. Although I personally also became active as a martial artist, we always left him free to choose. For example, our daughter chose Lake , thirteen years old, athletics and equestrian sports, which is good."
Mindset, commitment and passion
The new European champion is currently training ten to twelve hours a week with Gert Flik from Kickboxing Groningen, at Dave Jonkers Gym in Zuidlaren and one-on-one with his father, Rene. In addition to technique and the like, aspects such as physical fitness, coordination, strength training specific to sports, and a healthy diet are also taken care of. "Sven's strengths? His mentality, his commitment and his passion. And also his fighting spirit. He can combine easily in competitions."
When asked if Renee could go far, he was positive. "But of course, being a father, I'm not objective. Sven has a lot of potential," noted Dave Junkers, who trained, among others, SimShelt and Gert Flick. Sven has just turned fifteen and this is the age when decisions have to be made. You see in general with teenagers this age that there are two options: either keep going or drop out. I noticed from Sven that he was determined to get to the top."
Johan Cruyff College
"I notice this in many things. For example, we recently went to the open day of Alpha College in Groningen. Sven already knows exactly what he wants. He will graduate from Dollard College in his hometown next academic year; after that he wants to go to Johan Cruyff College, which is part From Alpha College, to pursue coach training. The combination of the best sports and study is ideal, though I must add that Dollard College in Pekela also offers its co-operation if Sven has important competition."
Sven's next international tournament will be in Germany in June.
"Professional reader. Award-winning gamer. Zombie buff. Social media junkie. Bacon maven. Web scholar."