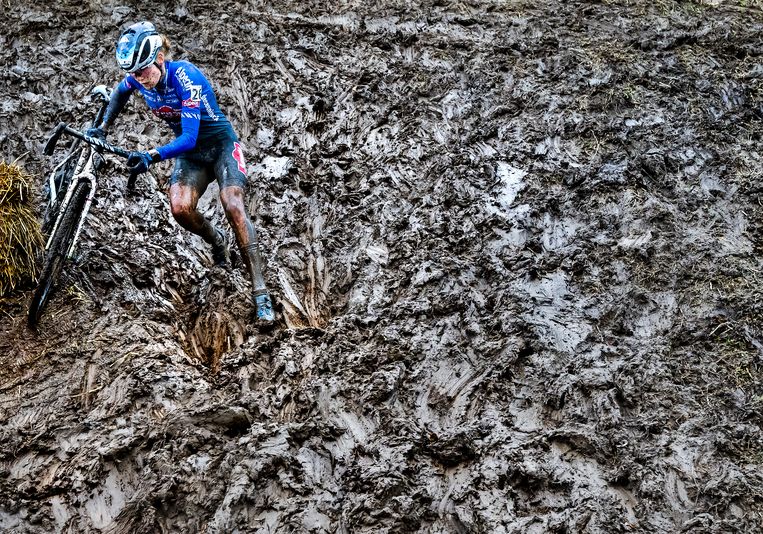 In the mud of Zaltbommel, cross-champion Pieterse's dream of Paris is never far away
Pure coincidence, says Celine del Carmen Alvarado of the women's cyclo-cross stage, on Sunday in Zaltbommel. National title-winner Buck Peters, second-ranked Alvarado and third-ranked Wim Van Embel all have Olympic ambitions. They will attempt to qualify for the Paris Games on a mountain bike.
According to Alvarado, the small hour of biking and walking in barely knee-deep mud, as fierce and cold winds chase Waal waters along the track, is nothing like mountain biking. "This is a really different sport than we did today, especially with all that running." Qualifying for the Paris Olympics has been on her mind for two years now. 'I really want to give her a chance. It's not impossible.'
Peters' ambitions go further. Next season and the season after that my focus will be on mountain biking. I want to ride in the top ten at the highest level.
The challenge next to cyclocross

Cyclo-cross is a world-class non-Olympic mini-sport, much smaller than mountain biking. At the same time, cycling among women is an almost exclusively Dutch affair. Not surprisingly, Pieterse, Alvarado and Van Empel are looking for a challenge besides cyclocross. In both areas they will have to deal with the same national coach: Gerben de Knecht.
If anyone knows if trail and mountain biking can be combined, it's 47-year-old De Knegt. He's the national coach for women's and men's cyclists and mountain bikers. "I lost my heart about cycling, but I feel like a mountain biker," he says. I won my first World Cup medal for the Netherlands in mountain biking, and nobody knows that. He's referring to the silver medal he won as a junior thirty years ago at the World Championships in Metabev, France, just days before elite rider Marcel Gerritsen finished second to the Netherlands.
De Knegt switched to cyclocross in 2000, finishing fifth at the 2002 World Championships in Zolder, Belgium, as an international highlight. "Switching from mountain biking to trail biking is easier than the other way around," says De Knegt. He sees it instantly when a mountain biker takes a cross bike. A few tips are enough to adapt to cyclocross, and a surplus of technology does the rest.
Extremely difficult from cyclocross to mtb. Place an experienced cyclocross rider on top of a six-foot boulder and have him jump off. Then something breaks. De Knegt sees the "two very different sports" growing towards each other in the duration and intensity of a match. "When I got on the mountain bike, the races were two to two and a half hours, and I always took it off." Now an MTB race takes less than an hour and a half, while a cyclo-cross race takes about an hour. Climbs also get shorter in mountain biking. So the physical efforts are becoming more and more similar, but technically mtb'ing is still more difficult.
Four minutes

Pieters, the national cyclo-cross champion, doesn't find the transition technically difficult. The difference is that in mountain biking you have intervals of four minutes. Then it's the maximum climb and then you keep your legs still for two minutes. Cyclocross is full all the time, but yeah, half the time too. In the end you roll the same amount.
Of the men, only Mathieu van der Pol combines the two disciplines. De Knegt accompanied him to three of his four world titles on the field and was his coach in Tokyo when the all-rounder fell in Olympic mountain bike racing. The winner was Tom Pidcock, who would become the cyclocross world champion the following year.
The chance that cyclo-cross will ever become Olympians has been mountain biking's since 1996. "The group is reserved for a few," says the national cyclo-cross and mtb coach. However, De Knegt sees "increasing overlap" in the youth categories of both cycling sports. Moreover, mountain biking in the winter and mountain biking in the summer can be well combined.
According to the national coach, serious MTB ambitions require a regular season adjustment in cyclocross. "Cross season training starts in August, but the Mountain Bike World Championships always take place in September." This year's World Cup also in August. They are part of the "Super World Cup" in Glasgow in which world championships in all cycling disciplines, except cyclo-cross, are completed within ten days.
Cyclocross riders who haven't been on a MTB at a young age can forget about Olympic success. "Lucinda Brand, for one, will never learn that technically again," de Kniggt says of the 33-year-old woman who made the list of brilliant honors on the road and especially in the field. "You wouldn't blame me for saying that."
This differs from Pieterse and Van Empel, both 20-year-olds, who gained mountain biking experience in their youth. According to their national coach, they will organize their year in such a way that in May they will be ready for the first qualifying moment for next year's Paris Games. According to De Knegt, Alvarado (24), the cyclo-cross world champion in 2020, is technically behind Pieterse and Van Empel. Alvarado admits: "I still have a lot to learn, but I'm still young. Refining is always possible.
Van der Haar's fourth national title

Lars van der Haar became Dutch karting champion for the fourth time in Zaltbommel. To his frustration, Joris Nieuwenhuis finished second. "I couldn't show what was in it because of the loose cleat," said Nieuwenhuis, who switched from the road to the field last year.
Ryan Camp was a distant third. The main absentee was Mathieu van der Pol, who organized a training camp in Spain.
"It was really hell," said Van der Haar, who had been ill recently, of a heavy clay course with long running sections, rain and strong winds. "I don't have any Achilles tendons left." He saw Nieuwenhuis, a fellow Baloise-Trek Lions teammate, have problems with his shoes. I also feel a little embarrassed that I hit Joris. Ride hard and keep bumping.
"Professional reader. Award-winning gamer. Zombie buff. Social media junkie. Bacon maven. Web scholar."