Hamilton wants Formula 1 race in a strange place: 'Dear me'
Lewis Hamilton would like to see another Formula 1 race in South Africa. The seven-time world champion is also hoping to get more grand prix races in the United States.
Which Say The British driver for Mercedes is on the Formula 1 website. He entered the 2022 race calendar, which includes 23 races.
Hamilton also wants to race in the US more often
The last Formula 1 race in South Africa was in 1993 with a race in Johannesburg. "I think there are a lot of Formula 1 fans in this country and it will be a great opportunity to show how beautiful the country is. South Africa is dear to me and I hope to see racing there again."
Formula 1 2022 calendar announced: Zandvoort ticket sales to start soon
Formula 1 will have two races in the US in 2022, in Austin and Miami. "This year's race in Austin was great. But it's a huge country and one race is not enough. We need at least two to break through the sporting culture," said the Briton, who is fighting for the world title this year with Red Bull's Max Verstappen.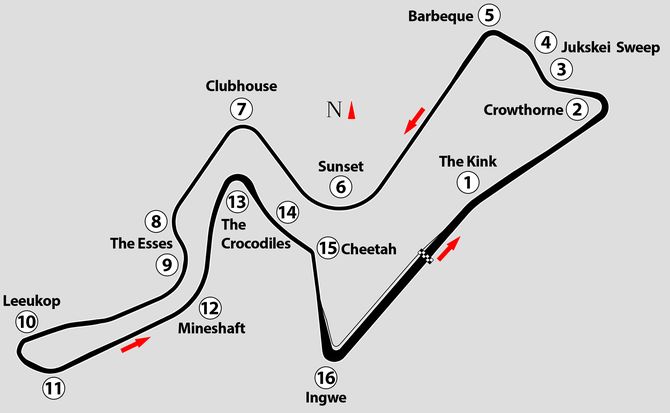 luxury problem
Formula 1 general manager Stefano Domenicali has already allowed the idea that a grand prix in an African country is definitely a possibility in five years' time. "For the future in Formula 1, we have reached a point where we can choose where we go. We have many requests to organize a Grand Prix. It shows that our platform is attractive and that more and more governments see it as an opportunity to benefit their businesses, the local economy and society. Exciting times lie ahead." , wrote recently in a vision for the future.
window.didomiOnReady = window.didomiOnReady || []; window.didomiOnReady.push(function (Didomi) { window.tc_vars = {
// Add Didomi variables didomiGDPRApplies: window.didomiState.didomiGDPRApplies, didomiIABConsent: window.didomiState.didomiIABConsent, didomiVendorsConsent: window.didomiState.didomiVendorsConsent, didomiVendorsConsentUnknown: window.didomiState.didomiVendorsConsentUnknown, didomiVendorsConsentDenied: window.didomiState.didomiVendorsConsentDenied, didomiPurposesConsent: window.didomiState.didomiPurposesConsent, didomiPurposesConsentUnknown: window.didomiState.didomiPurposesConsentUnknown, didomiPurposesConsentDenied: window.didomiState.didomiPurposesConsentDenied, didomiExperimentId: window.didomiState.didomiExperimentId, didomiExperimentUserGroup: window.didomiState.didomiExperimentUserGroup, }; if(tc_vars.didomiPurposesConsent != ''){ console.log( 'cookiewall okay'); consentLevel = 3; loadAllScripts(); } });
window.didomiEventListeners = window.didomiEventListeners || []; window.didomiEventListeners.push({ event: 'notice.clickagree', listener: function () { console.log('clicked agree'); consentLevel =3; loadAllScripts(); return false; } }); window.didomiEventListeners.push({ event: 'preferences.clickagreetoall', listener: function () { console.log('clicked agree'); consentLevel =3; loadAllScripts(); return false; } }); window.didomiEventListeners.push({ event: 'preferences.clicksavechoices', listener: function () { console.log('clicked agree'); consentLevel = 3; loadAllScripts(); return false; } });
function loadAllScripts(){ console.log('start loading all scripts 2.19'); console.log(tc_vars.didomiPurposesConsentDenied);
var deniedConsent = tc_vars.didomiPurposesConsentDenied; if(deniedConsent.indexOf('cookies') == -1){
//SETTING VARIABLES var wpk_tags = dataLayer[0].Tags; if (wpk_tags != undefined) { var wpk_tags_array = wpk_tags.split(','); }else{ var wpk_tags_array = []; }
var sales_keywords = dataLayer[0].sales_keywords; if(sales_keywords == undefined){ sales_keywords=""; }else{ sales_keywords = sales_keywords.replace(/_/g, ''); sales_keywords = sales_keywords.replace(/&/g, '_'); sales_keywords = sales_keywords.replace(/&/g, '_'); }
if (typeof dataLayer[0].Site !== 'undefined') { var site_name = dataLayer[0].Site.toLowerCase(); }else{ var site_name=""; }
site_name = site_name.split(".");
//SETTING VARIABLES
var script = document.createElement("script"); script.src = "https://shared.mediahuis.be/cxense/cxense.autovisie.min.js"; script.type = "didomi/javascript"; script.setAttribute('data-vendor','iab:412');
console.log('ads: '+deniedConsent.indexOf('create_ads_profile')); console.log('content: '+deniedConsent.indexOf('select_personalized_content'));
if(deniedConsent.indexOf('create_ads_profile') < 0 && deniedConsent.indexOf('select_personalized_content') < 0){ document.head.appendChild(script); console.log('load cxense!!!'); }else{ console.log('NOT load cxense!!'); } if (dataLayer[0].show_banners == 1) { // console.log('fillSlots'); setTimeout(function(){ fillSlots(); }, 1000); } if(deniedConsent.indexOf('social_media') < 0){ var y = document.getElementsByClassName("social-media-no-consent-box"); var i; for (i = 0; i < y.length; i++) { y[i].style.display = "none"; } var x_fb_post = document.getElementsByClassName("fb-post-no-consent"); while(x_fb_post.length > 0) { x_fb_post[0].className = "fb-post"; }
var x_fb_video = document.getElementsByClassName("fb-video-no-consent"); var i; while(x_fb_video.length > 0) { x_fb_video[0].className = "fb-video"; }
var x_twitter = document.getElementsByClassName("twitter-tweet-no-consent"); while(x_twitter.length > 0) { x_twitter[0].className = "twitter-tweet"; }
var xi = document.getElementsByClassName("instagram-media-no-consent"); while(xi.length > 0) { xi[0].className = "instagram-media"; }
var script = document.createElement("script"); script.src = "https://platform.twitter.com/widgets.js"; document.head.appendChild(script);
var script = document.createElement("script"); script.src = "https://www.instagram.com/embed.js"; document.head.appendChild(script);
var script = document.createElement("script"); script.innerHTML = "window.instgrm.Embeds.process();"; document.head.appendChild(script);
var script = document.createElement("script"); script.src = "https://connect.facebook.net/nl_NL/sdk.js#xfbml=1&version=v8.0";
var facebookDiv = document.createElement('script'); facebookDiv.innerHTML =`window.fbAsyncInit = function() {FB.init({ xfbml : true, version : 'v5.0' });}; `; document.head.appendChild(facebookDiv);
var my_awesome_script = document.createElement('script'); my_awesome_script.setAttribute('src','https://connect.facebook.net/en_US/sdk.js'); my_awesome_script.async="true"; my_awesome_script.defer="true"; document.head.appendChild(my_awesome_script);
}
} }
if (navigator.userAgent.toLowerCase().indexOf('cxensebot') != -1) {
loadAllScripts();
}
"Coffee fanatic. Friendly zombie aficionado. Devoted pop culture practitioner. Evil travel advocate. Typical organizer."