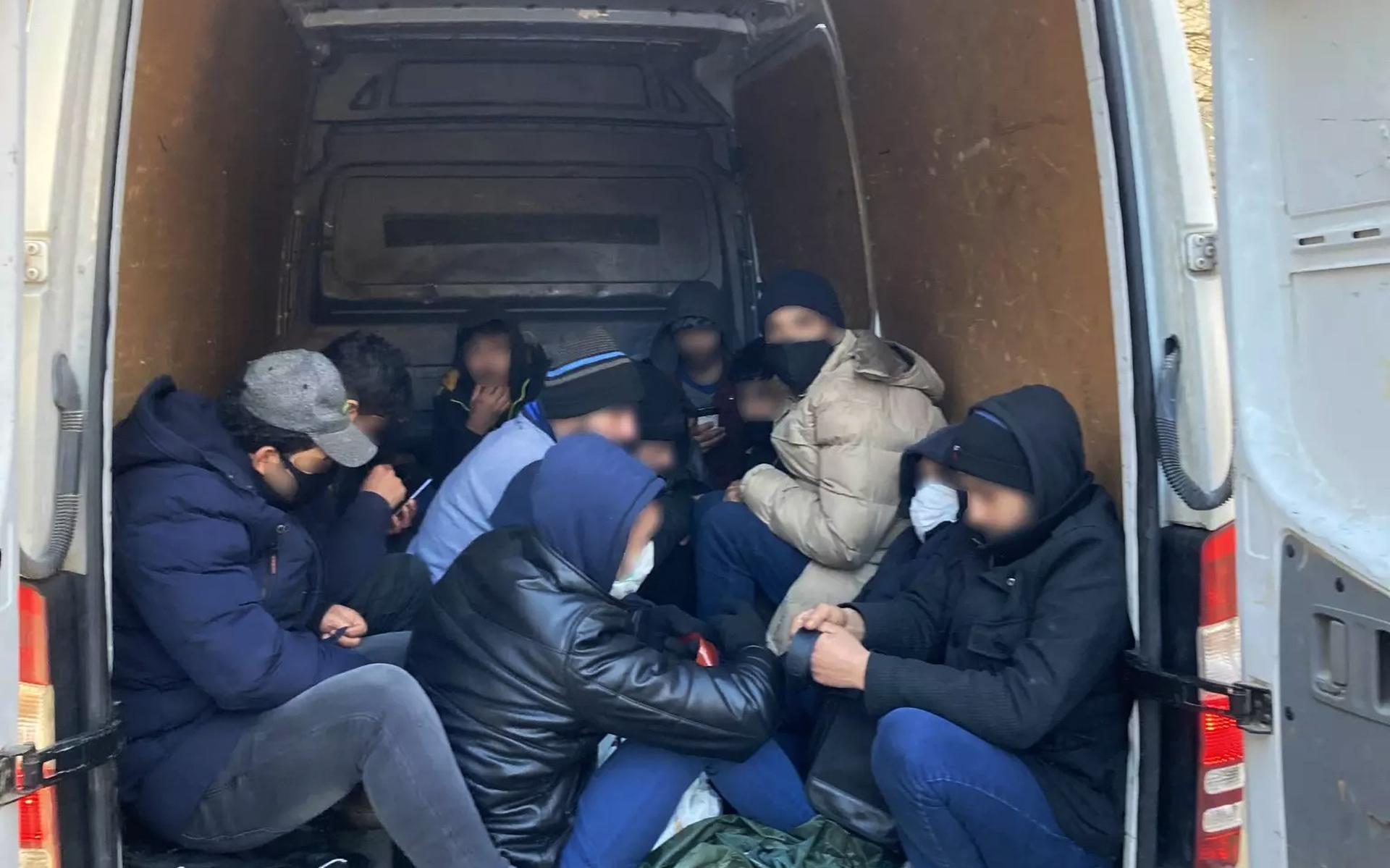 Detectives Marechaussee Coevorden ensure a breakthrough in Europe's huge human smuggling case by seeing the nitty-gritty
It was a major blow to Europol last summer: in one operation, "some of the most dangerous migrant smugglers in the entire European Union" were swept away. And all thanks to Drenthe's detective work.
On June 3 last year, Europol claimed great success in the fight against people smugglers. Actions in Austria, Germany, Hungary, Romania, Serbia and the Netherlands included the so-called Eight bosses Arrested; Most of them are Syrians, absolute leaders in human smuggling organizations, invisible big men who make big money bringing refugees to Europe. In total, approximately 140 suspects have been arrested. In 151 home inspections, assets worth €900,000 were seized.
This was the last Pathfinder International Justice investigation, Which was led by the German authorities, in coordination with Europol. This cooperation has enabled the completion of 150 ongoing investigations and the initiation of about 40 new investigations. In all, there were ten thousand cases of smuggling that could be linked to the suspects.
Pathfinder's success was only made possible by the keen eye of investigators at the Royal Netherlands Marechaussee in Covorden.
Almost a year ago – in August 2021 – the collaboration between the investigation teams of the Europol format, based in The Hague and supporting the fight against crime in 27 EU countries, began. Germany has been assigned the Pathfinder mission because there have been many cases against suspects there.
The 'high-value targets' – as Europol calls the suspects – turned up during this operational task force, which smuggled about ten thousand Afghans, Pakistanis and Syrians into Europe from Turkey via the Western Balkan route to Romania, Hungary, Austria, Germany and other countries. Holland.
Refugees pay a lot of money for this: up to 10,000 euros per person, despite the very poor and often life-threatening conditions in which they are sheltered and smuggled. The smugglers made tens of millions.
Payments are made through what is called a secret financial system hawala .
The suspects used social media platforms to publicize their illegal trade and convince relatives of migrants that their smuggling method was safe. Gang members had to build trust with immigrant communities to recruit as many immigrants as possible, including minors.
They did this, among other things, by advertising their services with short videos and selling supposedly safe smuggling services. Firearms were visible in some of the videos. In addition, many migrants have been transported in life-threatening conditions, hidden in private trucks and cars.
Investigative teams across Europe have found the profile of the biggest scammer ever, whose identity could not be traced back. That's why these things have stopped. "But now I'm going to beat myself up, is that allowed?" says the fanatical coordinator of the detective team in Cofordon. ,, Pathfinder Operational Task Force It started here, in Little Holland," she laughs. "Just a little border check."
Through the "common sense" of the team leader – who is also a dairy farmer as well as a detective – the true identity of the leader of this smuggling network is discovered, so that the whole mess can be brought to a close. We spoke to her in the Marechaussee brigade building in Coevorden, which gives a slightly sleepy impression with those tightly manicured hedges in front and traditional flagpoles. But appearances are deceiving.
The starting point was the arrest in November 2020 of three Syrians in a van near the application center in Ter Apel: an asylum seeker and two supervisors. They came from Breukelen. It is revealed that the driver and his accomplice had nothing to do with a smuggling organization; The landing was a service to friends. The youngest of them burst into tears. He had an exam the next day, which he wouldn't pass. "A little silly, yeah, but okay."
It turned out that the smuggler had traveled across Europe with four other illegals, who had been thrown straight out of the car in the gloomy autumn rain by the smuggler across the Dutch border in Vaals, far south of Limburg. There was a major disagreement about this with the smuggling organization. Because, after all, they paid for the trip to Utrecht. Turns out one of the four has a relative in Brooklyn. He took them and gave the quadruple shelter. However, one of them no longer wanted to stay there, but wanted to travel to Ter Apel to apply for asylum.
In this asylum seeker's phone, the number of the man who arranged the entire smuggling route was found. This number was shared with Europol, as is customary. This was exactly the mobile phone number that turned out to be so common in the ongoing criminal investigations in Germany, Austria-Hungary, Romania and Serbia. "But who was the person behind that number, no one knows… He was a key player on the Balkan route, being chased by detective teams from all over Europe." The investigators in Drenthe prepared an information file on this case and submitted it to the "intelligence" department in the Marechaussee, in the hope that they could do something about it.
In March 2021, the captain of the team returned from vacation. She discovers that while she was away another group of asylum seekers were intercepted, who also declared that they had been thrown out of their car across the border by the smuggler. Same way of working. Again, all those involved were Syrians. And in their phones, too, there was exactly the same mobile phone number, of that mysterious protagonist in Europe, behind whom were many detective teams. "Stay sober, boys," she yelled at her team.
As a WhatsApp profile, this mysterious major player used a photo of the Great Sphinx of Giza in Egypt. Abu Ahl, he called himself "Al-Qadir". Small in that picture, written in Arabic, it said: This is my new number. And this number began with the country code of the Netherlands: +31. Discovered by the team leader and compiler.
Now she has two cases, which are strikingly similar, as well as a Dutch count of the main player behind these smuggling cases. The team leader hopes the intelligence department has made progress in the months since, but they've focused on the compromised EncroChat/encrypted phone network files. sky ECC, where nearly half of the Dutch street criminals had conversations. "They were after all the information from that fallen servant."
So she wanted to do a big investigation herself. Such intense investigations aren't really for their Covorden detective team, but they still get the go-ahead. "Then I bite too. We said: We'll start now, because all of Europe is looking for this guy. And we've got two accidents. Plus a Dutch number."
The name "Ahol" also appeared in a criminal investigation conducted by her colleagues in Schiphol. I read this research carefully. She carefully scrolled through the contact lists of each hacked phone. At that time, a criminal investigation was launched into "Abu Ahl" in Rotterdam on the basis of information from the Criminal Intelligence (TCI) team, issued by protected informants. I brought more and more files, including from Germany.
In the end, I found out the true identity of Abu Ahl. For the first time there was face to face with the unknown suspect. "At the end of March 2021, I said to the officer: I know who he is!"
According to her, "Abu Ahl" was an Iraqi asylum-seeker who had exhausted all legal remedies in the Netherlands and had filed a refusal objection that he was not allowed to stay in the Netherlands and then left to an unknown location. "No interrogator ever saw his face. He never showed up, did everything remotely, only through WhatsApp chats, and he was never pictured during Facetime calls. In 2020 he was here in the Netherlands, and that broke him up." Because apparently he bought a Dutch SIM card here at that time.
In consultation with the Public Prosecutor – "we are two hands on one stomach" – it was decided to share the information via Europol with fellow investigators across Europe. In Germany and Austria, dozens of criminal investigations against the suspect were waiting for his identity to be revealed.
The officer and the leader of the detective team showed the name and photo of the suspect during a video meeting led by Europol with investigation teams from Germany, Austria, Hungary, Serbia, Italy and others. The Italians pretended that the Drenthes were all wrong: 'We have followed this man for a long time, and that is not him. you are wrong.'
The Italians decided not to cooperate for tactical reasons, but Germany, Hungary, Austria, Serbia and the Marechaussee Royal Netherlands did. At that time, the entire Balkan route was swept away by refugees. On the news I saw seas of people moving on country roads. In Europe, we learn of thirteen leaders of people smuggling who got a lot of money from this refugee flow. The suspect was the eldest. This is why we in Europe have come together to try to pull all 13 of these suspects out at once. To strike the Balkan route.
The Drenthe detectives didn't mind the German Federal Police taking the lead in Operational Task Force .
The protagonist was arrested in January 2022. in Italy. He was hiding in a simple house with his brother. The phone where they could be contacted was on 24 hours a day, and an endless string of messages from illegal immigrants seeking to contact them was displayed on the screen.
"Of course, you should not be under the illusion that the Balkan route no longer exists," says the team leader. "But the funny thing about this story is that you go from one phone number to nine hundred smuggling incidents, because you keep showing up with that specific phone number in different places."
No, it did not celebrate widespread success with Europol partners. During a trip to Munich – usually all police teams come to The Hague, but since there were more Germans of other nationalities this time, they met in Munich – they went to beer garden gold. That was the only boast. Certificate from Europol already obtained.
"International cooperation is simply a must. I was recently in a video conference with investigators from all over Europe about a human smuggling route into England: crossing the Calais pass in an inflatable boat. Then you see how many people are involved in the investigative side. We have to get rid of that thinking. "Narrowness": What is the Dutch interest we have? No, what is the European interest we have! And because this puppet was caught in Italy, we don't know how many asylum seekers. We have to think about Europe."
"Pop culture enthusiast. Unable to type with boxing gloves on. Analyst. Student. Explorer."