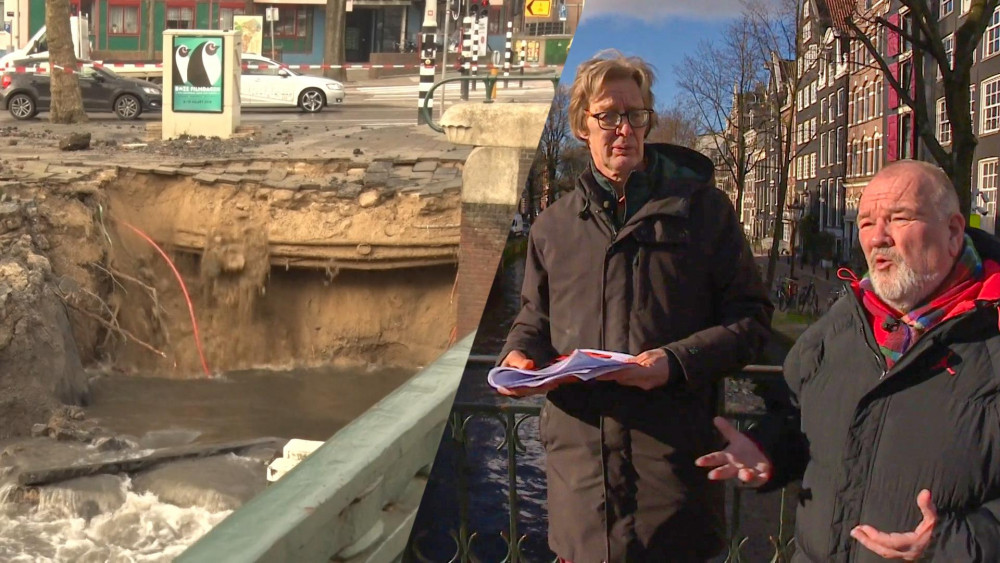 Concerns about the lack of repair of sidewalks and bridges: "lack of money is no excuse"
The Docks and Bridges Headache recently received a new chapter. According to traffic board member Melanie van der Horst, from 2026 there is a risk that there will not be enough funds to make much-needed renovations. A worrying and unnecessary development, according to architect André van Stigt and logistics expert Walther Ploos van Amstel.
"Sharon Dijksma put this on the map and it's now being pushed backwards," says Van Stegt. "This is actually for no reason, except that there is no money. But 'no money' is not a reason. Then you have to do it in a smarter way. There is a problem and it must be solved."
Sewers and collapsed sidewalks
This problem, the appalling condition of Amsterdam's pavement walls and bridges, has had the city council's full attention for a few years now. There had been concerns for years before a crater appeared at Marnixstraat in 2017 and part of Nassaukade in 2018.
"The risk that we won't have money for a while is that we'll stall this very fine train to get things done faster."
But how bad the sidewalks and bridges really are will become clear at the end of 2018 after an extensive inventory. "It's not going to take five years, not ten, but I doubt all of this will be settled over decades," said Sharon Dijksma, the House member in charge at the time. AT5.
short term solutions
Dijksma will present a business plan in 2019. Estimated costs: about two billion euros. We are now four years old, and there are a few new incidents and two House members. Long-term solutions are now being pushed aside for short-term variants, on the grounds of lack of money.
This means, among other things, that alderman van der Horst will focus on bolstering weaknesses in some places, so that it can last for another thirty years or so. This is while Dijksma wanted to invest in long-term solutions.
You can't stick stickers on.
"The risk of not having money for a while is that we will disrupt this very nice train to deal with things faster," says Bloss van Amstel. "And then you're shelling out a lot of 'good money,' while you want good style at once and as quickly as possible. So I'm really concerned."
Remove the causes
Van Stieght shares those concerns. "You can't just stick stickers. And I think it's very important as a city, when you want to cut costs, you have to see if you can remove the causes. You don't just fight the consequences."
One of these reasons is the heavy weight that bridges and piers have to bear daily, something they were not built for at the time. "Think especially of those stupid cranes, those mobile cranes that everyone gives up on. So those are very heavy loads," says Van Stigt. "For the rest, we see that a lot of this freight traffic doesn't build up. You have to collect on the edge of town, so you get much less traffic in town, like you're doing now in Westpoort, for example," adds Bloss van Amstel.
"Of course you have to do all this editing for a hundred years, not twenty-five years."
Measures to keep heavy freight traffic out of the city center have already been taken in recent years, such as stricter rules for exemptions. "But what I see is, for example, when I look at the bridge in Leidstraat: It is completely full of trucks," says Plos van Amstel.
"While the agreement is: don't sit idly by on those bridges that are at risk, that's an enormous burden. I think we have to tackle the sectors that are now receiving relief more difficult."
to impose
Van Steget Already implemented several projects He moved almost all transportation by water. According to him, this should not only happen during the renovation work on the docks. "You also have to tackle these sidewalks away from the water. Then the inconvenience is much less and you ensure that undercutting from that side no longer occurs," says Van Stegt.
"Of course you have to do all this editing for a hundred years, not twenty-five years," says Bloss van Amstel. "Do this work, not just emergency plastering," says Van Steget. Finally, Bloss van Amstel said: "And enforce it. Make sure the sector abides by the rules that we have with each other."
💬 Whatsapp us!
Do you have tips? Or make an exciting photo or video? Send us your news 0651190938!
"Travel enthusiast. Alcohol lover. Friendly entrepreneur. Coffeeaholic. Award-winning writer."