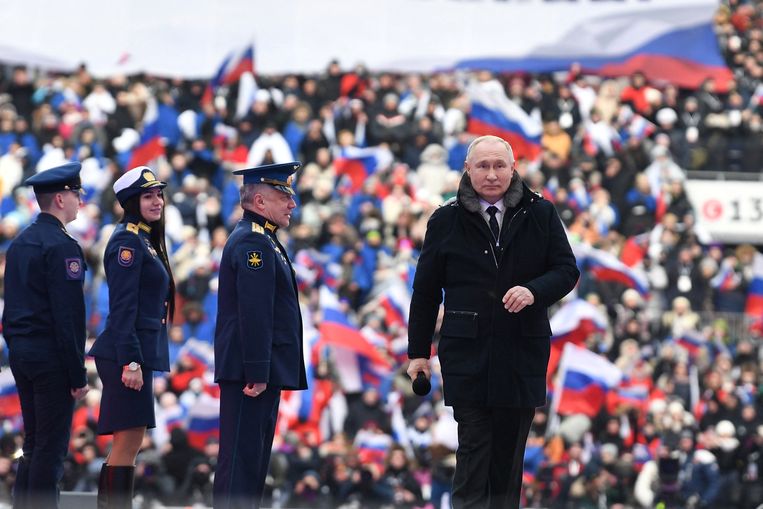 Cold in Moscow is a spoiling sport on Defender of the Fatherland Day
"To the subway straight ahead, to the buses on the left!" Policemen directing by megaphone the people pouring out in droves from the Luzhniki football field. Long before Russian President Vladimir Putin showed up, thousands of spectators had already given up. Outside it's minus 15 degrees, and the blankets handed out barely help.
According to the police, 200,000 people gathered in and around the stadium for a concert with famous Russian artists. Officially on the occasion of Defender of the Fatherland Day, the holiday was celebrated on February 23. But the idea behind it is once again to prove that the Russians are largely behind the "special military operation".
The wide area around the stadium has been closed off and thousands of police officers are on their feet directing the crowd in the right direction. And a little further there are endless rows of buses, on which they were taken from far away, as far as Bryansk, 350 kilometers from the capital. Some people left the house at six in the morning.
"I don't regret it, it was a great party," says a student from Ryazan. Irina, a young woman from Crimea, found the meeting "passionate": "I even cried." Lydia, a woman in her thirties, was sent by her employer with colleagues. "We always have to support our guys who are on the front," she says. At least some of those present were forewarned to avoid interviews or, if necessary, to give "patriotic" answers.
The audience includes factory workers and students, many of whom are paid to attend. Recruitment started a few weeks ago. Then it immediately became clear that another "poet" (a different kind of "meeting") was imminent, a mass meeting with the chief in the center.
Putin finally spoke for five minutes, about patriotism and the struggle in Ukraine: "This is a ceremonial gathering, but at the same time the fighting is going on on our historical borders, for our people." After him the national anthem blared and "Russia, Russia" was chanted, before disappearing into the wings.
"Pop culture enthusiast. Unable to type with boxing gloves on. Analyst. Student. Explorer."