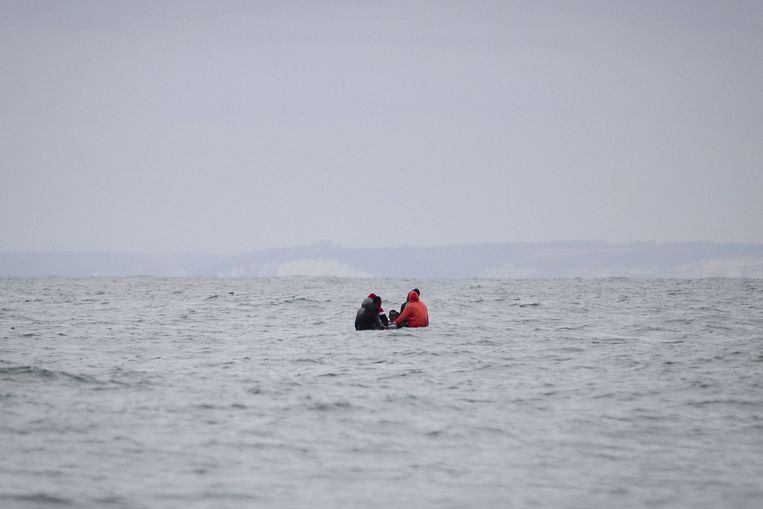 British Prime Minister Sunak presents a controversial new plan against boat migration
This is the crux of a controversial new plan presented by British Prime Minister Rishi Sunak on Tuesday. Boat migrants who reach the British coast are detained and deported to a safe country.
According to the newspaper mail on sunday, who interviewed Prime Minister Sunak, once the boat migrants are deported, they will never be able to settle in the UK again, and they will never be able to obtain British citizenship again. The Conservative government hopes this will deter would-be boat migrants. "Make no mistake," said the Prime Minister. "If you came here illegally, you won't be able to stay."
Last year, then-Prime Minister Boris Johnson actually signed an agreement with Rwanda to deport asylum seekers there. But the first flight with asylum seekers was canceled due to legal opposition and a legal battle is still raging over the plan. The court in London ruled in December that the measure was legal, but that decision is being challenged by opponents.
45,000 asylum seekers crossed the canal

Sunak is sticking to Rwanda's plan and hopes the new measures will help curb the boat migration. Home Secretary Soella Braverman said: "Our laws will be simple, both in intent and in practice – the only way into the UK will be safe and legal."
Last year, more than 45,000 asylum seekers reached the British coast in boats across the Channel. The arrival of the migrants, many of whom are in hotels, has caused tension and protests in some places. For example, there was an anti-asylum seekers demonstration in Dover on Saturday. Polls show that illegal immigration is a major concern for voters. And Sunak is under pressure, including from politicians in his conservative party, to do something about it. The prime minister is due to visit French President Emmanuel Macron in Paris on Friday, with whom he will discuss the plan.
Meanwhile, the proceedings threaten to run into all kinds of practical, legal and political obstacles. For example, the British government states that there will be other legal ways for migrants to apply for asylum. But it is not clear what these methods will look like. For now, such a thing only exists on a limited scale for Ukrainians, Afghans, and people from Hong Kong.
It is also not clear which countries are prepared to receive the migrants to be deported. In addition, it is not known where the migrants are being held. The government is considering empty former military barracks, but they may have to be renovated first.
Desperate attempt to escape

Refugee organizations also fear that legitimate asylum seekers from countries such as Syria and Eritrea will be detained for a long time, as if they were criminals. Refugee Council spokesperson said times. "It's impractical, expensive, and it won't stop the boats."
If Senek agrees to the plan, he will push the limits of what the European Court of Human Rights (ECtHR) allows. So some Tories say the UK should leave the European Court of Human Rights if necessary. But the prime minister prefers not to do that. He states that the plan is "legally watertight".
According to the Migration Workers' Union, if the law comes into effect, there is a good chance asylum seekers will be smuggled back into the UK by truck. The left-wing opposition Labor Party is also crucial.
Labor understands that something must be done to tackle illegal immigration, but doubts whether the plan now announced will work. Labor MP Jonathan Ashworth told Sky News: "They have said previously that they have plans and legislation in place that will deal with this problem." But none of their promises were fulfilled. Indeed, we see more and more boats arriving and more and more people smugglers getting away."
Read also:

Deportation of asylum seekers to Rwanda gets green light from UK court

The court said a British plan to transfer asylum seekers to Rwanda was legitimate.
"Pop culture enthusiast. Unable to type with boxing gloves on. Analyst. Student. Explorer."