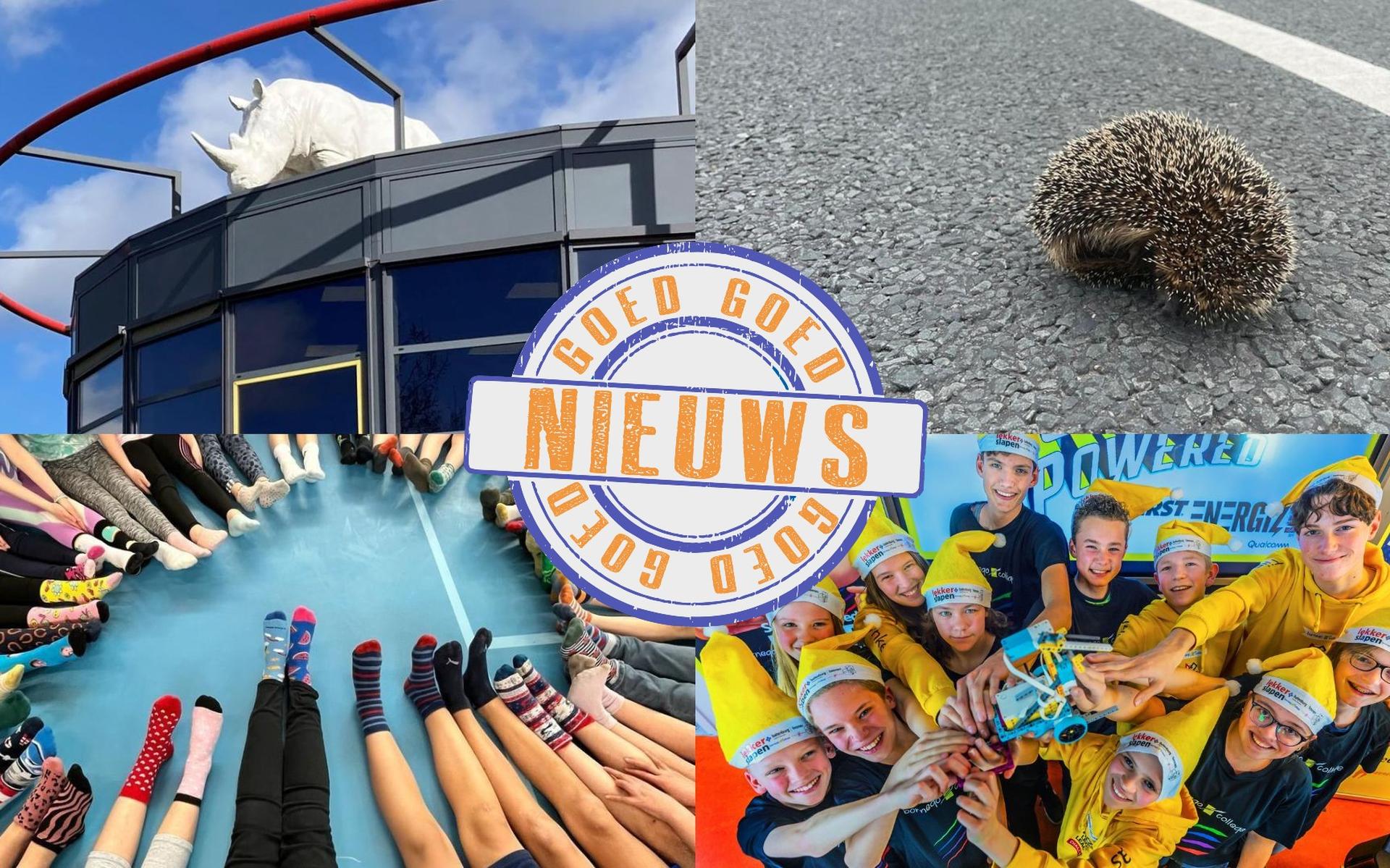 Another white rhino was spotted in Friesland and the animal ambulance stopped traffic to save the Ameland porcupine: this week's good and significant news
Every Friday, we pick the good and notable news that appeared in the Leeuwarder Courant last week. Heartwarming, funny or hopeful stories. This week, among other things: Two different socks in Leverton and Heerenveen's student team could go to America for the first Lego League.
"We were in tears of joy." Good news for the students of Borneco College in Heerenveen. They can go to America Participate in the first Lego League. They won the ticket for that on Saturday During the National Finals of the LEGO event in Delft. On April 19, students will compete in a four-day tournament in Houston against 449 teams from 52 countries. "We're really happy with it, it's been incredible."
The Stijnstraat, Fortnitweg or Lalilan; Children can come up with names For four new streets in Sneak. However, the nouns at the beginning of the above sentence will not; The street names have something to do with the theme of sustainability in conjunction with water. Mayors and aldermen decide the winners. "If the name of my street is actually used, I'll go past it more often."
Let's sneak in for a while. There was also good news for the theatre. Theater Sneak He receives a Steinway concerto as a gift. After many years of loan, the instrument Now owned by the theatre. This was decided by the municipality of Súdwest-Fryslân. The grand piano is played continuously (above) by the performers.
Thanks to a tip from a taxi driver, it was Tuesday afternoon Prevents a hedgehog from running away On a road in Ameland. An observant driver found the animal lying on the road. But he couldn't stop himself Due to urgent traffic. The island's alerted animal ambulance went for it. Staff stopped traffic briefly to catch the animal and the good news: the hedgehog was still alive.
There was a post about this in this area a few weeks ago A white rhinoceros In Heerenveen District Nijehuske. The 'animal' seems to be spreading in Friesland. It is a well-known motif in a garden at Leeuwarder Verlengde Schrans. There is a white colossus in the meadow, grazing almost undisturbed. A model with even wilder qualities appears in Sneak. Here a rhinoceros climbs onto the roof of a company on Zeilmakersstraat and watches passing cars on the A7 motorway.
And finally: a colorful scene last Tuesday in Group 6 of Leaverton Primary School, De Sprang. On World Down Syndrome Day The whole class appeared Two different socks Around the legs. Through the act, they showed a connection to Inez (10), a classmate with Down syndrome. A joyous stunt with multicolored leg textiles is traditionally intended to emphasize individuality: 'Every person matters!'
"Coffee fanatic. Friendly zombie aficionado. Devoted pop culture practitioner. Evil travel advocate. Typical organizer."